What had been a slow, steady drip of gold bullion out of the trust for the SPDR Gold Shares ETF (NYSEARCA:GLD) in recent months turned into a torrent on Wednesday as the gold price tumbled more the $40 an ounce on the spot market.
Per the latest data, the world's most popular gold ETF shed nearly 21 tonnes of the metal as shown below, the largest single-day decline since August 2011, that is, back when the gold price was gyrating wildly as it made new record highs.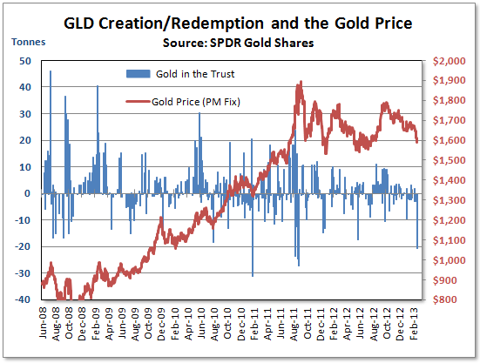 This was the fifth largest single-day outflow since the ETF was launched in late-2004, and it caps a string of outflows that began early in the year, not long after the Federal Reserve launched a fourth round of money printing in December and the gold price failed to rise.
After reaching a record high of 1,353 tonnes in early December in advance of the Fed announcement, GLD holdings have now fallen by 54 tonnes to 1,299 tonnes, during which time the net asset value of the trust has dropped from $75 billion to $66 billion.
For gold investors, it's hard to think of anything positive about this development aside from the obvious point that gold is now cheaper to buy than it was yesterday.
In a world awash in paper money, anyone looking to establish new positions in gold or add to existing ones should consider doing so on this price dip.
That's what the Chinese central bank is surely doing since, like a lot of other gold investors, they probably don't believe the Federal Reserve will be halting its money printing effort anytime soon, despite what the latest Fed meeting minutes said.
Disclosure: I am long GLD. I wrote this article myself, and it expresses my own opinions. I am not receiving compensation for it (other than from Seeking Alpha). I have no business relationship with any company whose stock is mentioned in this article.
Additional disclosure: I also own gold coins.