MGM Resorts International (NYSE:MGM) reported 4th quarter and full-year earnings before the bell on Wednesday of a loss of $0.23 per share for the quarter and loss of $0.67 for the year. Revenue for the quarter was $2.29 billion, down about 0.1% year-over-year. Analysts had been looking for the company to lose 22 cents per share on revenue of $2.31 billion. The highlight of the quarter was the special dividend announced by MGM China Holdings Ltd. (OTCPK:MCHVF) of $500 million of which MGM Resorts will get 51% or $255 million. MGM China's board will consider a permanent dividend policy at its meeting next week. Revenue at MGM China increased 2% to $731 million, but hold at MGM China decreased to 2.9% compared to 3.2% a year earlier. MGM faced sizable impairment charges in the 4th quarter including $366 million related to land holdings at the north end of the strip and $372 million from a change in valuation of its deferred tax assets. MGM's REVPAR at its strip resorts increased 1%, as an increase in room rates was partially offset by a decline in occupancy.
Shares of MGM had been down over 1% on Tuesday after a report that gaming revenue in Macau might only grow at a single-digit rate. The street had been expecting growth of 10% to 15% in the month that the important Chinese New Year's holiday fell. MGM has outperformed its rivals Las Vegas Sands Corp. (NYSE:LVS) and Wynn Resorts Ltd. (NASDAQ:WYNN) over the past few months since the Chinese government announced it was cracking down on possible illegal activity in Macau related to the important junket operators. Furthermore, MGM was upgraded to outperform by RBC on Tuesday. RBC sighted MGM's many potential catalysts outside of Macau.
Resort operations revenue at CityCenter increased 2.6% in the 4th quarter compared with the same period a year ago driven by a 2% increase in REVPAR at Aria. Year-over-year, the picture at CityCenter has gotten worst not better. The losses from resort operations increased 10.7% in 2012 over 2011. Aria's ADR was $200 for the year, down from $202 the year before but occupancy increased from 86% to 88.3%. Aria's ADR is the second highest in the company and occupancy is now only a few points behind other strip properties. CityCenter will likely continue to be a drag on the company's results. No matter how much management sees the property as a rising star, I need to see it in the numbers before I believe it. The best outcome for CityCenter would be to get the non-gaming assets sold off and deleverage CityCenter leaving MGM with a 50% stake in Aria.

Click to enlarge
From a valuation perspective, MGM appears to be undervalued compared to its peers. In particular, it has the lowest EV/EBITDA and EV/Revenue ratio, below even Caesars Entertainment Corporation (NASDAQ:CZR). Caesars, like MGM, is highly leveraged but unlike MGM, does not have a casino in Macau. Additionally, MGM has a higher projected sales growth rate than Caesars. Compared with Sands and Wynn, MGM trades at much lower multiples, but both those companies have higher growth rates and sizeable dividends. It would likely be years before MGM could even consider a dividend.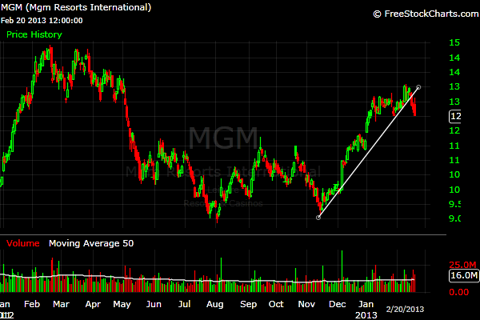 Click to enlarge
MGM's stock has been defined by a trading range from $9 on the low side to about $16 on the high side for two-and-a-half years. Furthermore, it has been making a series of lower highs going back to early 2011. Management has made great improvements in the business and has highlighted the improving free cash flow picture every chance they get, but it has yet to move the stock out of this range. Furthermore, the company faces the prospects of expanding into Maryland, Massachusetts and Canada. MGM China also remains on track to open the MGM Cotai by early to mid 2016. With that said there is no reason not to be patient with MGM at this point. Without a sizable increase in spending in Las Vegas that would have to be driven by stronger consumer spending, this stock will remain range bound. Long term, this has the potential to be a great investment and I would pick up shares when it trades below $10.
Disclosure: I have no positions in any stocks mentioned, and no plans to initiate any positions within the next 72 hours. I wrote this article myself, and it expresses my own opinions. I am not receiving compensation for it (other than from Seeking Alpha). I have no business relationship with any company whose stock is mentioned in this article.