Caterpillar (NYSE:CAT) is down -2.48% on the session, and is the 4th biggest loser on the Dow Component. The stock will remain volatile for 2013.
Analysis
Source: Information pertaining to Caterpillar came from the shareholder annual report, dealer statistics, YCharts, and year in review
The sudden sell off should not be a surprise to investors as Caterpillar has a 5-year beta of 1.9. The Standard and Poor 500 index declined by 1.24% on today's trading session. Since Caterpillar has a volatility rating that's twice that of the index, the stock should have declined by 2.5%. The stock declined by 2.48%. The stock is prone to the daily fluctuations of the broader stock market and the recent decline has very little to do with anything materially related to the company itself. Investors should treat this moderate pull back in valuation as a great opportunity for initiating a buy-entry on a pull back.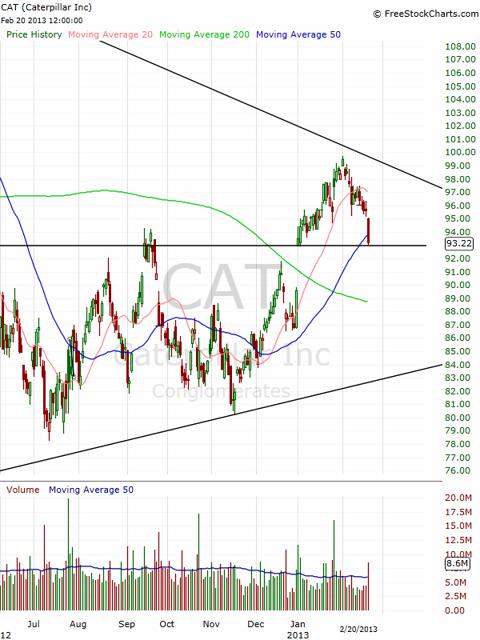 Click to enlarge
Source: Chart from freestockcharts.com
I believe the stock should be able to pivot off of the $93.22 support area. Windows on a chart are generally considered support and are a reasonable location for a trader to initiate a scalp. Long-term investors should consider $93.22 as a reasonable accumulation point. The stock may be able to rebound back above the 50-day Moving Average further implying that the stock is due for a bounce.
Caterpillar has had a weak start for 2013, the dealer statistics showed that the company was unable to grow sales, with machinery sales being -4% in January.

Click to enlarge
Analysts were already projecting negative growth for the quarter as capital expenditures by government and corporate entities were expected to fall. The long-term macroeconomic picture remains strong, but the year over year performance is likely to remain weak.

Click to enlarge
The previous year dealer statistics in January showed growth of 27% over the previous year. Caterpillar is finding it difficult to sustain that type of growth in 2013. Analysts on a consensus basis were anticipating a 13% decline in sales for the current quarter. If Caterpillar can maintain machine retail statistic within a respectable -4 to -8% range for the next two months, that could surprise analyst estimates, and may be a catalyst for a sudden surge in the valuation of the stock.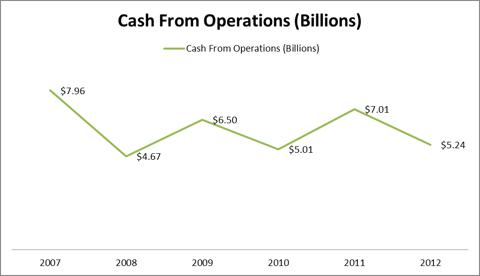 Click to enlarge
The cash from operations is at the lower end of its 5-year range. Meaning that the company may be able to improve its cash from operations in future years based on what it has been able to accomplish during periods of greater economic growth (2007). The company's inventory is at record levels implying that the cash flow may not improve until the inventory reduces.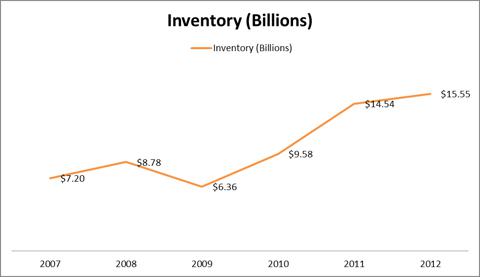 Click to enlarge
I anticipate the inventory on the balance sheet to decrease as Caterpillar reduces the amount of machinery it produces. This will result in an improvement in the cash flows of the business.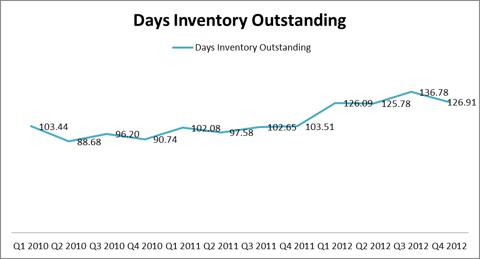 Click to enlarge
The inventory on Caterpillar's balance sheet takes around 127 days to turn over. The company is operating at the higher end of its range which can be interpreted as being a negative. In the two most recent quarters the inventory has taken less time to go a full cycle. If the days in inventory balance continue to decline, the cash flows will most likely improve. I anticipate Caterpillar to decrease the production of machines, and that if sales were to beat analyst estimates. The net income (profits) will improve because the pre-existing inventory will be sold as production decreases. Producing less will mean that the cash balance will most likely improve resulting in higher cash flow.
Caterpillar estimates that the list of infrastructure needs that will need to be fulfilled by 2025 is going to be enormous. Caterpillar expects the urban population in China to reach 350 million people, with an estimated 600,000 miles of road, 170 mass transit systems, and 97 new airports projected to be built by 2025. Caterpillar will be a significant player in China over the next ten years. So it is likely that Caterpillar will be able to grow its revenues over the longer-term. I have built a proprietary forecast model that incorporates the past ten years and the next six years. The forecast is conservative and factors in -12% sales growth for the current year.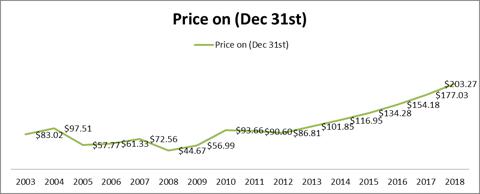 Click to enlarge
Source: Data from shareholder annual report and price history is from Yahoo Finance.
Investment Strategy
CAT currently trades at $93.22. I have a price forecast of $101.85 for December 31st 2013. The stock should fetch a higher valuation if its sales numbers do slightly better than what analyst anticipate for 2013. I lowered my price forecast in order to make a more conservative estimate on future growth based on the machine retail statistics.
Short Term
Over the next twelve months, the stock is likely to appreciate from $93.22 to $101.85 per share. This implies 9.25% upside from current levels. The technical analysis indicates a trend reversal. While the previously mentioned price forecast using fundamental analysis further supports the assessment.
Investors should buy CAT at $93.22 and sell at $101.85 in order to pocket short-term gains of 9.25% in 2013.
Long Term
The company is a great investment for the long-term. I anticipate CAT to deliver upon the price and earnings forecast despite the risk factors (competition, inventory, and the economic environment). CAT's primary upside catalyst is international expansion, the urbanization of the middle class, and cost cutting. I anticipate the company to deliver upon my forecasted price target of $203.27 for 2018. This implies a return of 136.26% by 2018. (including the dividends from the table below).
| | | |
| --- | --- | --- |
| Year | Dividend Yield @ $93.22 per share | Cumulative Total |
| 2012 | 2.18 | 2.18 |
| 2013 | 2.39 | 2.39 |
| 2014 | 2.62 | 5.01 |
| 2015 | 2.87 | 7.88 |
| 2016 | 3.15 | 11.03 |
| 2017 | 3.45 | 14.48 |
| 2018 | 3.78 | 18.26 |
Source: Dividend data from shareholder annual report
Conclusion
2013 won't be the rosiest year for Caterpillar. Over the long-term the company will resume growth due to favorable economic conditions and growth in developing markets. The stock is undervalued and for it to trade at a fair value would require the stock to rally by at least 9% in 2013. This assumption was arrived at using a conservative forecast, meaning that there might be even further upside in 2013. Investors should remain optimistic on the stock and should not be discouraged by the January machine retail statistic figures.
The conclusion remains simple: Buy Caterpillar.
Disclosure: I have no positions in any stocks mentioned, and no plans to initiate any positions within the next 72 hours. I wrote this article myself, and it expresses my own opinions. I am not receiving compensation for it (other than from Seeking Alpha). I have no business relationship with any company whose stock is mentioned in this article.