U.S. refiners are taking advantage of the positive WTI and Brent spread. These three refiners have made quite a run in the last six months, and the Oil & Gas Refining And Marketing Industry group, in which these stocks are main components, was doing very well over the same period. The group rose 19.79% year to date, and is up 35% in six months.

Source: Finviz
Valero Energy Corporation (NYSE:VLO), Phillips 66 (NYSE:PSX) and Marathon Petroleum Corporation (NYSE:MPC) have several things in their favor: positive price action, earnings surprises and growing institutional sponsorship. They are also among the best performing in their industry group, showing great relative strength, as all three rose more than 60% versus 35% rise of the group in last six months.
Valero Energy Corporation delivered a huge earnings surprise in the last quarter, beating estimates by 59%, with EPS of $1.88, and the average consensus being $1.18. It also beat estimates in the three previous quarters, from 4.90% to 8.60%. The company has a trailing PE of 12.61, and forward PE of 8.03, with a 0.81 PEG ratio, according to Yahoo Finance. EPS trends are going up in the last 90 days, from 4.70 to 5.72 for the current year, and from 4.45 to 5.89 for 2014. Valero raised the quarterly dividend by 14%, and now the forward annual yield is 1.70%. Institutional sponsorship rose by 2.3 million shares in the latest reporting period, according to Nasdaq.com.
Refining throughput margin increased substantially when compared to the same quarter a year before, rising from $5.46 to $12.37 per barrel. That was the result of wider discounts on medium sour, heavy sour and light crude oils, as reported in the latest quarter conference call. The company said their strategic objective for 2013 is to increase access to more volumes of discounted U.S. and Canadian crude oils, and to increase flexibility to export products to premium markets and to process more domestic light crude.
Phillips 66 also reported earnings above analyst expectations. Earnings surprises have been consistent, from 22% to 26%. EPS trends are up in the last 90 days, from 6.06 to 7.44 for the current year, and from 5.54 to 6.97 for the next year. The company has a trailing PE of 9.90 and forward PE of 9.21, with a PEG ratio of 0.80. Institutional sponsorship rose by 16.6 million shares, and Berkshire Hathaway inc. (NYSE:BRK.B) has a stake of 27.1 million shares.
The company said in the latest conference call that they signed a five-year transportation contract with global partners, which will enable the company to move about 90 million barrels of Bakken crude to its Bayway Refinery. This will provide the company a reliable alternative to expensive Brent-priced crude oil. Realized margin for the fourth quarter was $13.67. For 2012, U.S. advantage crude production increased to 62% from 52% in 2011, and in December 2012, it was 70%. So, the company is taking measures to fully exploit the oil price advantage.
Marathon Petroleum Corporation brought modest earnings beats, from 0.80% to 7.60% in last three quarters. However, EPS trends surged in the last 90 day period, from 8.55 to 10.47 for the current year, and from 8.47 to 9.74 for 2014. The company has an 8.35 trailing PE, and forward PE is 8.48, with a 0.89 PEG ratio. Institutional sponsorship rose by 0.5 million shares.
Marathon has reached an agreement to purchase BP's Texas City refinery near Galveston Bay. The agreement will enable them easier access to the Western Gulf Coast as it is the company's primary destination for the surge in crude supply.
The challenges these companies might face are the very same advantages they are benefiting from. WTI-Brent spread might tighten, although that is not viewed as likely in the near term, as there is abundant supply of cheaper crude. Sluggish economy is another potential problem, and a material deterioration of the economy could lead to lower oil demand, and lower prices.
All three stocks rose more than 60% in the last six months, and are extended at the moment. One should not chase them, as they might be vulnerable for a pullback, or they might form a new base.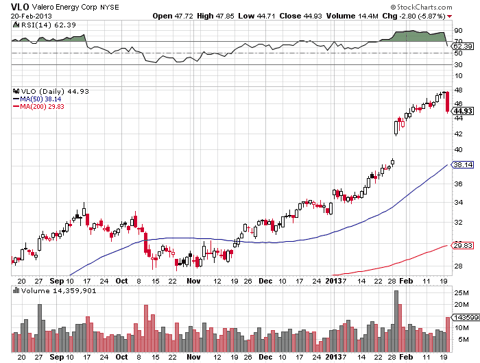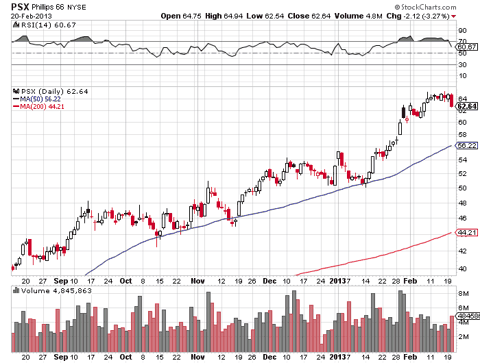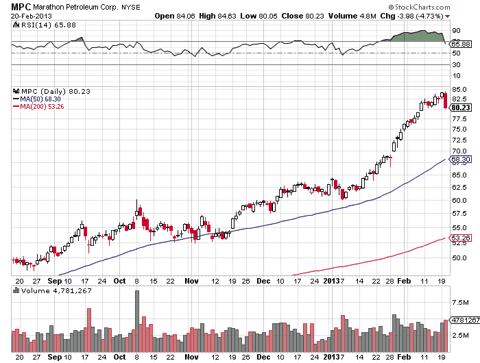 Source: Stockcharts
Conclusion
Positive trends in the U.S. oil industry made an impact on stock prices of these three refiners, and on the whole industry group. Valuations seem fine even with more than 60% rise in price. EPS trends are going up and institutional investors are increasing their exposure. Prices are extended at the moment and vulnerable to a pullback, so there might be a better entry point than the current one in the near term.
Disclosure: I have no positions in any stocks mentioned, and no plans to initiate any positions within the next 72 hours. I wrote this article myself, and it expresses my own opinions. I am not receiving compensation for it (other than from Seeking Alpha). I have no business relationship with any company whose stock is mentioned in this article.
Additional disclosure: This writing represents my personal opinion, and is for informational purposes only.