David Einhorn has been all over the news recently because of his high-profile feud with Apple (NASDAQ:AAPL) but he owns more than just one stock. David Einhorn is the founder of the hedge fund, Greenlight Capital, LLC. ("Greenlight"), "a value oriented, research-driven investment management firm." I follow Einhorn's actions closely because he is a value investor who dives into the fundamentals of companies. For further details on Greenlight and its holdings as of Q3, please review my previous article. Note for simplicity purposes that the investment manager and the fund names will be used interchangeably in this article.
Below, I will analyze Einhorn's long holdings as of December 31, 2012. This type of information is a great starting point for new holding ideas and to see how a professionally managed, diverse portfolio is constructed. Note that all percent changes discussed represent the change in the overall portfolio weight, not a change in weight of the position.
Apple, Inc. : 13.2% of Portfolio
Apple is Einhorn's largest position by a wide margin and is weighted 3.6% more than the next closest holding. Einhorn increased his weight in Apple by one percent versus the prior quarter, likely taking advantage of the stock's decline. Greenlight has been publicly waging battle with Apple over its cash policies and the bundling of proxies. I ultimately believe that the stock will benefit from Einhorn's involvement and discussed it at length last week.
Despite the lawsuit, Einhorn remains a big Apple bull and stated in July 2012 that he believes "the stock is very, very substantially undervalued." Apple was trading around $615 when he made his comments despite rising earnings so now he would likely consider Apple to be very, very, very substantially undervalued.
Interestingly, Einhorn is upping his stake in Apple with long calls. The value of his Apple stock still exceeds that of the calls by a 4-1 ratio but this is an unusual tactic for Einhorn. Clearly he believes that the stock is very undervalued and is willing to use leverage on his largest holding.
General Motors Co. (NYSE:GM): 9.6% of Portfolio
Greenlight's top holding is in technology, but now we shift gears and focus on General Motors. After a proud 100-year history, GM became a casualty of the Great Recession and was forced into bankruptcy reorganization in 2009. As part of the auto bailout, the United States government acquired a significant equity position in GM and approximately one-quarter of GM's equity is owned by the US government today. As part of the bankruptcy, all of GM's shareholders were wiped out but GM went public in late 2010. General Motors lost the title of the world's largest automaker by volume in 2008 to Toyota but recently reclaimed the title last year with nine million motor vehicles sold in 2011. As you know, GM and most companies tied to the auto industry are quite vulnerable to a weakened economy; however, there are short-term catalysts which could support the industry. One of GM's greatest weaknesses is Europe, but Einhorn believes that European operations could break-even in 2015. Einhorn believes that the market has discounted GM too deeply and the stock is finally cheap - with a forward P/E of 7.6, it would be difficult to disagree.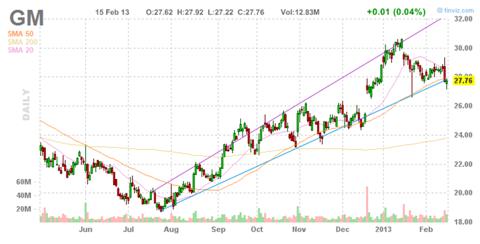 (Source: Finviz.com)
I have been trading General Motors since I first recommended the stock in late 2011 and the stock has rebounded modestly over the past quarter to the tune of 15% appreciation. A closer inspection of the chart reveals that GM is a quite volatile stock and is a great stock to trade as it has relatively predictable price movements off news and generally sticks to a tight trading range. GM has recently broken out of its historical range and is now on a strong run. As you can see from the chart, the stock has been in a strong up-channel but is at risk of falling lower. Fortunately for GM shareholders, I believe there is an artificial floor at $27.50 as the Treasury intends to sell its remaining stake in GM.
Cigna Corporation (NYSE:CI): 6.9% of Portfolio
Cigna is one of the largest health service companies in the United States that offers integrated health plans and services to a variety of customers. Cigna has approximately 14M medical customers and another 40M other customers (behavioral care, dental, and pharmacy) in the United States. Cigna closed the acquisition of HealthSpring in January to expand its footprint in the Senior/Medicare market. Greenlight purchased Cigna in July to capitalize on possible revisions to Obamacare with a Romney victory. "There is the additional unpriced upside in the possibility that the election changes the political landscape, resulting in a possible modification or repeal of Obamacare." This was a sizable position for Einhorn, so I am sure that he did not purchase Cigna on pure speculative purposes, but sees it as an attractive value. Despite the Romney loss, Einhorn has been steadily increasing this position.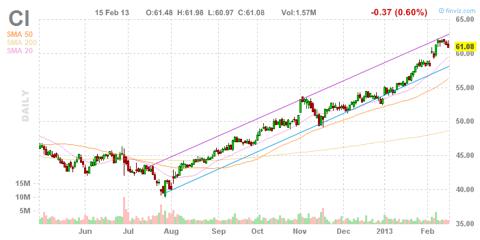 (Source: Finviz.com)
With the position representing nearly seven percent of his portfolio, he must believe that the stock is able to continue its strong run. The stock is on a straight-line up since August and has gone from $40 to $61. Despite the increase, the forward P/E is only 8.8 and the company has a solid financial position. The debt/equity ratio is .55 and the company has almost eight dollars of cash per share, or almost 13% of the company's market capitalization.
Marvell Technology Group Ltd (NASDAQ:MRVL): 5.9% of Portfolio
Marvell is a leading fabless semiconductor company that produces microprocessors for numerous diverse electronics. Marvell was Einhorn's biggest long loser in 2012 (it is believed that Einhorn's short in Green Mountain Coffee Roasters (NASDAQ:GMCR) lost more value) as the stock has dropped nearly 41% in the past year but Einhorn is sticking by the name. In his 2012 investor letter, he stated:
"Though we'd love to just admit we are wrong, sell the stock, and move on, we continue to like the opportunity here. Marvell is on the cusp of a large product transition which, to put it mildly, is not in the valuation."
Einhorn is alluding to Marvel introducing more mobile chips that should drive further growth. Marvell fits Einhorn's investment hypothesis well as it has no debt and $3.77 per share in cash, representing 40% of the company's market capitalization. If the growth can materialize, this could be a big winner for Einhorn but at the very least, I believe there is limited downside at this price.
Computer Sciences Corp. (NYSE:CSC): 4.8% of Portfolio
Computer Sciences Corp is an information technology company that assists corporations and governments with its technology needs. Operations are split between Managed Services Sector, Business Solutions & Services, and North American Public Sector. This is not the most exciting business but looks like another typical Einhorn value play.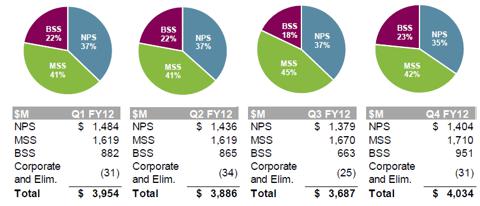 (Source: Q3 2013 Earnings Presentation)
The company is growing at less than three percent per year but continues to generate sufficient cash from operations. The company has been actively restructuring and pursuing "asset portfolio rebalancing" as it sells non-core assets to repurchase shares. Cash cows like CSC can be solid investments, but I get a little worried when main financial discussion points include lower the effective tax rate and refinancing operations. CSC is very different from the first four Einhorn picks as the stock is more expensive (14.3 forward P/E) and has a weaker financial position, but is still cash-rich with $14 per share in cash on hand.
Before I close, I would like to touch upon one other change in the portfolio that came to my attention. Greenhorn drastically reduced its holding in Seagate Technology (NASDAQ:STX) and it only represents four percent of the portfolio. This is the largest drop of any security this quarter. I think this is mainly profit taking as the stock is up 27% this quarter alone. Einhorn also initiated a small .4% position in Seagate's primary competitor, Western Digital (NYSE:WDC). Western Digital is up over 40% this quarter so it is odd that he would make the swap. Personally, I prefer Western Digital due to its strong financial position. Western Digital has more cash per share and relies less on debt financing.
Please refer to the summarized Form 13F below for all holdings.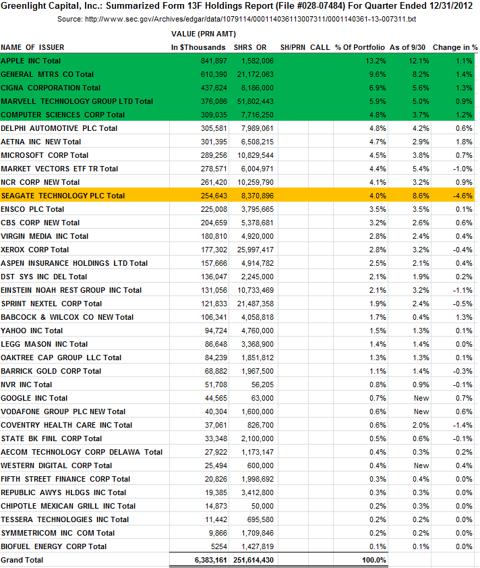 Please refer to profile page for disclaimers.
Disclosure: I am long AAPL, GM, WDC. I wrote this article myself, and it expresses my own opinions. I am not receiving compensation for it (other than from Seeking Alpha). I have no business relationship with any company whose stock is mentioned in this article.
Additional disclosure: Disclosure: Author is long AAPL, GM, and WDC; short GM Mar $28 Calls and WDC Apr $45 Calls. Please refer to profile page for disclaimers.