In my last article on Medical Marijuana (OTCPK:MJNA), I voiced my suspicion that shares of the company were simply the victim of a penny-stock "pump and dump" scheme, orchestrated by those who know that new retail investors will fall for the trap each and every time. From the private messages I received, I am glad to have talked at least one person out of buying shares of the stock in the $0.30 - $0.40 range, despite some of the very heated criticism that I also received.
What helped to confirm my suspicion that this was indeed a "pump and dump" was the huge influx of "new" posters, coupled with the high volume of comments on both my article as well as the one published by Infitialis. The number of folks that made ad hominem attacks, and/or kept promoting the stock in the face of fairly damning evidence gave further credence to my suspicions. However, the show's not over until the fat lady sings. In the 2/20 trading session, she not only sang, but she coughed her lungs out and then proceeded to die right there on the stage.
Remember the chart of BroadVision (NASDAQ:BVSN) that I gave as an example in my previous article to illustrate just how such a penny-stock scheme worked?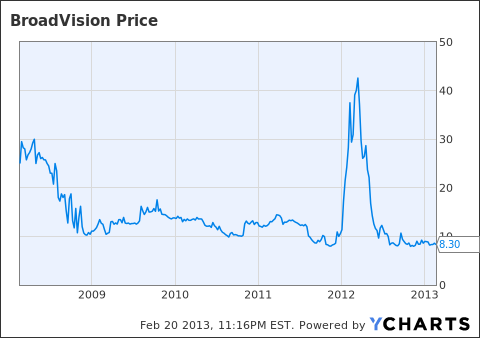 Well, a quick look at the chart for Medical Marijuana shows a nearly identical pattern almost fully formed:

Click to enlarge
Investors got the "catalyst" that everyone was expected - the 2013/2014 "guidance" (if you could call "potential to increase to...by 2014" guidance) - and, of course, as people had expected the stock to "go to the moon" on the announcement, they stood in line with their sell orders to the buyers... that never came.
Conclusion
That's how these things work. A lot of hype is built up into an upcoming release or announcement, and then upon that release, the folks who all piled in look to cash out. With buyers exhausted and sellers aplenty, the stock proceeds to crash. Sure, some buyers will come in to "buy the dip" in hopes that they can make a quick flip, but in general, this type of situation makes more bag holders than multi-baggers.
Be very careful with penny stocks. I hope that everyone is now fully aware that when people are screaming "buy and hold" on message boards, telling you that the "shorts are fried," and calling your friendly Seeking Alpha author a member of a group of evil short sellers who are trying to ruin this "fine company" (even when he makes a legal disclosure that he has no positions in the stock and was not paid by anyone to write the article), the odds are, you're seeing a pump and dump in action.
Disclosure: I have no positions in any stocks mentioned, and no plans to initiate any positions within the next 72 hours. I wrote this article myself, and it expresses my own opinions. I am not receiving compensation for it (other than from Seeking Alpha). I have no business relationship with any company whose stock is mentioned in this article.