BlackBerry (NASDAQ:BBRY) is in short-term dangerous territory.
In an article I wrote a few days ago, I detailed why BBRY was a good value pick, but not quite yet. It is trading at a small premium to its Tangible Asset Book Value, which means if it was liquidated today, investors would only see a small loss. I also argued that BBRY was not considered a buy just yet. The stock price has seen incredible volatility in the past 50 days. Daily swings of 8%+ have become commonplace. That translates to a war zone for a value investor.
Since the much-hyped, much-anticipated launch of the BB10 a few weeks ago, shares have dropped precipitously, then risen 30%, and now dropped back down 19% to current trading levels. As mentioned in the previous article, it has been a neck-jerking roller coaster ride, and one that is not quite over. BBRY is trending lower, and has been for the past month. The stock price has been making lower lows and lower highs.
From a technical perspective, the Relative Strength Index is trending negatively since the stock made highs a month ago. Additionally, momentum indicators are also trending lower, unable to reach previously-made highs. Most significantly, without too much emphasis on the technicals, BBRY closed today below its lower band on the moving average envelope. Every time it has done that in the past 50 days (short-term analysis), it has continued the trend and broken through significantly (both to the upside and downside). There have been two breakthroughs in the positive direction: 10.5% and 37.5% before reentering the moving average envelope trading range. There have also been two breakthroughs in the negative direction: 11.1% and 11.5% before moving back into the trading range. In closing below the lower band, we seem to be at the next negative breakthrough.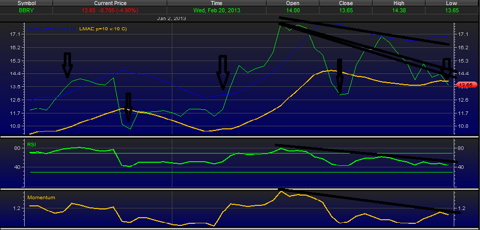 The fundamentals of BBRY at its current valuation are strong. I will reiterate that for a long-term investment, BBRY is a buy. However, in the short-term (1-2 month trading horizon), there is too much hype built into the current stock price to make it attractive at these levels. For those long-term investors, it might be advisable to begin building a position here (no more than 30% of your anticipated overall investment), but in the short-term the bears will rule this stock.
Short-Term Problem: Product Launch
A major reason why I'm recommending BBRY as a short-term short play is because of the hype built into this BB10 launch. Major retailers are already announcing that they're cutting sales projections and will look to carry smaller inventory than originally intended. In fact, retailers are noting significantly lower interest in the BB10 as compared to the launch of the BB7 (2011), which included upgraded versions of the popular Bold, Torch, and Curve. While the Z10 and Q10 look to be strong products coming out of the BBRY pipeline, they are indicative of the fact that the company has not completely reinvented itself to the degree many deemed necessary.
Short-Term Problem: Fundamental Uncertainty
There is a large short interest in BBRY: 31.8% of float. Within BBRY's industry, short interest is often under 3%. Ericsson (NASDAQ:ERIC), Motorola Solutions (NYSE:MSI), and Alcatel-Lucent (ALU) all trade with short interest under 3%. Though they're different types of companies, they all lie within the Communications Equipment industry of the Technology sector, like BBRY. Even embattled Nokia (NYSE:NOK) has a short interest of 8.88%.
Long-Term Promise: Valuation Strength
I want to reiterate that I am a long-term buyer of BlackBerry. The stock price is trading at only a small premium to the liquidation value of the entire company, as noted in my previous article. BBRY bulls can begin to build a position at these levels. With the impending drop in stock price they can continue to average down to build a better cost basis. If my analysis is wrong and the short-term volatility ceases, investors can average up to increase their holdings in the stock.
Final Notes
This stock is certainly not poised to rocket. Expectations are too high for initial BB10 sales of the Z10 and Q10. Retail partners are already slashing their initial forecasts and adjusting initial inventory levels lower to hedge risk. Short interest in the stock is touching high levels at 30%+. The technical analysis is predicting a volatile short-term market here for BBRY. A short-term breakout in the negative direction can be anticipated in the coming days. During that short-term, I am a buyer of in-the-money March puts and will continue to average up on those puts as the stock continues to fall during the next week to two weeks.
In the long-term, I am a buyer of BBRY. I believe that the company has not completely re-invented itself, but it has recognized the need for innovation, strong leadership, and new style - three key, fundamental attributes that it lost sight of during the past two years. It has lost a significant percentage of its market share during that time, but BBRY does still have a loyal business-minded customer base, which it will continue to attract with these new products.
Short BBRY now and profit on the way down. Once volatility eases and the trend turns (end of March, beginning of April forecast), start to build a long position on a company that will fight back from the dead and prove that it should be trading much more than a few percentage points above its liquidation value.
Disclosure: I am short BBRY. I wrote this article myself, and it expresses my own opinions. I am not receiving compensation for it (other than from Seeking Alpha). I have no business relationship with any company whose stock is mentioned in this article.