It looks like we got a correction yesterday, which is an understatement, but today shall tell us exactly how investors feel about the Fed news and whether it was a reaction to that and a worry about the dollar gaining strength relative to other currencies or something more. Our guess is that the Fed is trying to keep an easy money policy while at the same time driving up the price of the dollar and allowing for some price deflation for consumers. As we stated in our other article this morning, our opinion is that Fed policy is more art than science and this maneuver, if true, would certainly add credence to our logic.
We are not buyers across the board, but might be interested in picking at some of these equities which have seen their share prices cut sharply in recent weeks. Currently we would be using cash in the retirement account and not margin at this time (it is too risky to make a call like that this early!)
Commodity prices this morning are as follows:
Gold: $1568.90/ounce down by $9.10/ounce
Silver: $28.495/ounce down by $0.127/ounce
Oil: $93.86/barrel down by $1.36/barrel
RBOB Gas: $3.0144/gallon down by $0.0451/gallon
Natural Gas: $3.257/MMbtu up by $0.022/MMbtu
Oil & Natural Gas
Talk about rough times...Harvest Natural Resources (NYSE:HNR) sure got some awful news yesterday when the government of Indonesia voted not to approve the purchase of HNR's Venezuelan assets for $725 million (Harvest would have received a net of around $525 million) through a wholly owned government entity called PT Pertamina. This is bad news for Harvest as now they continue to have exposure to Venezuela and the issues in that country (political and currency/economic) while also forcing them to revisit the issue of who they can sell the asset to in the future and at what price. This will be a story to continue to watch moving forward.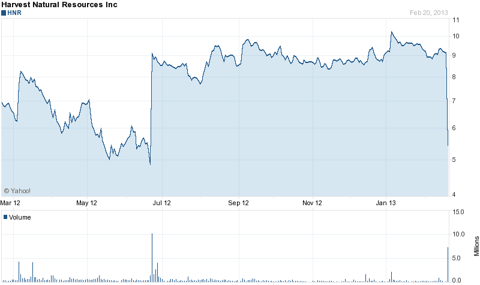 Chart courtesy of Yahoo Finance.
We have discussed Devon Energy (NYSE:DVN) a couple of times in the past few weeks and mentioned in the comment section to one article that our thinking was that the run in Devon's shares had priced it out of the neighborhood for trading but for long-term investment purposes we thought that it would be fine if one was willing to deal with that potential pullback. We did not see a pullback on the horizon like the one we saw yesterday, maybe in totality for a correction but not for a one day type of move. The company reported earnings yesterday with a charge for their gas assets which to us is not surprising. Note to readers: One should expect more of this in the coming months and years as companies are forced to test assets for impairment at least once a year. The company beat due to their oil output and also stated that they were once again exploring the possibility of a MLP for their midstream assets. According to Bloomberg they have already hired lawyers and bankers for the deal and it could deliver $300-500 million in an IPO (see story here). The company also had their conference call yesterday and we believe that all of the big players with multiple plays located across the country are must listens (or reads if you prefer transcripts) to get a good gauge on the industry, and we recommend listening to what the company had to say by reading the transcript which can be found here. With yesterday's $4/share drop in the share price, the current $56.57/share price might offer long-term investors with patience a nice entry point. We will not be buyers, but for those with a lower risk tolerance this could fit the bill.
Coal
We had an old client ask us about Cliffs Natural Resources (NYSE:CLF) and whether they should purchase shares the other day. We were pretty adamant that they should stay away, especially after the last quarter and what was said during the conference call. The dividend fiasco demonstrated that management does not have a firm grasp on the situation and that to us is always a red flag. Either they were too cowardly to admit to the problems upfront which is bad or they were too incompetent to recognize what was going on which at least keeps us from questioning their moral fiber but leads us down a line of questioning regarding their brain fibers. The bottom line is that investors should stay away from this one until the company demonstrates an ability to deliver on what they promise investors. Shares were down $1.40 (4.88%) yesterday to hit a fresh 52-week low and also drop the shares healthily below the recent secondary price which was $29.00/share.
Precious Metals
We are exploring the possibility of opening up a position in Silver Wheaton (NYSE:SLW) at some point during the current session as we like the outlook for the economy and believe that silver shall outpace gold and benefit from its uses as a precious metal but also as an industrial metal. Usually we like to buy physical silver, but with the valuations in the equities having come down dramatically with the latest pullback in silver and gold prices we find the leverage attractive at these prices on the equity side. Silver Wheaton is one of our favorite "blue chip" plays and may not offer the biggest pop, but does offer us liquidity and protection due to their being a streamer and not an actual miner. With yesterday's drop of $2.43 (7.02%) to $32.19/share we find it within the buying range for some of the cash sitting in our retirement portfolio right now. We will post to our twitter account (@theinvestar) if we do any purchases today and if near a computer will try to post something in the comments section for readers.
There is not a lot of support for the stock at these levels, which is why we hesitate to make the jump, but buying a portion and averaging down could work...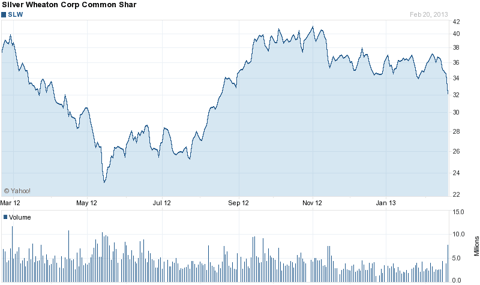 Chart courtesy of Yahoo Finance.
We might have to start a section for diversified commodity plays as these days that is most certainly what Freeport-McMoRan (NYSE:FCX) is. They are big in gold, copper and now oil and natural gas - although not anywhere close to a market leader in the last two resources. Regardless, investors can no longer play this as a simple trade on an improving economy and look at copper and gold prices, but now must look at the oil and natural gas complex here in the US and figure out some tough questions. We would prefer to see the company move onshore and put an emphasis on domestic continental production, but it appears that they will use their considerable balance sheet and resources to stay in the Gulf of Mexico and go after the large wells. We were asked about this the other day and we feel it important to point out now, and regarding whether the company can grow organically or not we think they can as it pertains to the oil patch but we also see the need to increase their size if they want to be a player in the deepwater. The business is changing and asset valuations are in flux, so that might be the cheapest add-on/bolt-on acquisitions available in the next few years. As a side note, this does not mean we think they go out and by more companies necessarily, but rather focus on adding certain blocs or fields by buying out projects smaller companies are no longer interested in due to the high costs and added risk following the Macondo blow out.
Disclosure: I have no positions in any stocks mentioned, and no plans to initiate any positions within the next 72 hours. I wrote this article myself, and it expresses my own opinions. I am not receiving compensation for it (other than from Seeking Alpha). I have no business relationship with any company whose stock is mentioned in this article.