The Federal Reserve jolted markets yesterday with news that they were still divided over keeping the easing going or ending it. Make no mistake, the Fed has been the one constant throughout this entire market rally and the one government body that has laid it all on the line to ensure that the economy did not fall off of a cliff when it seemed politicians were fully comfortable with allowing that to happen. With the Fed already discussing ending easing even with the economy not yet fully clicking investors were correct to worry. Our guess is that when the Fed does begin to pull out it will be gradual so as not to jolt markets and allow them to step back on the gas if need be. We have always thought that Fed policy was more art than science.
Chart of the Day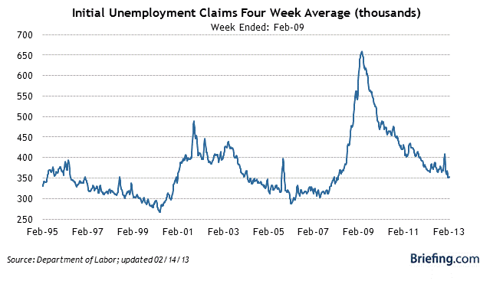 Chart courtesy of Briefing.
We have economic news due out today, and it is as follows:
Initial Claims (8:30 AM EST): 358K
Continuing Claims (8:30 AM EST): 3150K
CPI (8:30 AM EST): 0.1%
Core CPI (8:30 AM EST): 0.2%
Existing Home Sales (10:00 AM EST): 0.1%
Philadelphia Fed (10:00 AM EST): 1.5
Leading Indicators (10:00 AM EST): 0.3%
Natural Gas Inventories (10:30 AM EST): N/A
Crude Inventories (11:00 AM EST): N/A
Asian markets finished lower today:
All Ordinaries - down 2.26%
Shanghai Composite - down 2.97%
Nikkei 225 - down 1.39%
NZSE 50 - down 1.04%
Seoul Composite - down 0.47%
In Europe markets are lower this morning:
CAC 40 - down 1.57%
DAX - up 1.41%
FTSE 100 - up 1.31%
OSE - up 1.06%
Technology
A lot has been made recently about Apple and its future, with analysts turning over every rock and trying to find the "gotcha" news proving that the run-up in shares was overdone and that this pullback is justified. Every day there seems to be a new report out proving that production is slowing or sales are falling in one area of the world and yada, yada, yada. One thing is for certain, not only has Apple been crushed but more importantly so too have the suppliers of parts to its products such as Cirrus Logic (NASDAQ:CRUS). The latest rumor is that Apple is going to unveil a watch as their latest gadget and although no one knows the validity of this for sure it would be safe to assume that any product which is a surprise to the market (and a watch would be as everyone was thinking TV) would be good for all parties involved, especially the suppliers whose investors fear a slowdown in Apple's business could spell doom for theirs. In the long-run it is inevitable that Cirrus Logic and others will be asked to drop their prices further in order to help Apple maintain their margins and even work their way down in the market to compete on price, but on this type of pullback it certainly seems opportune to take a nibble just in case this is another false alarm regarding the Apple business.
Homebuilders
Yesterday investors in Toll Brothers (NYSE:TOL) saw shares get hit rather hard as it became obvious that the northeast area of the country is the weakest housing market. The company's shares fell $3.34 (9.05%) to close at $33.56/share. The company released earnings results, coming in at $0.03/share, which missed analysts' expectations of $0.10/share. The main issue was in deliveries as Toll Brothers total deliveries lagged what many analysts had previously projected. With sentiment seeming to have shifted overnight regarding the housing market and home builders, stumbling like Toll Brothers did was certainly ill advised. Investors can read the press release here. For those interested in the conference call for some more color on the quarter and what the company sees in the year ahead, you can follow this link to a transcript.
Finance
We have discussed Regions Financial (NYSE:RF) a lot lately as it has run up towards $8/share and run into resistance. We predicted if the shares could not break through that level and failed numerous times that it was probably due for a pullback. Now there was a pullback yesterday and maybe it just coincided with the general market pullback, but our thinking is that it was simply because of the general market pullback. In other words, we are still waiting to see if the run up has paused or if we are still in it. That will take a reversal in the market with Regions being left behind, which we put the odds at of happening somewhere in the 60-75% range. We do not have confirmation on this, but simply based off of past history it certainly seems that this would be the likely outcome moving forward and why we would recommend readers close out that last partial position they still may have in Regions.
Retail
We always like to keep a little firepower over to the side, be that cash or simply buying power via margin for times such as these. With the pullback we saw yesterday in shares here in the US and the follow through around the world today it sure seems that a pullback is in order and this should give investors an opportunity to buy some great names with management teams that are executing and businesses which are producing above normal results. Michael Koors (NYSE:KORS) would most certainly fit that description and investors would be silly not to look at adding to current positions or initiating positions should this one continue to pullback. The last quarter was very impressive, and sadly that does not do it justice in describing the way the company beat analysts' expectations on both revenues and EPS. We like the idea of picking up shares around the $55/share level and the $50/share level on a pullback, and if it comes to that we ourselves may very well have to step up to the plate and add this name to our portfolio.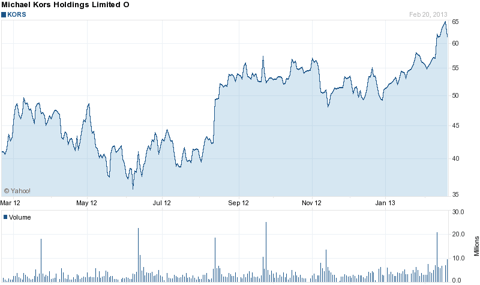 Chart courtesy of Yahoo Finance.
Commodities
Commodities have been hit hard lately, especially the precious metals with gold and silver leading the way lower there. As it pertains to oil and natural gas however, we are not yet certain that those are ready to head lower in a meaningful way. We have long used Cheniere Energy (NYSEMKT:LNG) as our barometer on risk in the sector and it has done an accurate job of indicating pullbacks and moves forward. It has recently come off highs, just like the rest of the market, however it has not outpaced the market towards the downside but rather kept pace. Until we see this lead the way lower we are going to hold steady in the oil patch and if we see it tick higher we may even be inclined to up our holdings in the area to play a rebound. Overall though, we are cautious of the commodity sector as a whole.
Disclosure: I have no positions in any stocks mentioned, and no plans to initiate any positions within the next 72 hours. I wrote this article myself, and it expresses my own opinions. I am not receiving compensation for it (other than from Seeking Alpha). I have no business relationship with any company whose stock is mentioned in this article.