Since my cautious article about the company on September 19, 2012, Disney's (NYSE:DIS) common stock is up about 5.7% compared to a similar increase of 4.8% for the S&P 500. While this may look like a positive, Disney is actually underperforming the double-digit rises in the common stocks of Sony (NYSE:SNE), NewsCorp (NASDAQ:NWS), and CBS (NYSE:CBS) (see graph). While Disney reported a strong first quarter of its fiscal year 2013, there are a number of challenges that the company is facing. This article will take a close look at Disney's latest quarterly performance, recent developments with the company, and the competitive landscape.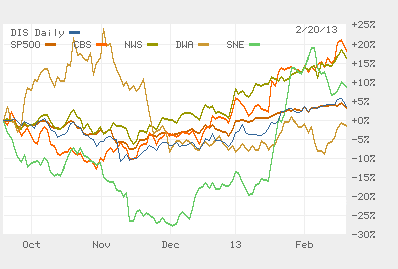 Quarterly Performance
During its first quarter of the 2013 fiscal year, Disney reported a revenue of $11.3 billion or 5% higher from the same period in 2012. Its earnings per share for Q1 2013 were $0.79 exceeding the average estimate of $0.76. Almost all of the company's segments reported a single digit rise in revenues and operating income with the exception of Studio Entertainment. Studio Entertainment revenues declined by 5% and its operating income was down 43%. Importantly, the company repurchased approximately $1 billion worth of its own shares in the quarter.
The question is, should investors cheer or boo this quarterly performance? The answer is "both". While overall results were good, there were a few areas of concern, particularly in Parks and Resorts where international performance was weak and resorts had a lower room occupancy rate. Also, ESPN had higher operating costs that the company was not able to offset entirely with higher advertising revenue. Furthermore, the quarterly revenue was certainly helped by political ad revenue stemming from one of the most fierce campaigns in decades.
For comparison, NewsCorp and CBS reported revenue growth but their operating income also improved. NewsCorp's revenues and operating income in the quarter ending December 31, 2012 rose by 5% and 5.5%, respectively, compared to the same quarter in 2011. Similarly, CBS revenues and operating income for the quarter ending December 31, 2012 rose by 2.4% and 12.2%, respectively.
The reason behind this under-performance at Disney could be its large size (the number of tourists you can bring to your resorts and hotel rooms is limited), increased competition in sports broadcasting, and a shift from TV and Disney branded entertainment to more internet based and user targeted content. Also, it is a lot more difficult to create value at a company the size of Disney compared to the sizes of NewsCorp and CBS. Further, both NewsCorp and CBS have recently announced plans to restructure their operations while Disney continues to spend lavishly on new acquisitions. Below is a table that compares some valuation and fundamental measures of Disney to those of NewsCorp, CBS, and the S&P 500:
| | | | | |
| --- | --- | --- | --- | --- |
| | DIS | NWS | CBS | S&P 500 |
| Market Capitalization | $98.6B | $67.9B | $27.8B | $13,513B |
| Enterprise Value (NYSE:EV) | $114.7B | $77.8B | $33.5B | n/a |
| Price-to-earnings (F2013) | 15.9 | 15.5 | 15.2 | 14.2 |
| EBITDA margin | 24.8% | 20.1% | 23.0% | 20.2% |
| PEG ratio | 1.3 | 1 | 1.2 | 1.7 |
| Price to book value | 2.5 | 2.5 | 2.8 | 6.8 |
| Price to sales | 2.4 | 2 | 1.9 | 1.4 |
| EV/EBITDA | 10.5 | 11.3 | 9.6 | n/a |
| Price-to-CFO | 13.3 | 16.2 | 15.4 | n/a |
| Employees | 166,000 | 48,000 | 21,000 | n/a |
Source: Author's calculations, SEC filings, Thomson Reuters, Wikipedia, Capital IQ; EBITDA - earnings before interest, tax, depreciation, and amortization; PEG - price-to-earnings-to-growth; CFO - cash flow from operations.
New Developments and Competition
Perhaps one of the recent developments that affects all media companies, including Disney is the decline in viewership. According to Broadcasting & Cable, media executives are pushing for change the way ratings are counted for ad sales. Currently, ads are priced on three-day viewership while the media companies believe it should be based on the number of views over seven days. Of course, companies that advertise oppose this. No matter who will cave in first, it is a fact that traditional media companies are losing viewership and soon price control over ads could follow. On the positive side, the broadcasting business has sold out all ads for the Oscars night. This was somewhat negated by bad news from the UK where ESPN might be closing doors after the broadcaster lost the rights for Premier League soccer.
While there are headwinds with traditional media, smartphones offer new opportunities for Disney to combine its content with new technology. Disney is launching an alternate reality game for the iOS and Android smartphones. The company recently made a demonstration of the game at the CES. Named DreamPlay, the game is expected to launch in October and to feature many popular Disney characters. The company is a joint venture between NantWorks, Jakks Pacific, and Disney Consumer Products.
Disney's Park and Resorts are introducing new attractions and experiencing strong growth rates but also facing increased competition in the U.S. and abroad. Fantasyland in Florida is in the process of doubling in size and new rides include the Seven Dwarf Mine Train and Under the Sea: Journey of the Little Mermaid. On the west (or left) coast, Disney California Adventure will have such new attractions as Cars Land and Buena Vista Street. However, this segment will likely have more competition as SeaWorld Entertainment is expected to go public later this year. Internationally, DreamWorks Animation is helping develop entertainment parks in China and Russia that will feature its own popular characters.
The studio business should have better performance in 2013 due to the movies Disney plans to release in 2013 including "Oz, the Great and Powerful," "Iron Man 3," "Monsters University," "The Lone Ranger," "Thor: The Dark World," "Frozen" and "Saving Mr. Banks.". Performance there could be challenged by a decreased popularity of 3D movies as Disney is canceling the planned 3D release of "The Little Mermaid".
Conclusion
Disney has outperformed the S&P 500 Index significantly since the company went public in 1940. The current economic environment coupled with changes in consumer technology and tastes present the company with significant challenges and opportunities. It will be difficult to transform a company the size of Disney into the next YouTube or Amazon.com. It seems like the time when Disney was the leader in entertainment is over. The company, so far, seems to be failing in meeting the new reality of interactive entertainment, often created by users, and accessible everywhere and at anytime. Disney's common stock is not cheap and while the company will continue to be a first-tier entertainment provider, the risks of investing in the stock outweigh the rewards.
Disclosure: I have no positions in any stocks mentioned, and no plans to initiate any positions within the next 72 hours. I wrote this article myself, and it expresses my own opinions. I am not receiving compensation for it (other than from Seeking Alpha). I have no business relationship with any company whose stock is mentioned in this article.