Is this a good time to add grains to your portfolio? In this article we will discuss why we believe this is a good course of action.
Everyone remembers the summer of 2012 when corn and soybean prices skyrocketed after a severe drought. Government figures show corn and soybeans are the largest grain crops in the US. They are also both used for food and biofuels, so demand continues to be extremely high.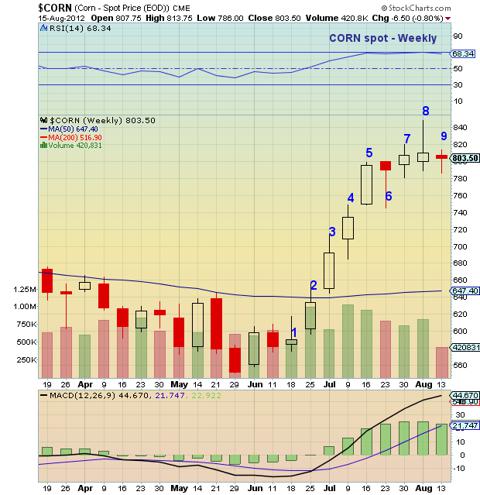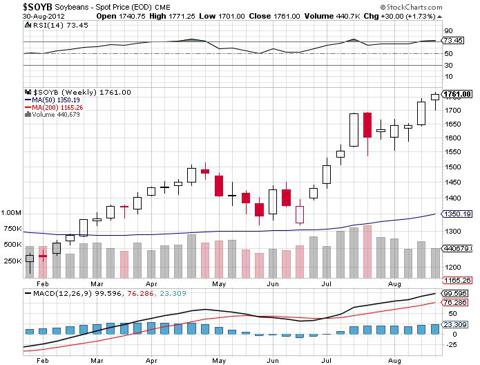 The price expansion in grain markets started in early spring 2012 as farmers and traders realized that precipitation levels were below average and the planting season was at risk due to adverse weather conditions. While the Midwest Corn Belt dealt with adverse weather conditions, the Rocky Mountains experienced one of the lightest snow packs in recent history. There were also complications with the South American crops that exacerbated the need to buy crop insurance, which then drove grains higher.
At the same time, the fundamentals in the grain market pointed to a less than stellar crop, the Federal Reserve was debasing the dollar with their quantitative easing programs, which has a direct effect on the prices of real goods. All of this culminated into price expansions not seen in recent history. Anyone who had a portfolio with grain exposure did very well last year. This year is looking very similar to last year, as the trend in weather, temperatures, and precipitation predict another hot, dry year.
Currently, in the Rocky Mountain region snow pack is less than normal this year, falling at 79%. The trend for warmer temperatures and less precipitation started in the Rockies last winter, and then the trend held for the growing season of 2012. We worry this will hold true for 2013's growing season as is demonstrated in the chart below.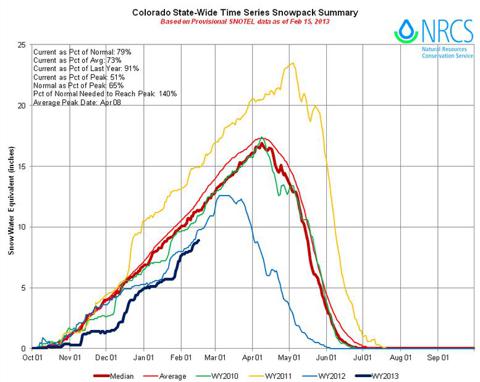 Experts in Washington and at NOAA are also voicing similar concerns:
"The continuing conditions really look like they're setting up for a very similar level of drought in the Midwest and West," Roger Pulwarty, a director with the National Oceanic and Atmospheric Administration who focuses on drought, told lawmakers on the Senate Agriculture Committee.
A report (US Drought Monitor) by the US government and the University of Nebraska, showed much of the northwest quadrant of Iowa is still gripped by exceptional or extreme drought and a recent USDA survey of Iowa soils showed that even after precipitation ninety percent of Iowa's 24 million acres is moisture-deficient.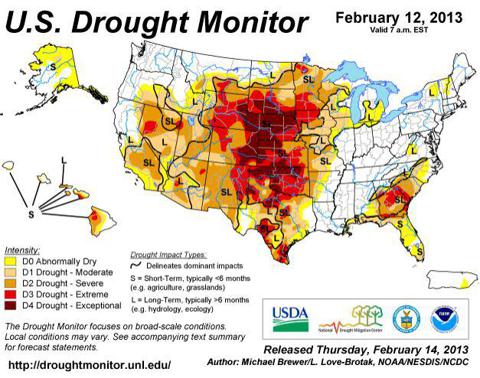 Another issue that is less mentioned is the ability for dry and cracked soil to absorb new moisture without extreme runoff. It takes soil a long time to recover from extreme drought conditions like those we experienced last year.
In a press release from the University of Missouri, professor Randall Miles discussed how the soil recovers after drought:
"The Midwest suffered the worst drought in years last summer, and Midwest soil has been suffering from a drought since early 2010. As a result, crops have wilted and farmers have fallen on hard times. Now, a University of Missouri researcher says that it may take at least two years for crops and soil to recover.

Randall Miles, associate professor of soil science at the MU School of Natural Resources, found that soil in the Midwest is dry down to as deep as 5 feet, where the roots of the crops absorb moisture and nutrients.

"I wouldn't count on a full recovery of soil moisture any time soon," Miles said. "Even if parts of the Midwest receive a lot of snowfall and rain this spring, it will take time for the moisture to move deeply into the soil where the driest conditions exist."

In 2012, Miles found that some roots had to go down as much as 8 feet to extract water. Typically, 1 foot of soil holds 2 inches of water. To recharge completely, a fully depleted soil would require about 16 inches of water over normal precipitation amounts."
If we have another year of drought, we expect the prices of grain to increase just like last year. Even if we don't have an extreme drought, we don't expect this year's crop to produce normal yields, as the soil has not had time or moisture to fully recover, allowing for the full potential of the grain crops. The Federal Reserve Bank has also extended and increased their QE programs for 2013, which is negative for the dollar and positive for grain prices, as real goods will increase in price as the dollar declines in price.
In summary, we have a potential "perfect storm" in grain prices for 2013:
Less precipitation, warmer temperatures, and less snow pack in the Rockies could indicate the drought is continuing, because this is how it began in 2012.
The soil is not fully recovered from the 2012 extreme drought conditions, which could prevent 2013 crops from producing their full potential.
The Federal Reserve is expanding their quantitative easing programs, which debase the value of the dollar, which is positive for prices of real goods.
Grain demands continue to increase worldwide for both food and biofuels, and supply is not increasing quickly enough to meet demand.
Will Mother Nature and the Federal Reserve work in conjunction to produce the highest grain prices in US history? We believe this is a real risk that should be addressed before the story makes national news.
Because grains are tangible commodities and "real goods," there are certain risks not normally associated with stocks, bonds, or other equities. An investor buying futures contracts in grains could lose more in the investment than originally invested, because only a portion of the contract value is put up as collateral. Another risk associated with grains is the risk of delivery or "settlement risk" at the contract due date. If an investor doesn't have the resources to store the commodity at settlement, the contracts must be closed before the settlement date.
Considering the risks, futures are only for the most sophisticated investors. A better way to gain exposure to grains is to use a grain-based exchange-traded fund or ETF or ETN. ETFs trade just like stocks in the equity markets, so they don't require special knowledge of the futures market or contract settlement dates.
A few to consider are:
JJG - (DJ-UBS Grains Total Return Sub-Index)
GRU - MLCX Grains Index
WEET - Pure Beta Grains ETN Profile
By the time prices in grains are hitting all time new highs, there will be articles explaining the price moves and blaming rogue traders pushing prices higher for their own profit when in fact the largest manipulator of grain prices is our own Federal Reserve with their weak-dollar policy. We can't do anything about Mother Nature or the Federal Reserve, so getting some exposure to grains could offset expected dollar weakness and higher food prices.
Disclosure: I am long JJG. I wrote this article myself, and it expresses my own opinions. I am not receiving compensation for it (other than from Seeking Alpha). I have no business relationship with any company whose stock is mentioned in this article.