After seven straight weeks of gains, the market finally had a significant pullback yesterday. The NASDAQ and the S&P posted their biggest losses since November. The Dow Jones also had its second worst day of the year. Fed minutes showing disagreement whether to continue the extraordinary measures to support the markets and the economy was the main trigger causing the decline. Personally, I think it is past sad that the economy is still so dependent on Fed measures four years after the "recovery" began. I also think the market faces significant headwinds other than any change from Fed policy. I believe we are going to give up most of the gains we have had in the market for 2013 over the next few weeks. I do not expect a major correction but I do think we will see lower entry points in the near future. Here are the four main concerns I think investors should have on their radar. I will also share a few of the stocks on my "buy on weakness" list should they go 5% to 8% lower in the sell-off.
Europe
Simply put the continent is falling out of bed. European auto sales just posted their worst January since records started in 1990. Eurozone PMI just came out and shows a deep and accelerating contraction. Greek workers walked out yesterday in a nationwide strike that was in protest of continuing austerity cuts. With overall unemployment of over 25% and youth unemployment at over 50% in Spain and Greece - it is hard not to see this sort of action not increasing throughout the year. Even the pope is getting out of town (the first pope to resign in 600 years). American multinationals like Dell (NASDAQ:DELL) and McDonald's (NYSE:MCD) that get a good portion of sales and earnings from the continent could see the problems in Europe negatively impact their prospects in 2013.
Earnings
My second major worry for the market is around earnings and the trend in earnings estimates. I believe investors have been taken by some of the games analysts love to play. At the end of the third quarter the consensus for fourth quarter earnings was calling for around a 9% gain Y/Y. However, by the end of the fourth quarter, consensus estimates were at a 1% to 2% gain Y/Y. When earnings doubled the expected new lower consensus, the market celebrated with a continued rally even though earnings look like they will come with about half the gain compared to where the consensus estimate was four or five months ago. In addition, investors are paying substantially more for a dollar of S&P earnings than they were a year ago. The market has rallied over the last year even as consensus earnings estimates for 2013 have come down significantly over that time span (see chart). Thanks to Gary Dvorchak who provided this important data point yesterday on his column on TheStreet.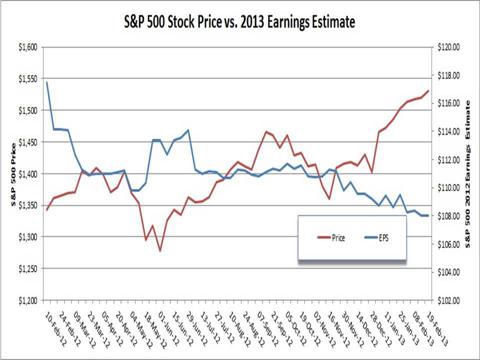 Politics
The market has rallied even as voters in their infinite wisdom decided to enshrine the same dysfunctional political dynamic (President Obama and a Republican House) that existed over the last couple of years. Any hope that the president would move to the center after the election should have been disabused in the State of the Union address (minimum wage hike, climate change legislation, calls for new spending, more tax revenue, etc…). In addition, the Republicans are digging in their heels after giving up a $600B tax hike in the fiscal cliff deal and they do have a much more favorable landscape for the 2014 mid-terms (president will not be running, more Democrats than Republicans have to defend contested seats in the Senate, etc…). This means there is a high probability, unlike the debt ceiling, that these cuts will not be kicked down the road. This could mean $85B in spending for 2013 could be cut on March 1st. This will provide another headwind to GDP growth, although it is probably the right thing to start to address government spending over the longer term.
Consumer Spending
Finally, the market has not fully factored in a slowdown in consumer spending that looks to be in the cards. The payroll tax holiday expiration took about $120B annually from consumers' pockets. In addition, record high gas prices for this time of the year is also providing a solid headwind for consumer spending. Wal-Mart (NYSE:WMT) alluded to this pressure in its now notorious leaked emails last Friday. In today's earnings call, the Benton Behemoth lowered EPS guidance for the first quarter, stated February sales were significantly lower than expected and predicted flat same store sales in the first quarter.
Although I do not believe we will have a correction (over 10% decline) I do think the market will give up a good portion of its gains for the year over the next few weeks. Here are three positions I would love to add to if they sunk 5% to 8% lower than current price levels.
Microsoft (NASDAQ:MSFT)
Safe, boring Mister Softie. The stock is currently trading at just under $28 a share. I will be adding to my current position if the stock comes down to the $26.50 level. The company sports a triple AAA credit rating and is dependent more on corporate spending than consumer spending. In addition, the company has over $50B on its balance sheet, the stock pays a 3.3% dividend yield and is priced at around 7x forward earnings after subtracting cash.
IAC/InterActiveCorp (IACI)
The owner of Match.com, Ask.com and Dictionary.com is already valued priced at $41.50 a share. I plan to add to my position if shares hit $38 a share. The company has net cash on the balance sheet and is selling at under 9.5x forward earnings. The stock also yields 2.3% and has a five year projected PEG of under 1 (.79).
ConocoPhillips (NYSE:COP)
One of the largest integrated domestic oil and gas concerns currently is priced at $57.50 a share. I would start to get interested in adding to my current position is the stock fell to under $55 a share. The stock sports a generous 4.5% yield and is selling at around 8.5x current earnings and 5x operating cash flow.
Be careful out there and Happy Hunting.
Disclosure: I am long COP, IACI, MSFT. I wrote this article myself, and it expresses my own opinions. I am not receiving compensation for it (other than from Seeking Alpha). I have no business relationship with any company whose stock is mentioned in this article.