EPAM Systems (NYSE:EPAM) is an international software testing and engineering firm. EPAM develops software; provides life-cycle software testing; provides product support; and provide infrastructure managements, among other things. EPAM has headquarters in Pennsylvania, but has branches all over the world including Russia, Germany, Poland, Switzerland and the United Kingdom. It competes against Automatic Data Processing (NASDAQ:ADP), HCL Technologies (HCL), Cerner Corp (NASDAQ:CERN), Cognizant Technology Solutions (NASDAQ:CTSH), and Infosys (NASDAQ:INFY).
It has been characterized by a few bouts of intense selling since its rally from the July lows. What does its future look like?
Metrics
The company has strong numbers and a tendency to beat estimates, at least in its recent history since its 2011 IPO.
| | |
| --- | --- |
| Metrics | EPAM |
| P/E | 18.53 |
| Forward P/E | 13.17 |
| PEG | .74 |
| LT Debt-to-Equity | .00 |
| Sales Q/Q | 27.37% |
| EPS Q/Q | 100.84% |
| ROA | 20.16 |
| Gross Margins | 37.41% |
| Operating Margins | 15.76% |
| EPS Next 5 Years | 20.00% |
Gross Margins and operating margins are lower than industry averages, which is not where you want them. However, size of company frequently plays into margins, because of economies of scale -- the economics theory that as you produce on a larger scale, the cost of the goods or services produced goes down. When considering that its two main competitors have a market cap twenty times as large as EPAM's, lower economies of scale can be a factor.
EPAM does have higher revenue growth rates than its industry competitors. The company's PEG is .74, which is 30% lower than its competitors. A PEG of .74 indicates that the stock may be underpriced when compared to expected earnings growth rates over the next five years.
EPAM has no long term debt, producing a LT debt-to-equity ratio of 0. This compares to an industry average of .40. Finally, EPAM has a higher return on assets (ROA) that its competitors, meaning that it is more efficient at using its assets to create earnings.
These are strong metrics and indicate financial health and the efficiency to turn sales into earnings going forward.
Analysts
Analysts view it favorably. Five analysts have the stock rated a "buy." One analyst has it rated an "outperform." Two analysts have it rated a "hold." Additionally, the company has beaten analyst estimates the previous four quarters. That is a good trend to have on your side. The company has beaten revenue expectations the prior four quarters as well, though not by as large of a margin.
Chart
Overall, the stock has been in an uptrending channel since August, only temporarily breaking the bottom rail on the Fiscal Cliff scare.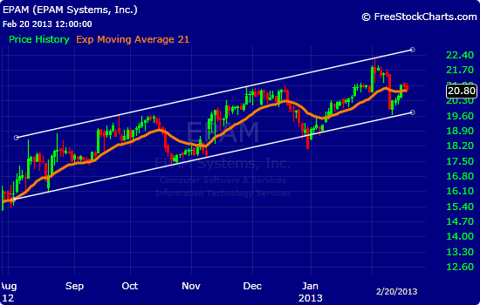 Click to enlarge
(Click to enlarge)
EPAM has been riding its 21 day exponential moving average up toward the top of its channel before breaking down. It will be worth watching this pattern to see if it keeps up.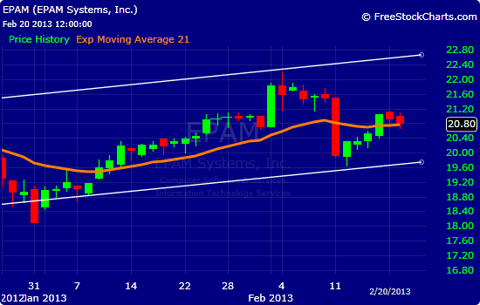 Click to enlarge
(Click to enlarge)
The Play
I think the stock can be bought once we figure out if the market is going to correct. If I did buy, I would place a stop under the bottom rail of the channel. I would raise the stop along with the bottom rail, as the price continues up in the channel.
Disclaimer: We do not know your personal financial situation, so the information contained in this article represents my opinion, and should not be construed as personalized investment advice. Past performance is no guarantee of future results. Do your own research on individual issues.
Disclosure: I have no positions in any stocks mentioned, and no plans to initiate any positions within the next 72 hours. I wrote this article myself, and it expresses my own opinions. I am not receiving compensation for it (other than from Seeking Alpha). I have no business relationship with any company whose stock is mentioned in this article.