This article was written back in April 2012 when Coca-Cola (NYSE:KO) announced its first stock split in 16 years. Like it or not, Retail investors fuss over a lot about stock splits. The article linked above argued that investors would be better served by basing their investment decisions on more reliable factors like dividend growth than on stock splits. Sure enough, as of now the split has had very little positive impact on the stock. The stock opened at $39.31 after the split and is currently trading at the $37 level.
But what has continued to reward investors is the dividend, and what will reward investors more is the just-announced dividend increase. This marks Coke's 51st consecutive annual dividend increase, a staggering achievement.
The table below shows the dividend increase percentage over the past five years. And if you are a really keen observer, you might've noticed that each of the dates mentioned below happens to be the third Thursday of February.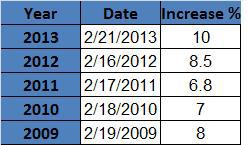 It is remarkable that investors can not only rely on Coke to increase its dividends each year, but also predict the date on which the announcement will be made. A testament to this reliability is the fact that this article was written yesterday, in anticipation of today's news. Of course, the numbers had to be filed in after the announcement. If this is not a sign of reliability, then what is?
Let's re-run Coke's numbers after the dividend increase.
New Dividend: The new dividend of 28 cents per share gives Coke an annual yield of close to 3% at the current share price of $37.6.
Payout Ratio: Amazingly, despite 51 consecutive dividend increases, the payout ratio still comfortably sits at a fairly comfortable 56%. With Coke continuously looking for growth outside the North American market, one can expect a steady increase in earnings per share, which helps to keep the payout manageable.
Five-Year Dividend Growth Rate: With this latest increase, the five-year dividend growth rate has actually slowed down a bit from 8.5% to 8%.
Extrapolation: The table below assumes an annual dividend growth rate of 7%, which is reasonably below the five-year growth rate mentioned above. The yield on cost almost doubles for the patient investor who sets his or her money aside with Coke.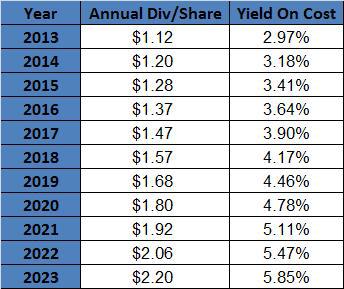 Conclusion: Stocks like Coke make investing look easy. Sure, there will be pullbacks here and there. Critics like to point out that not even Coke was safe during the 2009 crisis, but what is overlooked is how well the stock rebounded from those lows, more than doubling in the next four years. Those who bought more shares or just reinvested the dividends during those lows smiled all the way to the bank.
Click to enlarge image.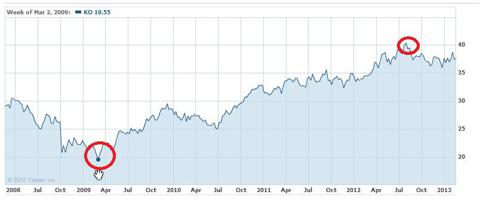 Source: Yahoo Finance.
As a bonus, we feel compelled to offer two basic, but often overlooked, tips when buying dividend growth stocks like Coke:
Tip No. 1: Do not play cute. If you want to buy an initial position in Coke, just buy it already. There is no point in looking at a pullback to some random level of, say, $35. This is a stock that should be safely put aside for the long haul. If you place a limit order and miss your entry point by a few cents, you will probably be kicking yourself in a few years.
Tip No. 2: It's not just the current yield. A lot of aggressive investors look at Coke and ask: "How could this stock make me rich? It yields less than 3%." The key point that is being missed is the potential yield on cost -- that is, the dividend growth. Wise companies keep the payout ratio intentionally low so the company has room to increase dividends. If you want to know how the market reacts when an unsustainable dividend is cut, just ask CenturyLink (NYSE:CTL) investors.
Disclosure: I am long KO. I wrote this article myself, and it expresses my own opinions. I am not receiving compensation for it (other than from Seeking Alpha). I have no business relationship with any company whose stock is mentioned in this article.