On November 6th, 2012, VirnetX Holding Corp. (NYSEMKT:VHC) secured a $368.2 million patent infringement verdict against Apple (NASDAQ:AAPL). The case involved Apple's VPN on Demand feature and FaceTime application. FaceTime offers secure video calls between all Apple iOS devices. (Note: While VPN on Demand is an important part of the case, this article will focus on issues related to FaceTime, which is where most of the damages lie.)
Leading up to the trial, Apple's attorneys and experts claimed that workarounds to the VirnetX patents would be inexpensive and easily implemented. As a result, they were adamant that any damages awarded should be minimized. At a July 12, 2012 pre-trial hearing in Tyler, TX, attorneys from McKool Smith, the firm representing VirnetX, pressed Apple on this issue. The VirnetX attorneys were seeking to ensure that Apple, should it lose the case, would not later change its position and claim that an injunction would be problematic, both in terms of cost and time to implement. When asked by Judge Davis about this, Danny Williams, the lead Apple attorney, stated that they would stand by the expert reports and information on record.
During the trial, Apple's experts offered testimony consistent with their pre-trial statements as they described how a workaround to FaceTime would be inexpensive. They also testified that such a workaround could be implemented within a matter of weeks. In closing, Apple also argued that VirnetX inventions make up only a small part of VPN on Demand and FaceTime, two Apple features that are small parts of very large, complex products. These statements, made on the record, were used to try and minimize any damages that may have been awarded to VirnetX.
Interestingly, in the December 20th post-trial hearing, Doug Cawley from McKool Smith alluded to Apple's closing argument and then stated this:
Having been heard in argument and in testimony to the jury that these, in fact, are very small features of a much larger product, Apple should not be heard now to contradict that by arguing that the hardship on them to remove this feature tips in favor of denying a permanent injunction.
As we await a final judgment and possible injunction that may be handed down by Judge Davis, it is worth discussing Apple's proposed workaround and its viability. So let's consider how FaceTime currently operates, and how it would work using a possible workaround.
FaceTime - Current Model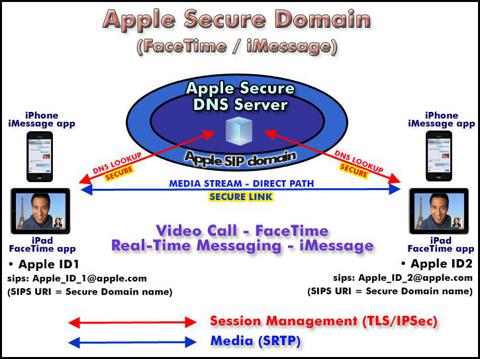 I believe both FaceTime and iMessage are applications Apple has developed using the Secure SIP model, which VirnetX owns. I described the Secure SIP model in my July 2012 report, entitled Enabling Advanced Communications: How VirnetX Will Profit From Next-Gen Networks. And I later explained how Apple has used this security model to create what I call the Apple Secure Domain. This was done in my December 2012 report, VirnetX: A Post-Verdict Update. The Apple Secure Domain can be used by all Apple devices and for a variety of real-time communications (video calls, messaging, presence, file sharing, etc.).
SIP is a signaling protocol that is used for call setup through an intermediary proxy server. Once the session, or call, is established, the two devices are directly connected to each other and media is transported over the internet. A secure link between devices is triggered using secure domain names (Apple IDs) and DNS lookups (Apple Secure DNS Servers). So the media (e.g. voice, video) is encrypted over the internet. I believe this model, which establishes secure communication links between devices, is being used to secure FaceTime and iMessage real-time communication as illustrated in the image above. And VirnetX patents directly intersect the Secure SIP model because the scientists who patented these inventions were involved with a project that had the specific goal of modifying SIP by making it secure.
FaceTime Workaround
Apple's proposed workaround to VirnetX's patented technology is to use relay servers. There are three key issues to consider when discussing Apple's workaround as it relates to a possible injunction:
Apple said it would be a very cheap workaround to implement, with a total price tag believed to be in the seven-figure range. This is not a question of whether Apple can afford to design around the VirnetX patents. Even if the workaround implementation were to cost upwards of $500 million, Apple would still have enough cash on hand to pay for this quite easily. But if the cost does go up significantly, this could be a sticking point for Apple given that its experts testified in court that the costs associated with a workaround would be inexpensive. Some explanation would have to be provided for this discrepancy, and this would obviously lend credence to VirnetX's belief that its patents hold significant value.
Apple originally said that a workaround could be implemented quickly - in a matter of weeks. More recently, however, the Apple attorneys stated that a workaround may take significantly longer. As the possibility of an injunction has increased, perhaps Apple is starting to realize the workaround cannot be implemented as quickly as its attorneys and experts suggested before and during the trial. Since the key post-verdict filings are sealed, we do not have access to Apple's latest arguments and can only wonder why a proposed workaround is now expected to be extremely slow.
Apple must consider whether its workaround is truly viable. In essence, relay servers would be used both for the initial call setup as well as to relay the media between devices. This model functions more like an in-house corporate network, where the relay servers handle the entire payload (call setup and media). A direct connection between devices no longer occurs. Is this possible? Theoretically, yes. But is it best practice for VoIP or Video Calls to function properly for devices communicating globally? No. Not in my opinion.
Problems With Apple's Workaround
The relay server model is a move away from the traditional SIP model - which is designed specifically for real-time communications. If it was the best practice model, why didn't Apple use it in the first place? And if it was so cheap and easy to implement, why hasn't Apple moved to this model since the November jury verdict? The simple answer is that it is not the best model. I believe there are potential issues with the proposed workaround that Apple must consider that extend beyond the cost and time to implement.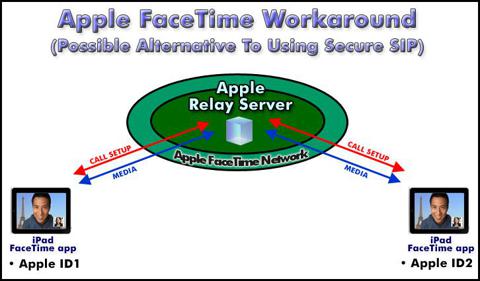 Quality of Service (QoS): Apple could see degradation to the QoS of FaceTime. Relay servers used for VoIP or Video Calls often cause latency, or lag. Video and voice packets are significantly different in size, and may be prioritized accordingly by the relay server. This could cause a loss of synchronization between the voice and the lips of the person speaking. High video traffic demand could also cause jitter, which refers to unwanted variation of when packets are received. Jitter can result in a frozen or jerky appearance. There could also be possible call fails or call drops if Apple servers are overloaded. In summary, I believe this model will lead to more problems for Apple and the user experience will be significantly degraded.
Cost and Scalability: One reason relay servers are not used as "best practice" in the VoIP industry is because they are expensive and they are not easily scalable. It is much easier to use servers for call setup, and then the servers step out of the way and let the two devices connect directly and the media is transported over the Internet. Scalability of a signaling-only server is always easier than that of a media relay server, as the number of packets needed to process is significantly lower. Apple has enough cash and can theoretically change to a network functioning only on relay servers for FaceTime communications. But I do not believe this is the optimal model. I do not think this is an inexpensive as Apple stated in the courtroom. And it will certainly create scalability challenges as new users and devices are added to the network in the future.
Privacy: If you look closely at the Secure SIP model versus Apple's new FaceTime Relay Server Model (see image above), I believe there may also be a privacy issue that arises. If Apple implements security through Relay Servers, I would understand this to mean that Apple would be involved in the encryption and decryption of the data through their servers. This is a change from the current model, which allows for secure, direct communication between users, and Apple servers are not handling the media. Recall, the data in the Secure SIP model is encrypted over the internet, not through Apple servers. So, using the Relay Server model would mean Apple could become more like "Big Brother" and could access all data between users of FaceTime and iMessage. This is something Apple customers would want to be made aware of.
Apple's Secure Domain Uses VirnetX Technology
It is clear that Apple engineers used several open protocols (SIP and H.323 among others) to develop FaceTime. Apple has essentially implemented their version of Video / Voice technology that was invented by others. But the security portion of this technology is not open. It was patented by VirnetX and has never been free to use. This is why VirnetX has had to assertively protect its intellectual property in the courtroom. In my opinion, there is no disputing that VirnetX owns a valuable patent portfolio, and Apple is giving us a front row seat to what kind of products can be developed to securely communicate in a real-time environment.
My contention is that Apple's infringement of the VirnetX patents is not necessarily about specific products, applications or features. Apple's entire Secure Domain is based on VirnetX technology, and any of their current or future devices and applications for secure real-time communications within Apple's Secure Domain are infringing.
FaceTime, iMessage, and future real-time applications - they infringe. Perhaps Apple will develop a file sharing application that can be released in a future iOS upgrade. If this file sharing application uses the same security model, then it would also be infringing VirnetX patents.
iPhones, iPads, Macs, and future Apple devices that use these secure real-time applications - they infringe. Any new devices added to this Secure Domain will also be infringing products. For example, the Apple TV, which may be released in late 2013, is rumored to include FaceTime. The Apple TV will be a new device that can be integrated into Apple's ecosystem of products. Imagine using your television to communicate (video calls) with any of your friends or family who are on iOS devices, anywhere in the world. This could certainly change the way we use our televisions. Several recent articles highlight Apple's intention to reinvent the television by turning it into a real-time communication device by means of FaceTime. If the Apple TV does indeed have FaceTime, and has the ability to communicate with other iOS devices, then no doubt the Apple TV will be accused of infringing VirnetX patents as well.
An Injunction Against Apple?
The existence of secure real-time communication is not new. It has been in use in the Unified Communications world for years. But Apple's innovation has brought these ideas to mainstream customers on mobile devices. And it has done so by tying its products, both current and future, to this Secure Domain. The applications (FaceTime, iMessage, etc.) allow users to communicate seamlessly across Apple's Secure Communication Platform, which relies on VirnetX technology.
Each time Apple releases a new product (such as Apple TV) or a real-time communications application (probably already in development), Apple is increasing its dependence on VirnetX's inventions - which is the exact opposite of working around the VirnetX patents. Although Apple has downplayed the importance of VirnetX technology in FaceTime, it is clear that FaceTime is integral to Apple's future vision. An injunction against Apple over FaceTime could be devastating. Is that something Apple is willing to risk? Perhaps the threat of an injunction will encourage Apple to accept the 1% minimum royalty rate VirnetX is seeking. Time will tell. Such a settlement agreement could catapult VirnetX stock to levels it has never seen before.
Disclosure: I am long VHC. I wrote this article myself, and it expresses my own opinions. I am not receiving compensation for it (other than from Seeking Alpha). I have no business relationship with any company whose stock is mentioned in this article. My previous reports covering VirnetX can be found at VHCreport.com.