Based on our proprietary Signal Rank™ methodology, The Manual of Ideas estimates that Bruce Berkowitz's top three ideas are AmeriCredit (NYSE: ACF), United Rentals (NYSE: URI) and Hertz Global Holdings (NYSE: HTZ). While these companies are not in Fairholme's top ten holdings by dollar value, our proprietary metrics suggest that those are the stocks in which Bruce Berkowitz may have the highest level of conviction at this time. Please see below for an explanation of the MOI Signal Rank™ methodology.
Our analysis is based on Form 13F-HR filed by Fairholme Capital Management on February 13, 2009. We also consider Fairholme's past 13F-HR filings, recent 13G and 13D filings as well as the latest market prices of the portfolio holdings.
Why follow Bruce Berkowitz?
Bruce Berkowitz, manager of The Fairholme Fund, has been one of the most successful value-oriented investors in recent years. From inception on December 29, 1999 through December 31, 2008, The Fairholme Fund has delivered a cumulative return, net of expenses, of 153.92%, versus a return of -27.83%, before expenses, for the S&P 500 Index. For more information, visit their site here.
click to enlarge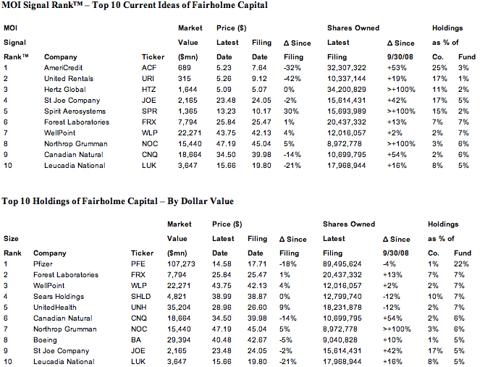 Click to enlarge
Portfolio Metrics
| | |
| --- | --- |
| Portfolio Size ($mn) | 7,126 |
| Top 10 Holdings % of Portfolio | 76% |
| Median Market Cap ($mn) | 3,538 |
| Average Market Cap ($mn) | 19,459 |
| Average Dividend Yield | 3% |
| Average P/E | 15x |
| Average P/B | 1.9x |
Selected New Positions
Selected Sold-Out Positions
About MOI Signal Rank
MOI Signal Rank answers the question, "What are this investor's top ten ideas right now?" Rather than simply presenting each investor's largest holdings as of the recently filed quarter end, MOI's proprietary methodology ranks the companies based on the investor's current level of conviction in each holding, as judged by The Manual of Ideas.
Our proprietary methodology takes into account a number of variables, including the size of a position in an investor's portfolio, the size of a position relative to the market value of the corresponding company, the most recent quarterly change in the number of shares owned, and the change in the stock price of a position since the most recent quarterly filing date.
For example, an investor might have the most conviction in a position that is only the tenth-largest position in such investor's portfolio. This might be the case if an investor invests in a small company, resulting in a holding that is simply too small to rank highly based on size alone. On the other hand, such a holding might represent 19.9% of the shares outstanding of the subject company, suggesting a high level of conviction. Our estimate of the conviction level would rise further if the subject company has a 20% poison-pill threshold, thereby suggesting that the investor has bought as much of the subject company as is practically feasible.
Disclosure: Long AXP, SATS, IDT.