The information technology sector is often seen as a recession proof space to park money in during rough times. However, the financial crisis has not been nice to IT either over the past twelve months, noticeable now in 2009 as the big bellwethers are forced to downsize. As 2009 progresses, it is important to start taking calculated risks so as to not be left in the dust.
Cerner (NASDAQ:CERN)
A leader in healthcare information technology solutions, Cerner (CERN) offers healthcare providers complete systems to integrate all aspects of running an
enterprise. Cerner products are used in a wide array of businesses, from small clinics to government centers, and even regional hospital systems. Built on Cerner Millennium Architecture, its solutions help to transition healthcare entities into the digital age as patient records are secured in a digital format, eliminating the idea of paper. The beauty of this is the ability for healthcare professionals to pull up historical records at a moment's notice and securely transmit them to approved parties (potentially labs, pharmacies, and insurance companies).
Analysts predict a market bottom in the latter half of 2009, and it is important to buy into midcap companies that can outperform the market during a rebound. With a trailing P/E of 20.68x and a forward P/E of 15.43x, Cerner is attractive, valued inexpensively relative to its peers, offering great growth with a PEG of 0.84x. Cerner also has a clean balance sheet and generates strong free cash flow and strong margins that have lasted through challenging operating conditions. Free cash flow is extremely important within IT as companies must use such cash to beef up R&D expenditures to help overtake competitors and offer superior products once an appetite for spending returns. Such excess cash can be put to work to make the business more efficient by expanding margins, something that Cerner already does well.
Being involved in healthcare, Cerner should also benefit from the Obama regime supporting (and possibly even aiding) further advancements in healthcare management. Reports from Dow Jones suggest that about $50 billion will be used to computerize the healthcare infrastructure in this country. Regardless of whether one supports this spending plan or not, it is important to allocate your portfolio to take advantage of such subsidies. By 2010, healthcare IT related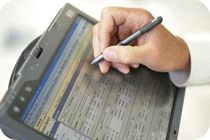 spending is to exceed $10 billion, as doctors, researchers, and lab technicians work towards revamping the archaic practice of paper prescriptions and records. IT offers security but also mobility of data amongst key health care providers.
Cerner is a great play with strong fundamentals and a favorable operating environment. Government legislation and the state of healthcare providers offer opportunities for Cerner as it works to sell its products to an expanded number of customers. Compound that with the potential it has to further its offerings as it works to integrate all players in the patient healthcare supply chain, including pharmacies, vendors, laboratories as well as the patient for improved homecare practices. The majority of industries have gone electronic, so why not healthcare? Security is an issue, but one that is constantly being addressed and dealt with, albeit a risk in Cerner's continued profitability along with a lack of government aid and a lasting slump in the economy. I am still bullish on Cerner as the potential upside far exceeds the potential downside.
The rest of this article is included in Bullish Bankers' newsletter "The Best Stocks of 2009″ that can be downloaded for free here.