This article focuses on Hercules Technology Growth Capital (NASDAQ:HTGC) and compares it with the other BDCs covered in my previous articles including:
Updates
· MCG Capital - on February 19, announced the closing of two follow-on investments aggregating $10 million in the healthcare industry.
· BlackRock Kelso Capital - on February 19, closed a private offering of $100 million in aggregate principal amount of its 5.50% unsecured convertible senior notes due 2018.
Business Development Companies (BDCs) lend to small and mid-sized businesses, with limited financial leverage, paying out most of their income to investors and pay little to no corporate tax.
These are the five general criteria I use to evaluate BDCs:
Profitability (EPS to cover dividends, growth)
Risk (diversification, volatility, leverage)
Payout (sustainable, consistent, growing)
Analyst Opinions
Valuation (P/E, PEG, NAV)
For more information about BDCs, how I evaluate them, and my BDC investment philosophy, please see this article.
Below is an oversimplified chart evaluating the companies I have reviewed among my universe of 30 BDCs giving them a relative score between 0 and 10 (10 being the best). In reality I use different weightings for each criterion. In future articles I will add the new companies to this chart as well as update info.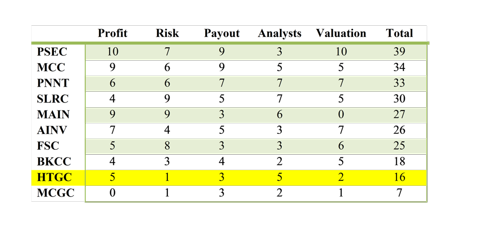 Click to enlarge
Hercules Technology Growth Capital
Market Cap: $655 million
Yield: 7.7%
Div/EPS: 104%
Div/Proj. EPS: 104%
P/E: 12.8
Price/NAV: 1.32
Debt/Equity: 0.92
Portfolio Yield: 14.4%
Recent Developments
October 3 - closed a public offering of 3.1 million shares, resulting in proceeds of approximately $33.6 million
December 19 - issued $129 million of class A notes rated A2 by Moody's backed by $231 million of senior secured loans.
December 19 - announced strong new commitments in Q4 2012 of $205 million and year-to-date 2012 closed and pending commitments of $668 million.
Profit
HTGC is constantly raising capital (mostly debt) to grow its portfolio investments focused in the technology and healthcare industries and has a history of covering its dividend with net investment income. In Q3 2012 it had EPS of $0.23 just short of its $0.24 dividend and is expected to do the same for Q4. Quarterly EPS has had little growth over the past 10 quarters and is consistently in a range of $0.20 to $0.25.
The chart below shows the history of capital and portfolio growth since its IPO in June 2005.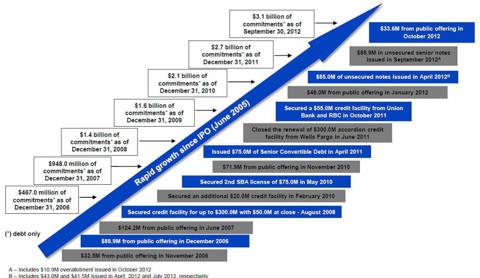 Click to enlarge
Risk
Due to HTGC's focus on technology and healthcare it is one of the least diversified BDCs along with Horizon Technology Finance (NASDAQ:HRZN). A few of the investments in the life sciences sectors experienced write downs due to delays in the clinical trial processes causing delays in financing until they get greater visibility in the products or services that they're offering within the FDA clinical trial process. In the last earnings call the CEO stated: "We invest in companies that are highly disruptive. We invest in companies that have a high cash burn rate. We invest in companies that in the life sciences category are embarking on or engage in FDA clinical trial processes that are blind to us, blind to the company and company management that only the FDA knows how they're going. And until those trials are un-blinded and the results are made aware it's very difficult for some of these companies to raise capital with the expectation that things may be good or may be bad and because in some cases we don't know either."
Below is a chart showing its industry diversification (or lack of) as well as debt vs. equity allocations.

Click to enlarge
One of my primary concerns with HTGC is the amount of leverage it uses, with one of the highest debt-to-equity ratios of 0.92 as of September 30. In Q3 it had quarterly net investment income of $11 million and interest expense of almost $5 million giving HTGC one of lowest interest coverage ratios in the industry. The low diversification and high leverage are possibly some of the reasons for its historically high volatility ratios and poor performance during down markets. I would consider HTGC one of the riskier BDCs along with MCGC especially during a down market.
Payout
HTGC has increased dividends over the last two years but still has one of the lowest yields in the industry at 7.7% compared with an average of 9.0%. With the recent increases in debt and share dilution, the potential for dividends increases in the near term are limited.
Analysts
There are mixed opinions on HTGC currently with a downward trend and a target price between $11.50 and $12.50.
Valuation
The stock is currently trading 32% over NAV and a P/E of 12.8, both of which are higher than the averages for the group.
Summary
With its breakeven coverage of dividends, low growth in EPS, high industry concentration risk, high leverage and volatility ratios, low dividend yield, and high valuation multiples, I would consider HTGC one of "The Bad" BDCs along with MCGC and BKCC.
Disclosure: I am long SLRC, PSEC, MCC, MAIN, TCPC, TCRD, PNNT. I wrote this article myself, and it expresses my own opinions. I am not receiving compensation for it (other than from Seeking Alpha). I have no business relationship with any company whose stock is mentioned in this article.