The markets turned in a horrible week led lower by Financials (NYSEARCA:XLF) (-9.14%). Health Care (NYSEARCA:XLV) (-2.06%) and Technology (NYSEARCA:XLK) (-3.12%) were the best performing sectors. Pessimism clearly has the upper hand in this market.
Last week's rout was multi pronged:
Disappointment that Geithner is no Houdini and can't just make it all go away
Shock and awe over a "stimulus" plan that lacked incentives for capital formation and private sector job creation, not to mention payback spending programs that make Wall Street's looting look like child's play

While traders were looking for a silver bullet from the Secretary, none was to be found. Media focused on the lack of clarity, but failed to notice the significance of Treasury committing $100 billion of TARP to TALF. The FED will expand TALF from $200 billion to $2 trillion in part by leveraging TARP money in an effort to jump start the securitized lending markets.
TALF is a massive lending program that has not yet been implemented. To date, the Fed's facilities have been successful at thawing the commercial paper market, restoring money market confidence re-invigorating bank lending, and bringing down fixed income spreads. There is no reason to dismiss TALF as ineffective before it is out of the blocks.
TALF will buy up to $2 Trillion worth US originated asset pools including:
Automotive loans and leases originated after 10/1/2007
Student loans with first disbursement after 5/1/2007
Consumer and corporate credit card receivables used to refinance debt maturing in 2009
Small Business loans guaranteed by SBA originated after 1/1/2008
The Treasury also announced a new program, Public-Private Investment Fund (PPIF) to provide "government capital and government financing to leverage private capital to help get private markets [particularly those for real estate related assets] working again." The Treasury's lack of detail on this program was likely the largest contributor to the selloff. Critics note that government incentives will likely entice buyers to these markets but fear sellers are unwilling to come to market either. Sellers may be reluctant to take additional losses that would jeopardize their already sketchy capital ratios. Some refuse to sell on grounds the assets will ultimately perform at a rate in excess of that implied by today's market prices.
Retail Sales in January posted a significant jump suggesting that the consumer may be doing better than feared:

click to enlarge


Friday's consumer sentiment however failed to carry through its recent perk upwards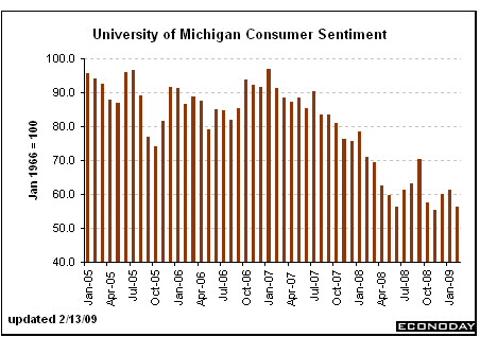 ISM services and manufacturing offer hope the economic contraction is slowing: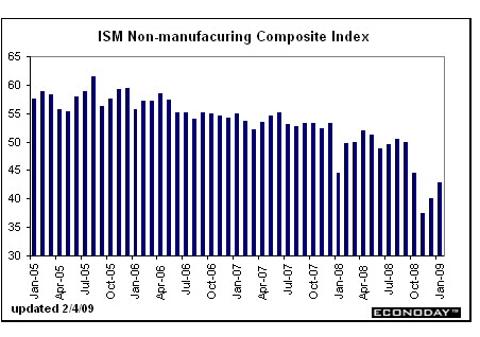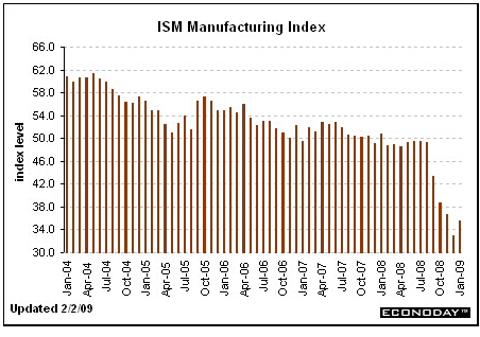 Investors often lose sight of their objective (making money by buying low) when confronted with horrific economic news and declining stock prices. History is rife with opportunities to own great assets at very low cost. Very few individuals recognize these opportunities when they present themselves. High quality assets - SPY, DIA, IJH, and IWM never go on sale during times of ebullient economic activity. Ergo, to be successful as an investor one must resign oneself to the task of buying during the reign of pessimism.