After my recent article on United Parcel Service (NYSE:UPS), I decided I would also look at FedEx (NYSE:FDX). For financial information, I will be using FDX's annual reports. The graphs in this article were all made by me. Please note, I have compared FDX to UPS, but their fiscal years end at different points in time (31st of May for FDX and 31st of December for UPS). Dates shown in the graphs below all refer to fiscal years.
Let's start by looking at FDX's revenue, as compared with UPS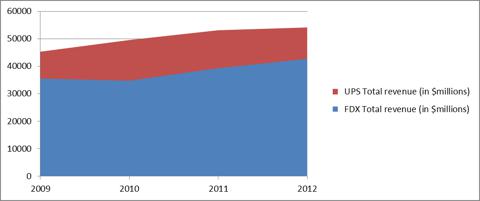 Revenue for FedEx has gone up from $35.5 billion in 2009 to $42.7 billion in 2012, an increase of 20%. In the same period, UPS's revenue went from $45.3 billion to $54.1 billion, increasing 19.5%. There's no clear winner here.
Net income: Growing, but nowhere near UPS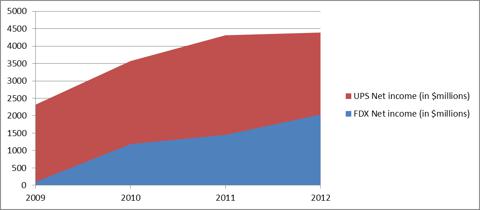 In the 2012 FY, FDX's net income was $2.0 billion, less than half of UPS's $4.4 billion. Of course, this is partially due to the fact that UPS has revenues that are a lot higher. Using net income as a percentage of revenue, we can compensate for this difference.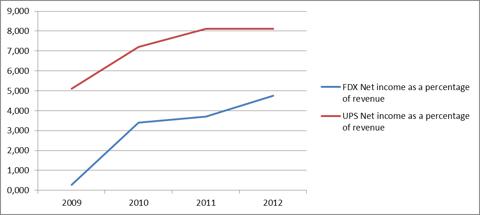 It's easy to see UPS beats FDX in this category. Out of every dollar in revenue, UPS has just over 8 cents in net income (2012), where FDX has only 4.8 cents/$.
Saving up money for the future: Low but sustainable dividend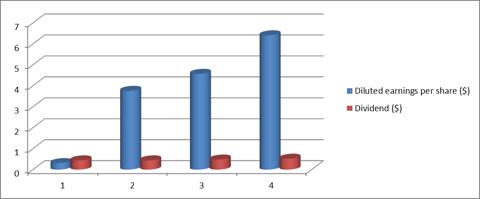 FedEx's dividend has gone up from $0.44 in 2009 to $0.52 in 2012. While it is nice to see dividends increase, at the current stock price of $105.69, FDX will yield a 0.5% dividend. UPS will bring in 6 times as much dividend, yielding 3.0%.
This policy of paying out a small, but increasing dividend has led to FDX being able to save up a lot of money, which it can use to expand its business. FDX's payout ratio is only 8.1% (2012), whereas UPS pays out just over half of its EPS to shareholders (50.3% for 2012)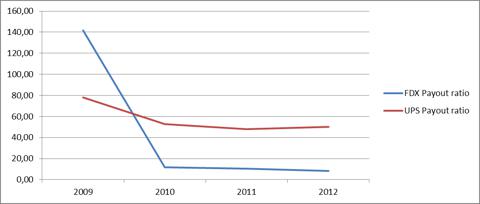 FDX's current assets have grown substantially over the last year, going from $7.1 billion in 2009 to $9.1 billion in 2012, growing by 27.3%. Current liabilities have only grown by 18.9% in the same period, going from $4.5 billion to $5.4 billion.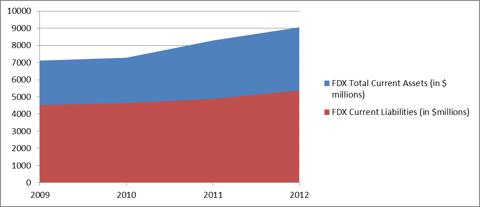 Current Ratio going up, now at 1.69
The current ratio measures a company's ability to pay back its debts over the next 12 months. It is divined as current assets divided by current liabilities. FDX's current ratio has gone up from 1.57 in 2009 to 1.69 in 2012. It is now approaching UPS's current ratio of 1.83.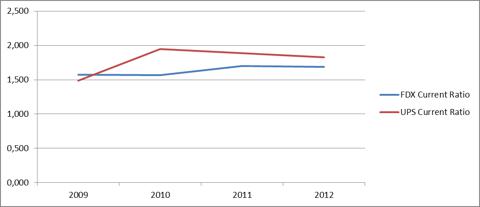 So, which should you buy?
I believe both FDX and UPS are great stocks, but they're completely different. If you're looking for a stock with a nice sustainable dividend, go for UPS's 3% yield. If you want to own shares in a company that's more focused on growth, go for FDX. Personally, I might just buy them both.
Share your thoughts on UPS and FDX, comment below!
Disclosure: I have no positions in any stocks mentioned, but may initiate a long position in FDX, UPS over the next 72 hours. I wrote this article myself, and it expresses my own opinions. I am not receiving compensation for it (other than from Seeking Alpha). I have no business relationship with any company whose stock is mentioned in this article.