Another white knuckle ride yesterday as stocks slumped back to within spitting distance of the November '08 lows
as fears of impending nationalisation came back to haunt the financials. When you get reports of Republicans supporting bank nationalisations, you know the whole sector is in the cross wires. Note the performance of American Express (NYSE:AXP) yesterday, down 11.3% on news of soaring late payments. And all on the day when Obama signed away his stimulus plan. Seems the next stop for the S&P 500 may be around the 660 level. Fear dominates and gold and volatility (VIX) are soaring.
Today's Market Moving Stories
It seems that famed billionaire and self publicist (Sir) Allen Stanford defrauded investors in an $8 billion scheme based in Antigua. As the SEC said, his company "perpetrated a massive fraud based on false promises and fabricated historical return data to prey on investors." Never trust a Knight! Just shows yet again that running a massive financial scam in a bull market is not particularly difficult with the SEC asleep at the wheel. It's only when real people want their money back or the market goes pear shaped that these frauds seem to be uncovered.
Fears of a collapse of Eastern Europe intensified yesterday, which led to a flight into the dollar, which rose to $1.25 against the euro, and triggered sharp falls in global equities.
Always one for the dramatic statement, the Daily Telegraph has warned on the loss of AAA status for the UK. GBP has weakened sharply on this news but it is highly unlikely at present that the UK will lose AAA.
Moody's has downgraded the long-term bank deposit rating and the senior debt rating of Irish Life & Permanent a notch to A1 from Aa3 and they have been left on negative watch. Moody's review will focus on the bank's corporate governance "in light of the manner in which funding was provided to Anglo Irish Bank (AIB)."
A glimmer of encouragement came from a report from Morgan Stanley that HSBC (HBC) will need less new capital than they had previously estimated.
General Motors (NYSE:GM) (whose stock stands at $2.14) wants another $16.6bn of Uncle Sam's money but is still going to axe 47k jobs. Its fellow Detroit basket case Chrysler wants another $5bn from the kitty.
Trump Entertainment Resorts (TRMP) has filed for Chapter 11 bankruptcy protection. The firm had accumulated debts of more than $1.7 billion as of the end of last year, as casino revenues were curbed by the recession. Seems Wall-Mart (NYSE:WMT) is the only safe stock in these troubled times.
EU Willing To Bail Out Its Members?
Sovereign risk continues to deteriorate in Europe, with Ireland's 5 year CDS now flirting with 400bp. Austria has just broken through 200bp, now above Italy. Germany's 5 year CDS rose by another 10bp yesterday, and is likely to head further north this morning as German Chancellor Angela Merkel throws the towel in and admits that the government has no choice but to nationalise Hypo Real Estate bank.
Fortunately governments are starting to show some intellectual flexibility. Who would have thought, just a year ago, that the German Finance Minister would be publicly discussing ways of getting around the 'no-bailout' clause in the Maastricht Treaty. "The euro-region treaties don't foresee any help for insolvent countries, but in reality the other states would have to rescue those running into difficulty," Steinbrueck admitted yesterday. His statement suggests that the EU actually has a secret bailout plan, which it will produce immediately once a crisis happens.
Note that the hugely over-hyped chance of Ireland defaulting on its debts is "remote," according to US rating agency Moody's said. "Our rating and outlook on Ireland remain appropriate" and "Ireland remains a creditworthy issuer."
Earnings Reports Released
Data And Earnings Today
From the US we have weekly mortgage applications, housing starts (529k), import/export prices, industrial production (-1.5%) and Federal Reserve minutes.
To add to that lot, Fed chairman Ben Bernanke and regional Fed Presidents Pianalto and Evans all speak.
Earnings from HP (NYSE:HPQ) (expected EPS $0.93), Goodyear Tire (NYSE:GT) (-$0.97), Playboy (PLA) (-$0.05) and Analog Devices (NYSE:ADI) ($0.16).
And Finally… The Elephant Is Still In The Room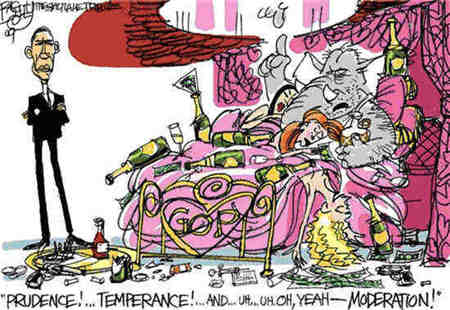 Disclosures: None