Some may think the dividends of utility stocks aren't as attractive as in the past relative to the S&P 500. As of today, the SPDR S&P 500 ETF (NYSEARCA:SPY) yields a whopping 2%, while the Utilities Select Sector SPDR Fund (NYSEARCA:XLU) yields roughly 4%. I admit yield of utilities may not seem as glorious as they once were; however, there are still select utility stocks that pay out bountiful dividends by comparison to these averages. One of them is Atlantic Power Corp (NYSE:AT), which currently pays out 10% in dividends annually, but does so monthly instead of quarterly, which over time will enhance returns and reduce the ex-dividend date shock effect.
Profile Summary:
Atlantic Power Corp is a $1.3B market cap utility company specializing in power generation and infrastructure based mostly in the US with some Canadian assets. The net generating capacity of the company's portfolio is approximately 2,560 MW, which consists of ownership or partnerships in 33 power generating projects across 12 states and 2 provinces. In addition, AT also owns an 84-mile, 500 kilovolt electric transmission line located in California. To better summarize what fuel sources AT primarily uses, I created this chart: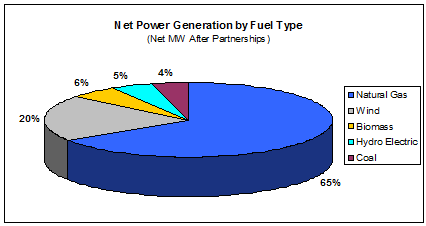 To add to the diverse product mix is AT's relatively equally sized asset portfolio. Out of AT's 33 power plants, not one contributed to more than 11% of 2011's Project Adjusted EBITDA: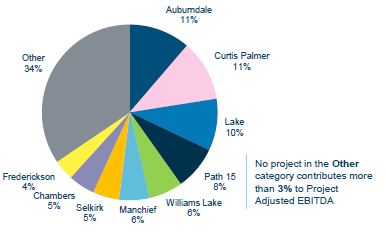 In addition, these assets have relatively stable contracts extending years into the future. As of September 2012, AT's portfolio had an average remaining PPA life of 10.1 years, with 19% of energy contracts extending 15 years or more into the future. This average contract life of assets is reasonable, providing some clarity into future earnings streams:

Click to enlarge
Wind:The majority of AT's wind energy comes from its flagship assets Meadow Creek -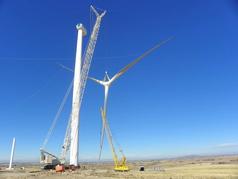 a 120 MW wind project in Idaho - and Canadian Hills - a 298 MW wind power facility in El Reno, Oklahoma. Meadow Creek recently attained commercial operations in December, 2012, so this 57 monster turbine facility is practically brand new, and the energy they produce is contracted for 20 years to PacifiCorp. Canadian Hills has power agreements with three counterparties under which all electricity produced by the wind farm is sold at fixed prices, including: 20-year agreement with Southwestern Electric Power Company, and Grand River Dam Authority, and a 25-year agreement with Oklahoma Municipal Power. These two new, renewable plants in addition three others should provide a reliable and consistent stream of income into the future given their extended contracts and renewable energy sources.
Natural Gas:
It's clear the majority of AT's power is derived from Natural Gas (65%), which lately is a definite positive considering the North American glut of the fuel and low natural gas prices. AT's flagship natural gas plant, the Manchief plant located in Colorado, generates 300 MW or about 11.8% of AT's total portfolio power. This state of the art plant commenced operations in the year 2000, and has its entire output sold under a long-term contract with Public Service Colorado until 2022. If natural gas prices remain low into the future, surely AT will be a beneficiary. However, many of AT's contracts are designed to pass through increases in fuel cost fluctuations, so this is not of huge concern for investors.
New Projects:
To compliment diversified yet traditional power generation sources which include wind, hydro and natural gas, the company also as a 53 MW biomass project under construction in Georgia, which is near completion. AT also has several other projects in progress. AT also owns Ridgeline, a renewable development company in Seattle, WA, which has approximately 1,000 MW of wind and solar projects in development.
Final Thoughts:
If you are looking for exposure to the utility sector, or just need a big yield to charge your portfolio, Atlantic Power Corporation is a reasonable option for most investors. With a North American-based, diverse portfolio focusing on mostly natural gas, wind power, with minimal exposure to coal and none to nuclear, AT should be safe from the wrath of the EPA and other regulatory outfits, as well as the unpredictable nature of foreign markets and other risks present in other utility companies. This diverse, reliable portfolio combined with predictable revenue streams derived from long term contracts allow for management to reward shareholders with 10% yearly, however in monthly payments which in my opinion only makes AT that much more appealing. After the recent drop in shares, AT is worth at least a small position in my opinion.
Disclosure: I am long AT. I wrote this article myself, and it expresses my own opinions. I am not receiving compensation for it (other than from Seeking Alpha). I have no business relationship with any company whose stock is mentioned in this article.