Berkshire Hathaway (NYSE:BRK.A) published a glimpse of its stock portfolio holdings as of December 31,2008, on the SEC website. I have highlighted the largest changes in shares owned.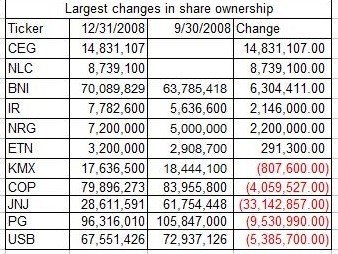 In the last quarter of 2008 Warren Buffett kept adding to his Burlington Northern (BNI) position by purchasing well over 6 million shares for Berkshire's account. He also added to his positions in Ingersoll-Rand (NYSE:IR), NRG Energy (NYSE:NRG), and Eaton (NYSE:ETN). He initiated positions in Constellation Energy Group (NYSE:CEG) using his Midamerican subsidiary and in Nalco (NYSE:NLC).

Buffett was not only buying American however. He was selling as well. Berkshire cut its stake in Johnson & Johnson (NYSE:JNJ) by half to 28 million shares. Other notable decreases included Procter & Gamble (NYSE:PG), US Bancorp (NYSE:USB), Conoco-Phillips (NYSE:COP) and Carmax (NYSE:KMX). Berkshire also disposed of all of its Anheuser-Busch stock, which was tendered at $70/share after the merger with InBev. The holdings in other financial stocks such as Wells Fargo (NYSE:WFC), American Express (NYSE:AXP), Moody's (NYSE:MCO) and Bank of America (NYSE:BAC) were mainly unchanged for the quarter.

The value of Berkshire's portfolio dropped to $51.87 billion from $69.89 billion at the end of third quarter 2008. Even the Oracle of Omaha is not immune to market corrections, especially now that his asset base is so huge. Berkshire Hathaway shares dropped by 26% in the last quarter of 2008, compared with a 21.5% drop for the broad S&P 500 index. So far this year both S&P 500 and Berkshire Hathaway stock are down between 12.20% and 13% each respectively.
Given the changes in Berkshire Hathaway's portfolio, I would not recommend acting similarly in your personal investments, based solely on following Buffett's moves. One reason why he might be selling solid dividend stocks such as Johnson & Johnson and Procter and Gamble could be that they haven't fallen as much as the broader market, which makes them ideal for Buffett to deploy the funds in other beaten down sectors. Another reason could be that he needs to raise as much cash as possible, in order to participate in other preferred stock or fixed income deals, where he could earn a 10%-15% annual dividend yield, with very favorable terms for his company. Ordinary investors do not however have the purchasing power to participate in such favorable deals at this time. His list of fixed income or preferred stock investments range from Goldman Sachs (NYSE:GS), General Electric (NYSE:GE), USG, Swiss Re, Harley Davidson (NYSE:HOG) and Tiffany's (NYSE:TIF).
As a dividend growth investor, I still consider Procter & Gamble and Johnson & Johnson one of the essential holdings in my dividend stock portfolio. Warren Buffett is not always right when it comes to selling. He did sell his stake at McDonald's (NYSE:
MCD
) in 1998. In his
1998 Letter to Shareholders
he mentioned that "In particular, my decision to sell McDonald's was a very big mistake.Overall, you would have been better off last year if I had regularly snuck off to the movies during market hours."
Disclosure: Author is long GE, JNJ, PG, MCD