Despite the threat of increased regulatory controls in the sector, biotech ETFs such as the iShares Nasdaq Biotechnology fund have maintained their momentum in our Sector Momentum Tracker rankings. IBB held the No. 7 position in our ETF Sector Momentum Table for the third week in a row as of February 10. While the future performance of IBB could be contingent on the implementation of a national health care program, the fund's positive year-to-date return continues to attract investors to the historically safe sector in 2009.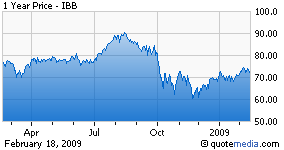 The Nasdaq Biotechnology Index, tracked by IBB, contains the securities of Nasdaq-listed companies that are classified as either biotechnology or pharmaceutical. As other sectors have faltered under the weight of global economic conditions, the biotech sector has offered hope to prospective investors attracted to the mergers and plentiful pipeline drug prospects. According to Morningstar, IBB's market return was 4.23% for the month ending February 13, beating the S&P 500 by more than 9% in that period.
As small cash-strapped biotech firms are targeted for acquisition by big pharma, which has billions of dollars set aside for such licensing and acquisition, the most promising drugs from small biotech will continue to be developed by large biotech into the future. Despite rejected proposals for the stimulus package on behalf of biotech firms, the mergers and acquisitions in the sector will continue to bolster the returns of large industry leaders even as smaller biotech firms rise and fall in changing regulatory conditions.
The volatile nature of biotech companies lends itself well to the ETF model. While a small biotech company can rise and fall precipitously on the success of just one pipeline drug, investors are sheltered from the failure of any one biotech firm in the fund by IBB's other 136 components. IBB does have a high concentration of assets, nearly 23% in the top two components, so prospective investors would be well advised to monitor the fund's top two components—Amgen (NASDAQ:AMGN) and Gilead (NASDAQ:GILD).
Gilead, a biopharmaceutical firm that develops and promotes therapeutics to advance care for patients suffering from life-threatening diseases, saw an improvement of more than 30% in its year-over-year revenue in the final quarter of 2008, on an increase in sales. This 35.3% gain in sales was led largely by the success of HIV drugs, which represent the most significant portion of overall revenue for GILD. This gain has led to an increase in EPS of 46.3% for shareholders. The price of GILD's shares are higher than they were a year ago, and the stock's outperformance relative to the S&P makes this component a valuable asset in IBB's lineup.
IBB's top component, Amgen, reported solid returns in late January despite a challenging marketplace for many of its top products. Revenues were up 2% year over year for 2008, delivering 6% EPS growth in 2008. Analysts are looking to the approval of two potential AMGN blockbuster drugs in 2009—denosumab and motesanib—for returns in the upcoming months. AMGN has already begun ramping up its sales force for the new osteoporosis drug denosumab, whose approval will be pivotal to the success of AMGN in 2009. AMGN also announced last week that it would resume a Phase III lung cancer trial of the experimental drug motesanib, previously suspended in November due to a planned safety review comparing the drug to placebo.
Despite seeing a net loss in the fourth quarter of 2008, IBB's third-largest component, Teva Pharmaceutical (NYSE:TEVA), beat earnings estimates by three cents a share. The world's largest generic drugmaker attributed losses to the company's acquisition of rival Barr Pharmaceuticals. TEVA President Shlomo Yanai sees tremendous potential for the company in 2009 if the U.S. passes a bill allowing generic versions of biotech drugs. Yanai believes that the economic crisis will increase demand for the $75-billion-a-year generic drug industry and that "generics are a solution for governments wanting to cut costs during the global crisis."
Mature biotech companies, like many of the top holdings in IBB, could experience surges in upcoming months even as their smaller upstart peers are crunched beneath the weight of their cash-strapped balance sheets. The nature of the industry makes biotech conducive to the kind of mergers and acquisitions that absorb these cash-needy small equities and allow large biotech and pharma, which continuously need new pipeline drugs to counteract current drug patent expirations, to pick up research where small companies leave off. ETFs such as IBB could continue to offer investors the kind of safe-haven returns that have recently popularized the sector well into 2009, despite uneasiness toward potential government regulation.