Now is the time to invest in Groupon (NASDAQ:GRPN). The company has finally found its footing and its place in the industry, and now that it is more fairly-valued than a year ago, the stock is poised for continued growth. Here's why:
General Positive Industry Trend
The U.S. e-commerce market continues to grow at an accelerating rate, and GRPN is poised to control a decisive piece of this market. Forrester Research projects the industry to see a compound annual growth rate of over 10% for the next four years, from $202 billion in 2011 to $327 billion in 2016. With GRPN's rapid growth rate, which is discussed below, the company is continuing to seize market share from the competition.
Competitive Landscape
As noted above, the overall industry trend is positive for online retailers. It is a bullish industry - consumer actions are shifting from traditional in-store purchases to e-commerce. As we often see, this is a case of all boats rising with the rising tide. Amazon (NASDAQ:AMZN) and eBay (NASDAQ:EBAY) are both terrific businesses that are seeing earnings growth based on positive industry trends. GRPN fits well into the category, and even provides for certain points of differentiation. Although the world of e-commerce has seen a burst of new deal websites on the scene during the past two years, GRPN is still the most well-capitalized of them all. It sees the highest traffic and the highest revenues. It shows terrific promise for growth versus value, because whether our economy is growing or shrinking, the new consumer is deal-focused. In fact, AMZN and EBAY have both launched new businesses focusing on attracting deal-seeking consumers. AMZN's Gold Box and EBAY's Daily Deals are proof that the deal seekers are dominating the current e-commerce landscape, and GRPN's firm hold as the number one player has them poised for tremendous growth and continued success.
Continued Innovation and Ease of Use
One of the most appealing things about GRPN is its ease of use. Deals are targeted to the consumer based on his own criteria selections and his location. Additionally, GRPN continues to innovate in the deal space and they consistently offer valuable, relevant deals. As compared with their competitors who tend to focus more on impulse purchases of products, GRPN offers deals that the majority of the population can use on an everyday basis.
The landscape is shifting and deal-offering e-commerce sites are becoming the norm. GRPN has led the deal revolution, and with companies like Best Buy (NYSE:BBY) committing to 100% price match of online retailers, the low-price competition is about to heat up even further. GRPN offers deals far below MSRP (typically more than 50%) for products that consumers continually use/need (oil changes, restaurants, family leisure). Deals have become the new norm, and GRPN is the industry leader.
Fundamental Analysis
GRPN's initial valuation was far too high at $12.8 billion. The stock has suffered considerably since the IPO 15 months ago, losing nearly 78% of its market cap since reaching highs of over $26 shortly after the offering. The offering was the richest for an internet company since Google's IPO in 2004. Simply, the valuation was over-inflated and investors knew it.
The year-long continued negative trend from the IPO in November 2012 has turned in a big way. After reaching lows of $2.63 in mid-November, the stock has rallied some 125% and is currently trading intraday at $5.90.
The fundamentals are quite strong for a new company. In the overall marketplace, GRPN is still finding its place and learning its niche. That might sound strange for a $4 billion company, but it is still a relatively young brand. It is competing with some heavy hitters with lots of cash. It's done a tremendous job of maintaining simplicity within the company - consumers confidently know that GRPN is the place to go to find daily deals.
GRPN has exceeded or matched the street's earnings expectations the last three quarters. This is a tremendous sign of strength for a new company. While it didn't earn much in its first fiscal year, it exceeded expectations, and that shows management's ability to return on investment, even when it is not expected.
Growth
As noted in the fundamental analysis, and as is evident with the industry trends, GRPN is a tremendous growth story. Now that the stock has come significantly down from its over-inflated IPO price, it is finally ready to grow. Earnings estimates forecast the company growing 47% year over year, with EPS growing from $.17 to $.25, which is a far greater advance than the company's industry competition. It has made a quick move to profitability from an ugly first fiscal quarter in 2011, and the growth story is certainly in tact. Forward P/E for 2013 is 24.79, which is significantly cheaper than AMZN at 180.95x and in line with EBAY at 19.96.
The company continues to add to the portfolio of deal businesses. While it has succeeded mostly in the past with experience-oriented deals (car wash, oil change, vacations), GRPN is now making a push into the consumer goods category, and in doing so is directly stepping on the toes of giants AMZN and EBAY, among other smaller names like Woot! and 1SaleADay. Look for consumer goods sales to grow in 2013 with a broader range of goods offered and a ramped-up effort to move increased amounts of product.
Chart Analysis
Technical analysis looks excellent on GRPN. The short-term 50-day chart shows a bold, consistent uptrend that has accelerated in recent days because of analyst action on the stock. The price is making higher highs and higher lows There is a positive trend in the Relative Strength Index as well, with a support level at approximately 50 and a resistance level at approximately 70. Similarly, momentum has remained consistent during the short term. Finally, the stock has traded positively within the moving average envelope and continues to do that with a positive bias. The technical analysis seems to be trending positively.
GRPN 100-Day Chart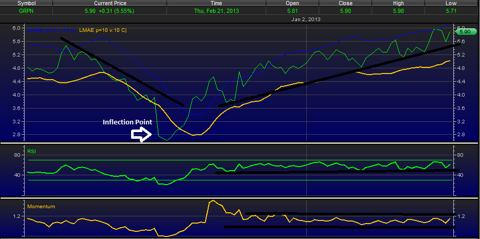 The Call
I'm a buyer of GRPN at current price levels. I have a price target of $7 and to maximize upside while hedging risk, I'm a buyer of July 4.50 calls. With a premium right around $1.80, there is only $.30 of time value built in and the option will be at the money with just a 6% gain in underlying stock price. The July call gives a long enough time horizon to absorb any potential bad news noted in earnings (though I'm expecting a beat and mild to positive forecast). Investors can also build an equity position here at $5.95, averaging down on any dips and adding to the position on any continued positive trend.
Disclosure: I have no positions in any stocks mentioned, but may initiate a long position in GRPN over the next 72 hours. I wrote this article myself, and it expresses my own opinions. I am not receiving compensation for it (other than from Seeking Alpha). I have no business relationship with any company whose stock is mentioned in this article.