In an age where solid, boring companies are overlooked and lagging, and story stocks are par for the course, some excellent short opportunities come to play for investors with a longer time-frame. Charter Communications (NASDAQ:CHTR) is meandering down the same old road, and equity investors are going to get blindsided once again.
Charter filed for Chapter 11 in 2009, restructuring its debt and its operating structure. Paul Allen, Microsoft's co-founder, emerged from the bankruptcy with a much smaller 2% equity stake in the company, but a 35% controlling interest in votes. The bankruptcy restructuring was hotly contested by creditors and has been hailed as an important bankruptcy case in various law circles.
Despite a debt reduction from $22 billion to $13 billion, and the freeing up of $800 million per year in previous interest expenses, it looks like Charter hasn't learned the slightest bit from previous practices, and equity holders haven't learned either. Charter has continued to lose money and bleed equity since its re-launch on the NASDAQ in late 2010. This one is going over the cliff, and you'd best get out of the way if you are long, or make some hefty profits on what is sure to be a very deja vu event.
There is no other way to say this - Management is Horrible (And I'm being "nice")
A common means of gauging management effectiveness is to see what sort of return they generate on their internal equity and investments. Suffice it to say, this is about as bad as it gets. Since the NASDAQ encore, Charter has not had a single positive ROE quarter. In fact, ROE is not just paltry. It's not even zero. ROE last quarter was at 80%, and it's been a straight downtrend from minus 20% upon its re-list.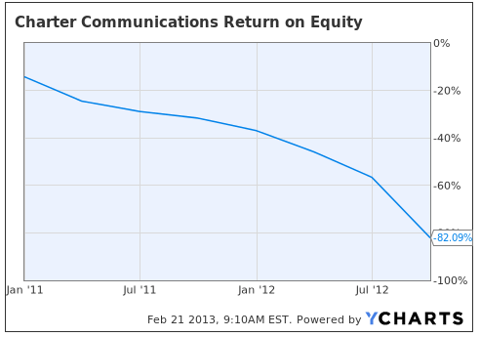 As an investor, you are currently paying about $78/share for a tangible book value of -$75.00 per share. That's right. If you own Charter, you actually owe creditors almost 100% on top of the value of your "asset". This value measure has trended down since 2009 (when it last declared and then re-emerged from bankruptcy), and the company is actually "worth" almost twice as much negative value as it was when it declared bankruptcy last time.
Buying Charter is like paying $100 for a contract stating you owe someone $200 plus ongoing interest costs. I'm just going to go with "irrational exuberance", since "medically insane" is a bit specific, and I of course am not a certified psychiatrist. Tangible book value is lower than it was in 2002.
If intangibles are more your thing, well, hey, there's $173 million of net equity sitting there. On a company with a current market cap of almost $8 billion. So there's that.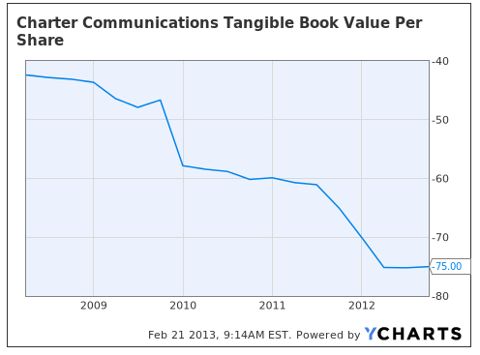 Cash Cow? Barren Bovine, more like.
And, just in case you thought "hey, just because management stinks, this is a growth story and they obviously have to be making some money to justify a 70% appreciation since their re-listing on the NASDAQ at $45.00/share", let's take a peek at whether these guys are making you, the shareholder, some money every quarter.
Revenue growth reached its peak right after the re-list, at a stunning 5% YoY growth. Since that point it has hovered within the 2-4.5% range. Again, obviously a rational justification for 70% appreciation since the IPO.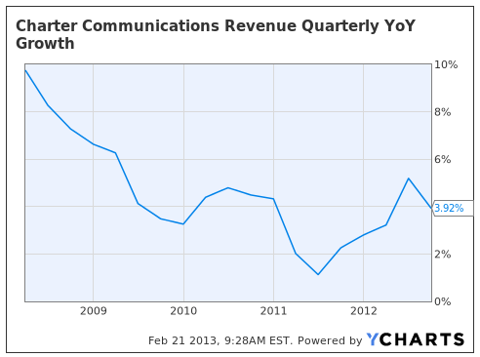 Bleeding money fast, or bleeding it slow, doesn't really matter. Charter's profit margin had one positive quarter after the restructure. A whopping 1% profit margin. Since that point, and every quarter after its re-list on the NASDAQ, it has been below 0%.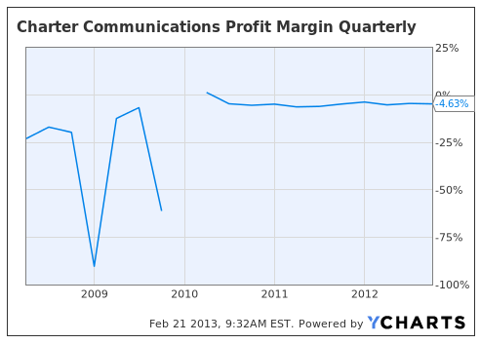 Fading Fast Internally - Not Much Life Left
For those of you unfamiliar with the Quick Ratio, it is a measure that determines a company's short term financial health. It boils down to: With the most liquid assets on hand (cash, short term investments, etc.), how much of a business' current obligations are covered by those liquid assets. Basically, if a major receivable gets called in by a short term creditor, is a company able to cover that obligation.
Charter's quick ratio is at 0.543, up from 0.25 last quarter. This is only because of a new issue of $799 million in debt (who is sane and buying it, I cannot possibly imagine), which put them in a stronger cash position of $868 million last quarter. Compared to its previous peak cash and short term investments, for the prior four quarters, of $5 million dollars (yes, you read that right - a multi billion dollar company had $5 million or less cash on hand through an entire operating year), this is obviously an improvement.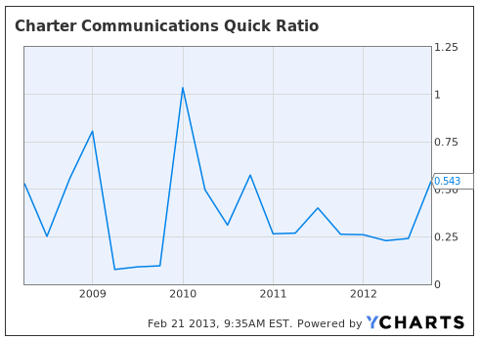 Times Interest Earned is a metric that takes a company's pre-tax, pre-interest earnings (EBIT) and dividing them against the total interest expense on notes, bonds, etc. This is where things begin to look very, very dire. If this metric rolls over negative, it usually begins the spiral of ever-increasing interest payments, which continue to eat a larger and larger chunk of revenues (see: virtually every western nation state on the planet of earth today), ending in inevitable bankruptcy, wipe-out of equity holders, haircuts for bond and note holders, etc.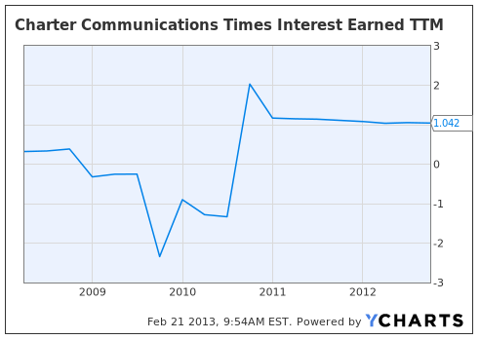 Charter is right on the edge. Times Interest Earned has trended negative for the past four quarters, and is literally only 4.2% higher than actual interest expense. Once this turns negative, you can bet that the inevitable conclusion will come far swifter than it did in the mid-late-2000's.
I recommend a fully leverage short position on Charter.
The Technical Case For A Trend Reversal
Charter is just coming off of a double peak that conforms almost perfectly to 1.00/.618 fib size relationships between the first and final waves of a trend. It has also put in a double top, while diverging heavily to the downside. Short term sell signals are flashing, as well as a key 1-year trend line being double-tested as new resistance, and the price peeling away from it to the downside.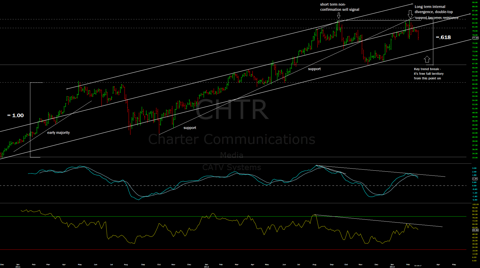 The final testing point for a medium downtrend and increase in pessimism (which should eventually carry the company into its next Chapter 11 hearings) is the long term trend channel that begins right off of the low it put in at $33.00/share, almost immediately after it was re-listed. This key lower channel line moves up through the $72.00-$73.00 region over the next 6 weeks.
Conclusions
Charter is back on its unsustainable operating model, and not missing a beat. It is grinding its way towards bankruptcy, even in the face of a rally of huge proportions. Chapter 11 v2.0 is an inevitability.
A decisive weekly close below this trend-line indicates that the trend has turned negative on a multi month basis, and is the last barrier to ushering in the negative shareholder (mostly institutional, speaking of highly leveraged long exposure and ridiculous levels of optimism) sentiment and creditor sentiment that will inevitably result in Charteruptcy 2.0. I suggest taking the ludicrous valuations relative to declining internal metrics and equity, and using them for a short sell that should yield a tremendous profit over the next 12-24 months.
Disclosure: I am short CHTR. I wrote this article myself, and it expresses my own opinions. I am not receiving compensation for it (other than from Seeking Alpha). I have no business relationship with any company whose stock is mentioned in this article.