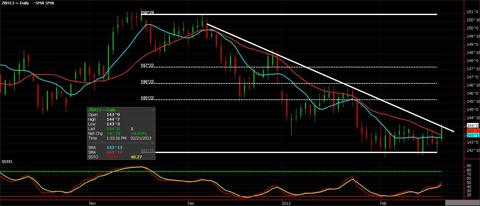 As of this post, 30-year bonds are probing the down sloping trend line that has capped rallies since the first week of December. With a settlement above the 9 and 20 day MAs we've seen today, I expect a trade higher. The inverse relationship to equities also would support a move higher. My suggestion is to use the Fibonacci levels as your targets on the way up. As opposed to gaining bullish exposure, I would prefer to be a seller from higher levels.
While this is a chart of 30-year bonds, I am setting clients up to establish bearish positions from higher levels across the curve. That ranges from on the long end with 30-year bonds all the way to the short end with euro-dollars… contact me for specific strategy, risk levels and profit objectives. I am not in the camp that there is a bubble in the debt complex, but it is very possible that the multi-decade bull market has ended. So if not willing to trade futures/options, perhaps lighten up on your bond portfolio, as it could be a storm if and when yields start moving higher. In full disclosure, that may not be for several years, so don't think there will be instant gratification… just my opinion.
Risk Disclaimer: The opinions contained herein are for general information only and not tailored to any specific investor's needs or investment goals. Any opinions expressed in this article are as of the date indicated. Trading futures, options, and Forex involves substantial risk of loss and is not suitable for all investors. Past performance is not necessarily indicative of future results.
Disclosure: I have no positions in any stocks mentioned, and no plans to initiate any positions within the next 72 hours. I wrote this article myself, and it expresses my own opinions. I am not receiving compensation for it. I have no business relationship with any company whose stock is mentioned in this article.