The Cleveland Federal Reserve Bank reported today its 'latest estimate of 10-year expected inflation is 1.53%. In other words, the public currently expects the inflation rate to be less than 2% on average over the next decade" (see chart below).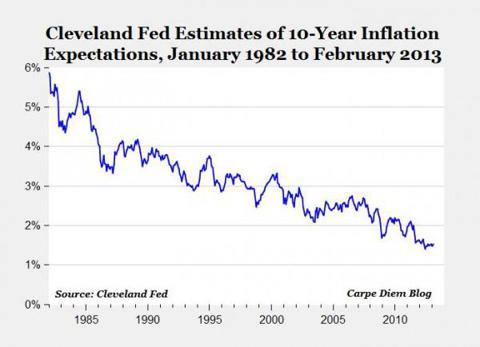 Click to enlarge
Methodology: "The Cleveland Fed's estimate of inflation expectations is based on a model that combines information from a number of sources to address the shortcomings of other, commonly used measures, such as the 'break-even' rate derived from Treasury inflation protected securities (TIPS) or survey-based estimates." For more details, click here.
This measure of 10-year expected inflation has been below 2% for almost two years, and has been around 1.5% for the last year. Despite three rounds of quantitative easing over the last five years, there's still no sign at all of any pending inflationary pressures according to this measure of 10-year expectations. In fact, expected inflation has been falling, and is close to an all-time low for the 30-year history of the Cleveland Fed's estimate.