The Conference Board reported today that its Leading Economic Index (LEI), a 10-variable composite index measure that forecasts the future direction of the U.S. economy, increased to 94.1 in January, the highest level for the index since June 2008 (see chart below). The 0.2% increase in January followed increases of 0.2% in December, 0.2% in October, and 0.5% in September (the index was unchanged in November).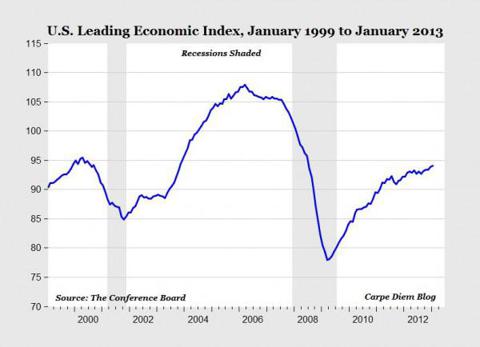 Conference Board economist Ataman Ozyildirim commented: "The U.S. LEI rose again in January, pointing to a slow but continued expansion in economic activity in the near term. Despite continued weakness in manufacturers' new orders and consumer expectations, improvements in housing permits and financial components helped boost the LEI in January."
Conference Board economist Ken Goldstein commented: "The indicators point to an underlying economy that remains relatively sound but sluggish. Credit use has picked up, driven in part by relatively strong demand for auto loans. The biggest positive factor is housing. The housing market is now at twice the level reached during its recessionary lows, and will likely continue to improve through the spring, delivering some growth momentum to the labor market and the overall economy. The biggest risk, however, is the adverse impact of cuts in federal spending."
The Leading Economic Index has been trending upward since the summer of 2009 when the recession was coming to an end. The gradual, but ongoing increases in the leading index over the last year point to a continuation of slow but steady growth in the "plow horse economy" -- the term used frequently by Brian Wesbury and Bob Stein to describe the plodding nature of the U.S. economy and recovery in recent years. Certainly nothing spectacular this year to look forward to in terms of economic growth, but nothing yet to indicate a serious slowdown or recession on the economic horizon.