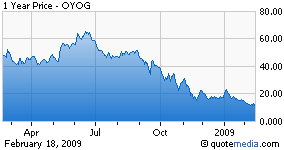 Oyo Geospace (NASD: OYOG) announced first quarter earnings last week, and the results were not pretty. Net income fell to $1.3 million or $0.22 per share as compared to net income of $3.3 million or $0.54 per share one year ago. Oyo had earned as much as $4.3 million in the third quarter of 2008, but it seems that as oil prices have fallen there has been less demand for Oyo's products.
New product sales were noticeably absent in Oyo's press release, though the release did note that its customers are struggling to access capital.
The severe drop in earnings seems to have caught management by surprise as inventories jumped significantly. This used cash flow and caused its long-term debt to jump by $6 million.
The thesis for purchasing Oyo's shares has always required consistently high oil prices to drive adoption of its innovative products. Oil service companies have pulled back on spending and put quite a dent in the balance sheet of Oyo Geospace.
It will be interesting to see if the inventory issue is resolved next quarter or if it continues. With the decline in oil prices, Oyo Geospace has gone from a capacity-constrained company expanding to meet demand with significant upside potential to a company struggling to unload inventory in the face of an oil price meltdown.
One would hope that the share price would turn positive as the economy recovers, but the damage done by this downturn might impair the company's rebound once demand returns.
Disclosure: The author holds no shares of Oyo Geospace.