Market Recap:
The market weakened again on Thursday, but not as strongly as on Wednesday. The market moved lower as it continued a negative reaction to the FOMC minutes suggesting the potential of an end to asset purchasing. Further, the market got hit by economic data that showed initial jobless claims rose more than expected, as well as Existing Homes Sales and the Philly Fed Index missing expectations. Jobless claims came in at 362K versus 358K expectations. Existing Home Sales first 2013 annualized rate was reported at 4.92M, below the 4.94M expectations. Finally, Philly Fed came in at -12, while expectations were for a positive reading. The combination of those three data points and weakness in the Fed numbers hit the market. A late recovery helped ease the pain, but this market has shown back-to-back weak days, proving a correction may be starting.
The Dow (NYSEARCA:DIA) finished down 47 points, while the S&P (NYSEARCA:SPY) finished down 10 points.
Stocks To Trade:
Today, we are looking at longs in Target (NYSE:TGT) and Netflix (NASDAQ:NFLX), and a short in the SPDR S&P 500 Trust (SPY).
We believe that TGT is looking very solid right now. The stock has been outperforming recent weakness in the market, and we believe the stock could breakout on earnings next week. Currently, expectations are for 6.5% growth in revenue, as well as a slight gain in earnings. The key to earnings, though, is development in Canada. Canada will add around $4B in revenue, as the company makes around $400M per store currently. The company has a lot riding on its growth in Canada, as it will have over 100 stores that will open in Canada in the next 2-3 years. The other key to earnings will be its holiday sales. Those two keys will charge the stock higher or lower. Current value shows that the market is overly discounting both. The company trades at a 0.6 price/sales ratio, as well as 12.5x future earnings. Both ratios show very cheap valuations that we believe do not merit the company's strength.
How were holiday sales? Most brick and mortars have not reported strong holiday sales, but we believe that expectation is already priced into TGT, as seen by its 0% growth since Black Friday. The company also already reported it saw minimal growth during the period. Any issues there are already expected. The weakness should be looked at as a buying opportunity. Further, Walmart (NYSE:WMT) noted that February earnings were weak due to the payroll tax expiration. TGT will be slightly less negatively impacted than WMT and dollar stores due to a slightly higher class of shoppers. For these reasons, we believe the focus will be on full-year expectations as well as Canada, both of which we see as positives for the stock. Our current 2013 price target is $72, as we believe shares should build on cheap valuations. Further, shares are currently breaking out of resistance and look solid to head higher from here.
Trade: Long TGT
Entry: Above 63.50
Another stock staying strong right now is Netflix. After a great round of earnings in January that showed promising growth in Europe, the stock has continued to move higher. With general weakness in the market, NFLX has corrected slightly over the last couple of days. We believe weakness is opportunity in this name. NFLX has several promising developments right now -- overseas growth, original programming, and a growing economic moat. The combination of the three makes the company very attractive. First, overseas is the place where a lot of future growth will be fueled. In the latest quarter, the company had over 6M overseas subscribers. In Q3, the company had 4.3M, showing growth of 42% in three months! The company is investing heavily in growing its market in Europe and Latin America. The company is stalling its growth into new markets for the first six months, but there is tons of opportunity in other European markets, Asia, and other frontier markets. We believe that the international growth of the company will help to justify strong valuations.
Another developing aspect the company that we believe will continue to grow is original programming. The company just launched its first original show with "House of Cards", starring Kevin Spacey. The show is already off to rave reviews, and it has two very positive effects. First, if the company can develop in-house programming, it can evolve to more closely resemble HBO, Showtime, and Cinemax in the way they have developed attractive programming. Yet, at the same time, the company offers vastly better online streaming and physical DVD delivery. Further, the show creates brand loyalty (economic moat). 86% of subscribers said the new show makes them less likely to cancel!
Finally, we believe the company has a growing economic moat. It has a great algorithmic review function that helps subscribers pick movies in the same way Pandora (NYSE:P) picks songs on likes/dislikes. That type of function takes tons of data, which is not something that can be created quickly. Further, the company has licenses with lots of promising studios -- Disney (NYSE:DIS) and Weinstein, which will bring great movies only to Netflix. We believe that while small, the company has a solid economic moat, and competition from Amazon.com (NASDAQ:AMZN) and others has yet to challenge its fierce dominance.
Use this weakness as an opportunity to adapt a bull put spread to be able to own shares at an even lower price if they continue to decline.
Trade: NFLX, Mar16, 155/150 Bull Put Spread
Max Gain: 11%
While there are opportunities, generally, this market is looking rather weak. It has lost its steam, and with the Sequester coming ,as well as the Fed looking to end asset purchases, the market's upside looks questionable. Since the beginning of the year, the SPDR S&P 500 has gained 6.3%. It's been a solid ride so far this year, but on March 1, the Sequester takes place. Automatic cuts to government spending will reduce GDP, cut government jobs, and hurt the Department of Defense, as well as entitlement benefits. While in the long run a balanced budget makes a healthy economy, the short-term effects should keep the market in check. Here is a breakdown of cuts: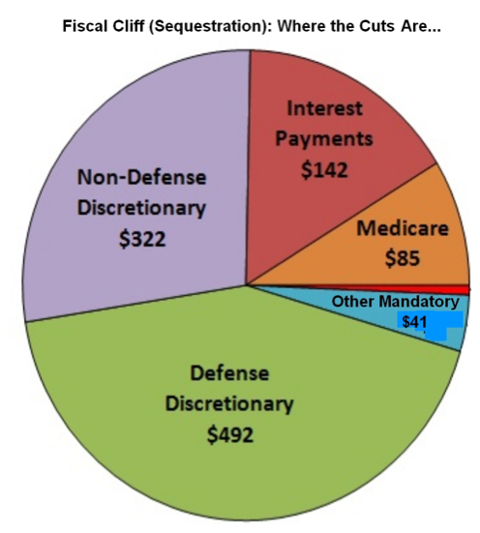 These cuts, while minimal in the long run, do present a chance to lock in profits. On top of that, the Fed looks like they may be moving to end asset purchases by the end of the year. The FOMC minutes, released on Wednesday, showed that the Fed was concerned with the cost of buying assets, and was wondering how much longer it would provide a benefit. Pulling the plug on the program at this point may not have as negative as an impact as previously, but concern over it will create difficulty in upside as well. For these two reasons, we expect a multi-week correction, or at least limited upside.
The best way to play that market condition is with a SPY bear call spread.
Trade: SPY, 155/156 Bear Call Spread
Max Gain: 15%
Tomorrow's Outlook:
After two solid days of selling, we could get a bit of upside tomorrow. Shorts may start to cover before the weekend, and we have no major economic data reports on the agenda. After a couple of days of weakness, some bulls may start to dip their toes into a couple of longs that they like after correcting. Albeit small, the market tends to move strongly down, follow through with half of that movement the next day, and trail off for a couple days. Headlines will likely rule the trading for tomorrow, and it is hard to predict that at this point in time. Look for a small move in either direction with a lack of data to move stocks.
Charts courtesy of finviz.com
Disclosure: I have no positions in any stocks mentioned, and no plans to initiate any positions within the next 72 hours.
Business relationship disclosure: The Oxen Group is a team of analysts. This article was written by David Ristau, one of our writers. We did not receive compensation for this article (other than from Seeking Alpha), and we have no business relationship with any company whose stock is mentioned in this article.