Sixteen basic ETFs were selected to cover U.S. Equities, developed and emerging international markets, domestic and international REITs, gold, commodities and a wide range of bond and Treasury instruments. All the ETFs, with the exception of GTU, can be purchased commission-free through TDAmeritrade, thus holding down portfolio costs.
The following worksheet integrates with Geoff Considine's Quantext Portfolio Planner (QPP). The optimization analysis is set to maximize the projected return from these 16 ETFs while holding down portfolio risk to less than 14%. Diversification is constrained to exceed the 40% desired value. The constraint (=> 1%) placed on all equity ETFs is so a minimum investment will be available to calculate the ITA Index, a customized benchmark for a portfolio that hold assets other than U.S. Equities.
The additional constraints placed on the various ETFs push the overall portfolio toward the stated diversification goals. For example, by limiting the projected risk to 14% the allocation to both gold (NYSEMKT:GTU) and commodities (NYSEARCA:DBC) would increase dramatically were it not for the 6% constraint placed on these two ETFs. Readers can carefully examine the other constraints on each holding.
It needs to be noted that the projected return has its own constraint, as the S&P 500 was assumed to increase at a rate of 7% over the next few years. The projected return is tied to this 7% value, and the goal is to come up with a portfolio that will exceed that projected for the S&P 500. This portfolio falls just short of the 8% goal. Five years of historical data was used to come up with the projections.
Over the past five years, this portfolio outperformed the S&P 500 by approximately 3% annually, and did it with lower risk.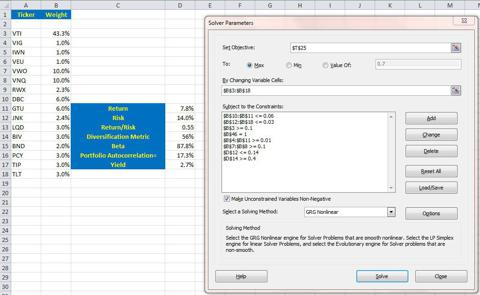 Disclosure: I am long VTI, VEU, VWO, DBC, PCY, TLT, VNQ, GTU, TIP, BND, RWX. I wrote this article myself, and it expresses my own opinions. I am not receiving compensation for it (other than from Seeking Alpha). I have no business relationship with any company whose stock is mentioned in this article.