Sprint Nextel (NYSE:S) showed some signs of improvement in its fourth quarter, but is still losing customers at a rapid clip. Sprint CEO Dan Hesse said the company has "high expectations" that the Palm Pre handset can attract customers to the wireless provider. "We are bullish about the potential for this device," said Hesse on Sprint's earnings conference call.
In the quarter (statement), Sprint lost 1.3 million net wireless customers and delivered a churn rate of 2.16 percent, up slightly from the third quarter, but better than a year ago.
Sprint delivered a fourth quarter net loss of $1.62 billion, or 57 cents a share, on revenue of $8.43 billion. In the fourth quarter a year ago, Sprint had a net loss of $29.3 billion, or $10.31 a share, on revenue of $9.84 billion. Sprint reported a loss of a penny a share on an adjusted basis compared to Wall Street expectations calling for a loss of 3 cents a share.
For the year, Sprint reported a loss of $2.79 billion, or 98 cents a share, on revenue of $35.6 billion, down 11 percent from a year ago.
Hesse said the company remains focused on cutting costs and boosting cash flow. Hesse in a statement also added that Sprint has enough cash to meet its debt service requirements through the end of 2010. For 2009, Sprint said that it expects subscriber losses to improve in 2009, but didn't signal that growth is around the corner. Capital spending in 2009 will be flat with 2008 and Sprint expects to generate positive free cash flow.
Although Sprint had a rough 2008, it does seem to be going in the right direction. Sprint has cut its debt load and shared the cost of its WiMax rollout courtesy of a transaction with Clearwire (CLWR). The big question is whether Sprint can lower its churn rates and actually attract customers.
On a conference call, Hesse hit a few key themes. First, Hesse reiterated that Sprint is improving customer service. He said that customer service improvements have enabled the company to close 11 call centers. Sprint plans to close more in 2009. Hesse also noted that Sprint's 3G service has been touted by sites such as Gizmodo for performance.
Hesse, who has been working hard to improve the company's image, also said that Sprint is being considered by more potential customers. But he also acknowledged customer service improvements "take time in a recurring revenue business" to change consumer perception, especially when Sprint's reputation has been "tarnished" in the past.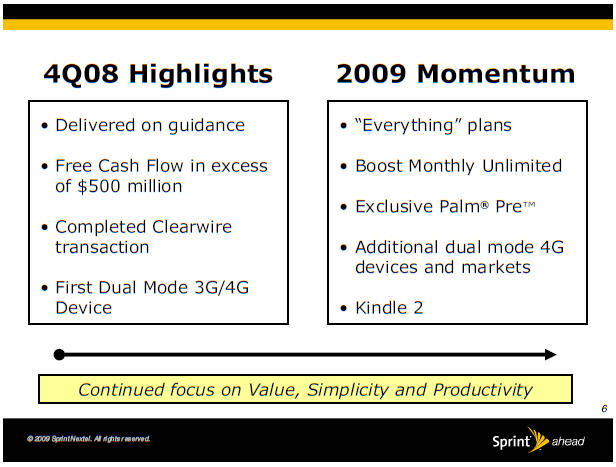 The jury is still out whether a new handset from Palm and plans like Simply Everything are enough to convince customers to leave AT&T (NYSE:T), Verizon (NYSE:VZ) and T-Mobile for Sprint.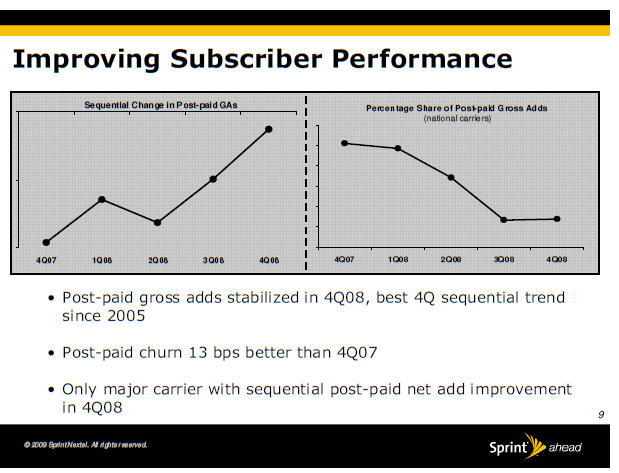 Here's a look at Sprint's customer metrics with my notes: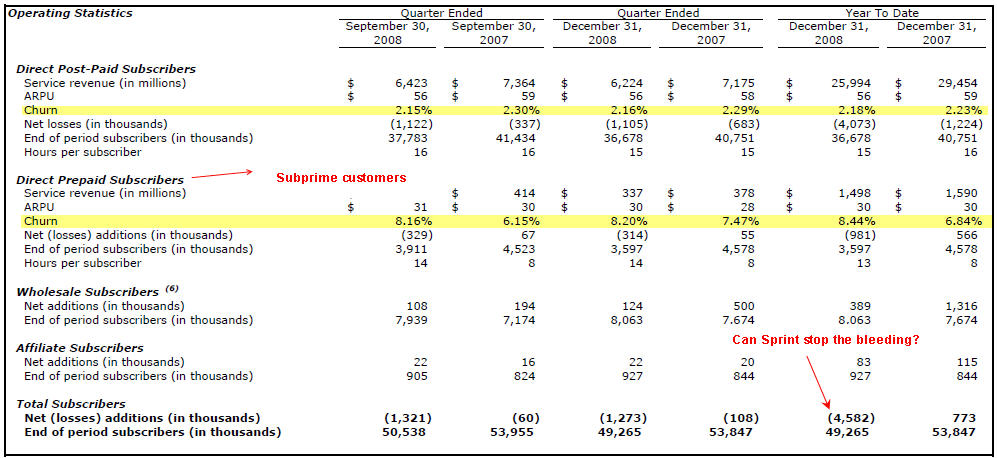 By the numbers:
Sprint ended the year with 49.3 million customers, down from 53.8 million at the end of 2007.
Credit quality of Sprint's customer base improved throughout 2008 and "prime" customers are 84 percent of the company's post-paid customer base, up from 79 percent a year ago. Sprint had a bevy of sub-prime customers via its Boost Mobile unit.
10 percent of Sprint's customers upgraded handsets in the fourth quarter.
Wireless post-paid churn was 2.16 percent, but Boost churn was 8.20 percent, up from 8.16 percent in the third quarter.
Average revenue per subscriber $56. Wireless service revenue in the fourth quarter was $6.6 billion, down 13 percent from a year ago.
Equipment subsidies was $800 million compared to $700 million in the third quarter and $500 million a year ago. Sprint said: "The year-over-year increase in subsidy is primarily due to the increase in the average cost per handset sold as the company continued to sell a greater number of higher-priced units, partially offset by a decrease in the number of handsets sold."