I've been reading a lot of articles lately on why everybody is falling in love with General Electric (NYSE:GE), albeit their points are very valid and I myself have been in love with it since November, but I don't believe right now is the best time to be enamored in the stock. I recently sold the stock before the February ex-div date for an 11.9% gain (including reinvested dividend), or 40.7% on an annualized basis. If you believe any of the stories about what is going on in the macroeconomic environment regarding the sequestration, or hiking rates sooner than expected, you know that industrial conglomerate companies are going to be losing some revenue and tightening the purse strings a bit.
Valuation
During the time I owned GE, it beat out the S&P 500 11.2% to 7.1% excluding reinvested dividends. When comparing it against its peers 3M (NYSE:MMM) and United Technologies (NYSE:UTX) during the same time frame, GE actually lagged. When looking at the P/E ratio, all three companies are practically identical and just a little rich for my taste. Especially since the market took a beating and with the sequestration issue coming due in a couple days, the entire market might just take a little bit of a breather here, which will allow us to grab some more stocks at a cheaper price. I really want to be in the industrial sector, but I'm just a little weary and wanted to raise some cash. The PEG ratios of GE and MMM are a bit on the high side while UTX appears to be the least expensive based on a five-year outlook for a PEG ratio.
| | | | |
| --- | --- | --- | --- |
| Ticker | % Gain (01Nov12 - 20Feb13) | P/E | PEG |
| GE | 11.2% | 16.84 | 1.53 |
| MMM | 17.8% | 16.32 | 1.66 |
| UTX | 15.3% | 16.85 | 1.27 |
*all values are from finviz.com and are current as of 20 Feb13.
Financials
All three companies sport a very generous dividend yield with GE yielding the highest value at 3.25%. GE pays out nearly half of its earnings to shareholders while UTX pays out 23% less than GE. Yes GE recently sold off NBCUniversal and came up with quite a bit of cash immediately which could be utilized to pay the dividends coming or even give another dividend increase less than a year elapsed from the last one, but I would expect UTX and MMM to be able to boost their dividends at a higher growth rate than GE. When I take a look at the Return on Equity numbers, I see that of the three, GE is generating the least profit which is not really okay with me. I like to see my equity generate values upwards of 25% because it reassures me that the company knows how to generate money using the equity its shareholders invested in it.
| | | | |
| --- | --- | --- | --- |
| Ticker | Yield | Payout | ROE |
| GE | 3.3% | 50.24% | 12.25% |
| MMM | 2.5% | 36.70% | 26.56% |
| UTX | 2.4% | 38.30% | 20.28% |
*all values are from finviz.com and are current as of 20 Feb13.
Technicals
On a technical basis, GE is above its 20, 50, and 200-day simple moving averages and is flirting with overbought territory according to its relative strength index with a value of 67.07, while a value of 70 is an indication of a stock being overbought. The MACD graph shows a bit of a bullish pattern that's kind of getting exhausted. I'd look for this tired bull to waver around its current price and test the 20-day SMA.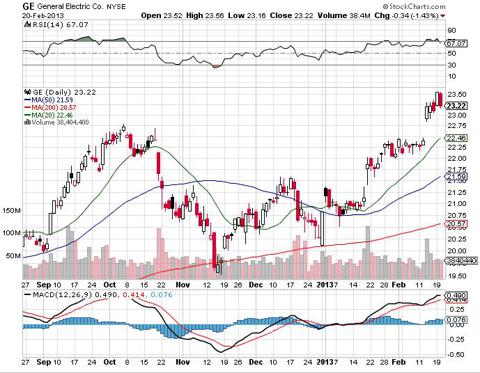 Conclusion
With all the information I've listed in this article, I just didn't see any reason to keep holding onto GE at the present time. I believe it is too expensive among its peers and that there are no short-term catalysts to keep the stock. Actually, I'm contemplating on looking into UTX a little bit more and maybe using it to jump back into the industrial sector, since I'm a little light in that area for my diversified portfolio. However, I am still going to put GE on my watch list, with the ex-dividend date having been Thursday and the potential of GE using its NBCUniversal money to make purchases for future growth, I think I can get in at a lower price. Personally, I'm happy with a 40.7% annualized return and not worried if GE's next move is contrary to what I see. These are only my opinions, please do your due diligence and perform your own homework, I'm not responsible for your actions.
Disclosure: I have no positions in any stocks mentioned, and no plans to initiate any positions within the next 72 hours. I wrote this article myself, and it expresses my own opinions. I am not receiving compensation for it (other than from Seeking Alpha). I have no business relationship with any company whose stock is mentioned in this article.