Whether you are new to dividend investing or you are a seasoned pro, it's likely that your main goal is to build a long-term portfolio that generates consistent income over time with as little volatility as possible. That said, over the next few weeks we will continue publishing our 10-part series which should help you build your own 6% DIY Dividend Portfolio for 2013.
In part 1, we highlighted the investment plan and strategy for the portfolio and parts 2-10 will highlight each sector in the S&P 500, including high-rated stocks within each sector that you should consider for your portfolio. Below is a schedule of the entire series. Please make sure to "follow" us so that you will be notified when each new article is published.
Industrials
If you can't tell from the chart below, the Industrials sector is highly correlated with the S&P 500 (but slightly more volatile). The sector has the third highest beta (1.24) among all the S&P 500 sectors. That said, since the recent trough in November 2012, the Industrials sector has led the broader market higher with a total return over 15%.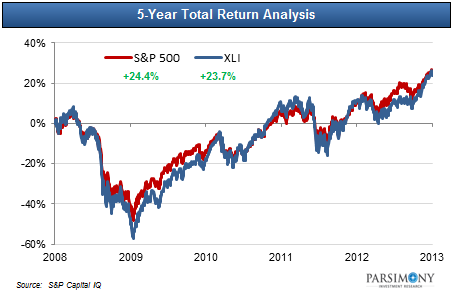 Below is a list of our top-rated dividend stocks in the Industrials sector. Note that our composite rating ranges from 0 (lowest) to 99 (highest).

While dividend yields in this sector are relatively low, each of these top-rated stocks have significantly outperformed the sector as a whole, averaging a 5-year total return of 142%!. The tables below highlight some of the key data points that we analyze when ranking our dividend stocks.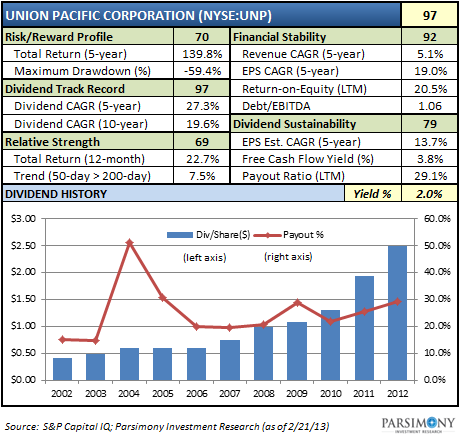 Union Pacific (NYSE:UNP) has paid dividends on its common stock for 114 consecutive years and the company has grown its dividend at a compound annual rate of almost 20% over the past 10 years. In addition, the company has very strong ratings for Financial Stability (92) and Dividend Sustainability (79). With a very modest payout ratio of 29.1%, we expect Union Pacific to continue to aggressively increase its dividend in the future.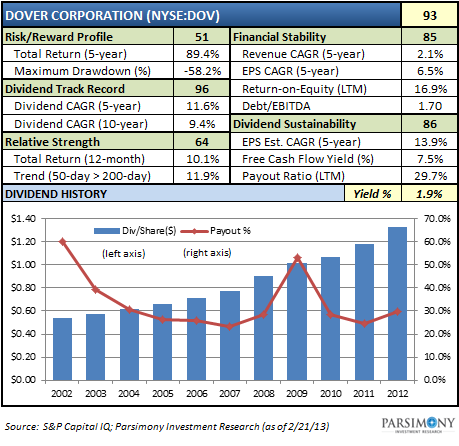 In 2012, Dover Corp (NYSE:DOV) increased its dividend for the 57th consecutive year, giving it one of the longest records of consecutive annual dividend increases of all listed companies. In addition, the company has a high Financial Stability Rating (85) and very low payout ratio (29.7%). We expect that Dover will continue increasing its annual dividend to shareholders by at least 10% for the foreseeable future.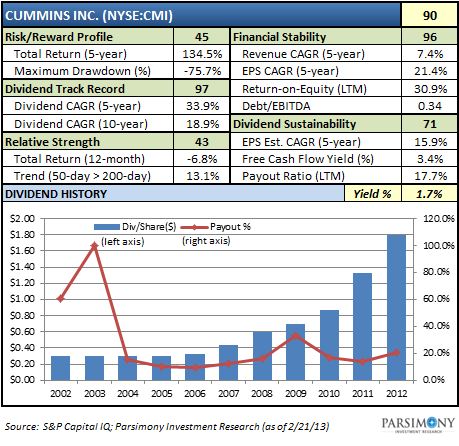 In 2007, Cummins (NYSE:CMI) really shifted it dividend distributions into high gear (no pun intended). Over the past 5 years, the company has grown its dividend at a compound annual rate of 34% and delivered shareholders a total return of 135%. The company has great ratings for Financial Stability (96) and Dividend Sustainability (71) and an ultra low payout ratio of 17.7%. We just wish that Cummins dividend yield was a little higher.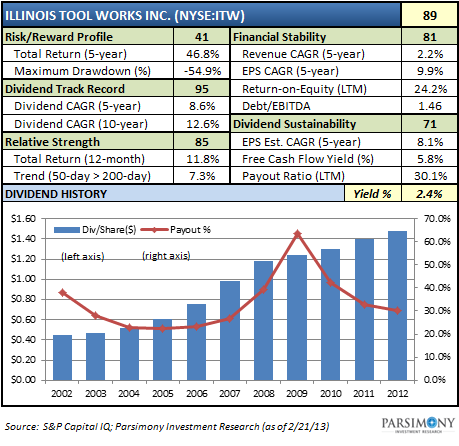 Illinois Tool Works (NYSE:ITW) has grown its dividend at a steady compound annual rate of 8.6% over the past 5 years and it has delivered shareholders a total return of 47% over that period. Since peaking in 2007, its payout ratio has steadily declined to 30.1%, leaving room for future increases. The company also has a very strong balance sheet, with a current cash balance of $2.8 billion and a modest debt-to-EBITDA ratio of 1.46x.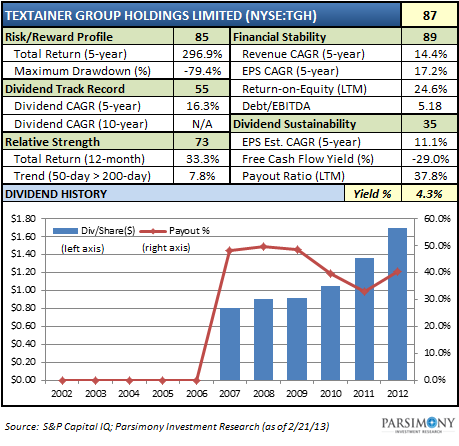 Textainer Group (NYSE:TGH) has been a dividend machine since going public in late 2007 and it has one of the highest dividend yields in the sector (4.3%). Over the past 5 years, the company has grown its dividend at a compound annual rate of 16% and delivered shareholders a total return of almost 300%. What's more impressive is that the company has increased its dividend for 12 consecutive quarters! Textainer is certainly a stock to keep on your radar.
Conclusion
Any DIY Dividend Portfolio should include several stocks from the Industrial sector. The key takeaway here is that many of the broader sectors have sub-industries that perform much better than the sector as a whole. This is part of the reason why we developed the Parsimony rating system. If you rank all of the stocks in a sector against their peers on a consistent basis, it becomes clear which companies are the strongest and which offer the best investment opportunities going forward.
Disclosure: I have no positions in any stocks mentioned, and no plans to initiate any positions within the next 72 hours. I wrote this article myself, and it expresses my own opinions. I am not receiving compensation for it (other than from Seeking Alpha). I have no business relationship with any company whose stock is mentioned in this article.