On February 19, Windstream Corp. (NASDAQ:WIN) reported its Q4 and full-year 2012 results. For FY 2012, Windstream saw its revenue decline 1.4%, to $6.16B and its EPS decline 12%, to $0.28. Windstream's share price has fluctuated wildly this quarter, with shares seeing multiple sharp increases and declines. Windstream currently offers a $0.25 quarterly dividend. At current prices, Windstream yields 11.7%.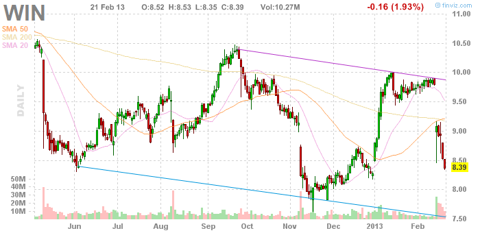 Windstream's stock has recently fallen due to the shocking dividend cut announcement by competitor CenturyLink (NYSE:CTL). There have also been concerns about the safety and sustainability of Windstream's dividend. However, if there was one message that Windstream's management wanted to deliver during its Q4 conference call, it was that: Windstream is committed to supporting its $1.00 per share dividend.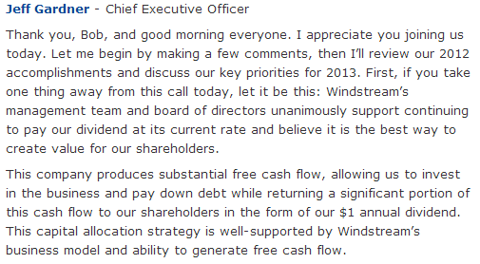 Indeed, support for the current dividend policy was made clear, and was the main focus in the Q4 2012 investor presentation: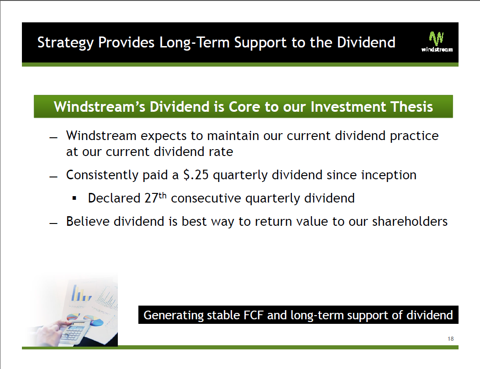 The dividend payout ratio in 2012 was 77% when using Windstream's adjusted free cash flow numbers.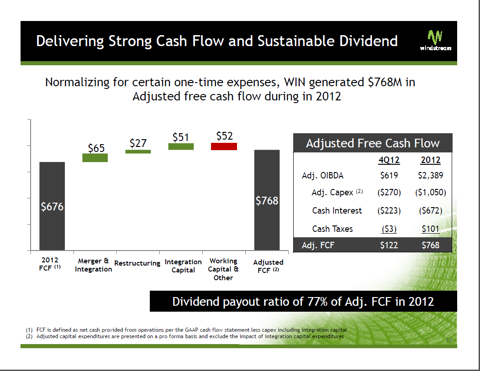 However, one should take these "adjustments" with a grain a salt. Windstream excluded from its adjusted free cash flow certain "one-time" expenses, such as: mergers and integration, restructuring, integration capital, working capital and other expenses. When factoring back in these adjustments, Windstream's payout ratio increases to 87%.
When taking a closer look at Windstream's adjusted free cash flow, one can see that even with these adjustments, Windstream still paid out more in dividends than it generated in adjusted free cash flow for Q4 and Q2 2012 (these are the red ovals). Also keep in mind that Windstream benefited from a one time tax refund during Q1 2012 (this would be the blue oval).

Windstream also provided guidance for 2013. Windstream anticipates that revenue will be relatively flat, ranging from a decline of 2% to an increase of 1% compared with 2012. Windstream also anticipates that its adjusted free cash flow will increase 13 to 25% from the $768M reported in 2012. CapEx is also expected to decline $200M year over year, and the adjusted free cash flow dividend payout ratio is expected to range from 61 to 68%.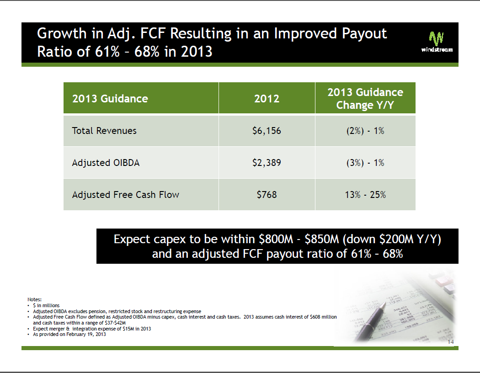 Windstream will definitely be needing this extra cash flow in 2013, as it has $810M of debt coming due during Q3 2013. Windstream does however have ample liquidity, in the form of an undrawn $1.25B revolver. Windstream expects to repay this note with excess free cash flow coupled with the revolver credit.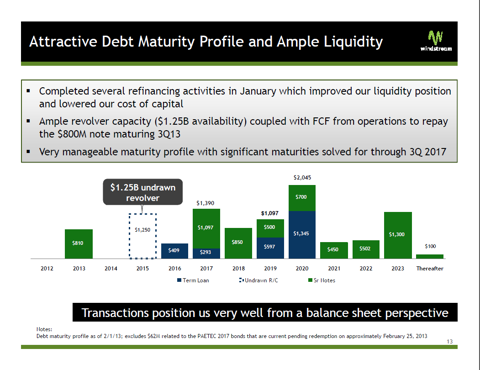 Do note that Windstream also has to consider other, and technically more important, interests when analyzing its dividend policy: bondholders and credit rating agencies. As was the case with CenturyLink and Frontier (NYSE:FTR), shareholders often play second fiddle when the rating agencies come knocking. Indeed, on Wednesday, February 20, Fitch revised its outlook on Windstream's debt to negative. Fitch noted Windstream's high leverage and EBITDA pressures for its revision. Access to credit markets is crucial for Windstream, as it has a rather large debt load.

Conclusion
Windstream offers such a high yield for a reason: it is considered a risky investment. However, Windstream's management has repeatedly reassured its investors of its commitment to maintain the dividend at its current level. However, I would suggest that investors looking for income AVOID Windstream's stock. A 11.7% yield is not enough of a reward for the volatility displayed by this stock.
Disclosure: I have no positions in any stocks mentioned, and no plans to initiate any positions within the next 72 hours. I wrote this article myself, and it expresses my own opinions. I am not receiving compensation for it (other than from Seeking Alpha). I have no business relationship with any company whose stock is mentioned in this article.