By Kate Boehme
As smartphones have become increasingly popular, most have become familiar with the BlackBerry (NASDAQ:BBRY), which is known for its classic design and almost cult-like following. Yet, what many do not realize is that in one form or another, the BlackBerry has been around for more than a decade. Its creator, BlackBerry Limited (formerly Research In Motion Limited) dates back even further, to 1984, when mobile communication devices were only just starting to be developed. Since then, Blackberry has gone through several stages in its decade old history. As can be seen from the graph below, the stock has a highly volatile story in the market. In this article, I look at the company's past and present, and suggest directions for stock's future.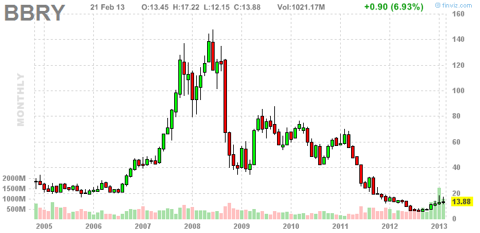 Source: Finviz.com
Past
Mike Lazaridis first founded Research In Motion in 1984 to develop cutting-edge mobile communication technologies. At first, the company worked closely with others, such as RAM Mobile Data and Ericsson (NASDAQ:ERIC), to develop its services, namely its two-way paging and wireless email networks for the Mobitex wireless network. In fact, RIM was only the second developer in the world to work with Mobitex.
The first BlackBerry device was released in 1999, though it bared little resemblance to the current smartphone devices. So named for the resemblance of the device's keyboard to a blackberry fruit, this first generation BlackBerry was an advanced model for the company's two-way pager market. Through its server software, named BlackBerry Enterprise Server [BES], this device could receive emails; it paved the way for later generations and ultimately the release of the first BlackBerry smartphone in 2003.
While initially designed mainly for business use, RIM soon began releasing devices geared more for the consumer market, including the BlackBerry Pearl 8100, which was the first of its kind to include multimedia features. Later, serious competition posed by other smartphone models - namely the Apple iPhone - spurred further innovation and the release of the first touchscreen BlackBerry model in 2008.
In October, 2008, RIM was named one of Canada's "Top 100 Employers" by Mediacorp Canada Inc. The following year, Fortune magazine identified RIM as the fastest growing company in the world. Over the next three years, the company continued to turn out substantial profits, despite global economic turmoil as a result of the recession. This period of growth also featured exploration into other possible markets, including the development of a personal tablet computer, designed to compete with the Apple's (NASDAQ:AAPL) iPad.
However, increased market competition and economic factors have, ultimately, taken their toll on the company. In June 2011, RIM announced for the first time in nine years, an expectation that their Q1 revenue would fall. This announcement coincided with plans to make workforce cuts; RIM cut 2,000 jobs in July 2011, the most significant single reduction in the company's history. By the end of 2011, RIM had suffered one of the most significant depreciations in the entire global market, with its share in the US market falling from nine to three percent in under a year.
Unfortunately, RIM fared little better in 2012. In June of that year Morgan Stanley downgraded RIM, and the company reported a net loss of $518 million during Q1. At that time, RIM had lost a full 94 percent of the market value it had during the peak months of 2008.
Present
In its recent report, for the period ending December 1, 2012, Blackberry reported a cash increase of approximately $600 million to a total $2.9 billion, with the amount from operations recorded at $950 million. This accompanied total reported revenues of $2.7 billion, a five percent decrease from the $2.9 million recorded in Q2, and a full 47 percent drop from the amount reported during the same period of Fiscal Year 2012. Furthermore, despite a BlackBerry subscriber base of around 79 million users, adjusted net losses were reported at $114 million.
Nevertheless, even in the face of such dismal results, the company remained hopeful. Recent months have been marked by a concerted effort by RIM to once again make themselves, and the BlackBerry smartphone, marketable. Last year, Thorsten Heins took over as Chief Executive, and was tasked with changing the company's future.
On January 30, 2013, the company officially launched its new operating system, the BlackBerry 10, as well as two new phones based on the new OS. At the same event, the company also announced that it would be changing its name from Research In Motion to BlackBerry. This rebranding was aimed specifically at making the BlackBerry phone more central to the company's operations while raising the device's profile. Though the change will not officially take place until the company's next annual shareholders' meeting, its TSX and NASDAQ tickers changed to BB and BBRY, respectively, as of February 4, 2013.
With so much riding on the release of the new BlackBerry 10 operating system, respectable sales numbers have had a positive impact on company performance. BlackBerry is a highly volatile stock. Since its dip to $6.22 in last year, the stock bounced back to almost $14. It has a 52-week range between $6.22 and $18.32. While such numbers are a definite improvement on previous results for this company, analysts worry that sales figures restricted by limited stock will ultimately not prove sufficient to revive this struggling mobile technologies giant. Amidst these concerns, Blackberry stock returned almost 80% in the last 6 months.
Future
All the analysts are in agreement: success of the BlackBerry 10 platform is absolutely crucial to secure a future for this company. The launch of this new platform was designed to enable BlackBerry to compete with the likes of Apple and the major Android phone manufacturers such as Samsung and HTC. Thus far, the launch seems to have been relatively successful, though it is still too early to tell whether or not it will be the decisive push that this company needs.
However, evidence suggests that BlackBerry might be looking beyond this particular arena, to broaden its scope in a total overhaul of its traditional operations. Heins announced recently that BlackBerry was already looking forward toward a future in "mobile computing." Specifically, he and other BlackBerry strategists are viewing BlackBerry 10 not only as a means of creating new, faster smartphones, but actually as a vehicle for developing a whole new array of computing devices.
BlackBerry's head of marketing, Frank Boulben, presented a particularly ambitious future where, "You will be able to plug the (Z10) device into a docking station at the office and then all you need is a keyboard, a mouse and a screen. Combined with cloud services this would mean you don't need a laptop or a desktop."
If such radical ideas come to fruition, it could certainly mean the survival of BlackBerry. At this early stage, it is difficult to predict what will happen. While we can already see signs of positive growth since the release of BlackBerry 10 in January, it will take far greater sales figures to enable a full company rebound. Nevertheless, the company is debt-free, and it was able to increase its cash reserves by $800 million in last year. Each stock also comes with cash or equivalent of $5.21 per share. At the current price of $13.7, Blackberry seems like a pretty cheap deal for bargain hunters.
Disclosure: I have no positions in any stocks mentioned, and no plans to initiate any positions within the next 72 hours.
Business relationship disclosure: Efsinvestment is a team of analysts. This article was written by Kate Boehme, one of our equity analysts. We did not receive compensation for this article (other than from Seeking Alpha), and we have no business relationship with any company whose stock is mentioned in this article.