Best Buy (NYSE:BBY) recently announced they will match Amazon's prices. This follows a similar action by Target (NYSE:TGT). Others will likely to follow. Amazon (NASDAQ:AMZN) has become the standard by which other retailers are measured. Best Buy declares that this action will end showrooming, where customers look at products on a store's showroom floor, but buy them cheaper online. But will it? It may make their customers more likely to check Amazon.com than they already were. After all, it could get them an instant discount. Also, before buying something, they can check the reviews on Amazon.com.
Looking at annual revenues, the reason for this action is apparent:
| | | | | |
| --- | --- | --- | --- | --- |
| | 2012 | 2011 | 2010 | Increase |
| BBY | 50,705,000 | 49,747,000 | 49,243,000 | 2.97% |
| TGT | 69,865,000 | 67,390,000 | 65,357,000 | 6.90% |
| AMZN | 61,093,000 | 48,077,000 | 34,204,000 | 78.61% |
Recently we've seen a lot made of the fact that Amazon's 2012 fourth quarter results did not show the kind of percentage increase that we've become accustomed to seeing. This article makes the case that Amazon has "diving revenue growth" and does not justify the current valuation.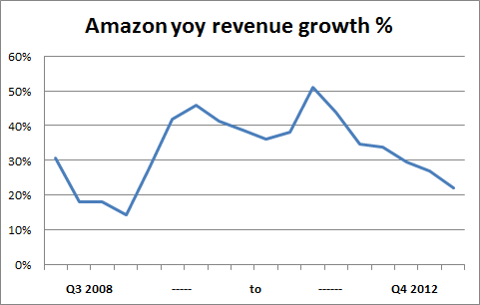 Looking at the raw data itself, we have: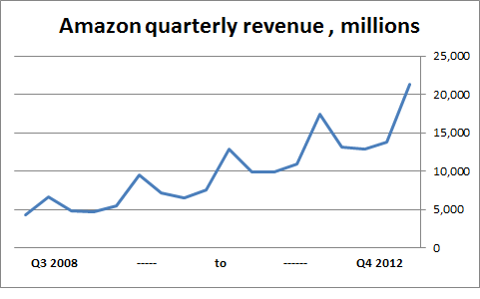 Does this look like "diving sales growth"? Amazon's revenue increase for 2012, $13.16 billion, is almost as much as eBay's (NASDAQ:EBAY) TOTAL revenue for 2012 ($14 billion). Quarterly revenues are growing at a brisk pace. Some may argue that you have to look at quarterly percentage increases to really understand what's happening. Perhaps, but you shouldn't read too much into it. Fueling this growth of course is the overall increase in online retail.
U.S. Retail E-commerce Sales as a Percent of Total Quarterly Retail Sales

As the above chart from the U.S. Census Bureau shows, the percentage of retail sales being done on the internet is increasing at about .36 percent per year, and shows no signs of slowing down. The percentage of shopping being done on the internet is higher in the Christmas shopping season than the rest of the year. Who wants to fight the crowds and deal with the weather when you can click away in the comfort of home? Extrapolating the chart, it seems it will be 14 years until e-commerce is 10.4 % of total retail, double what it is now. That's a long time for investors to wait.
Amazon can't reciprocate on price matching. An example is canning jars. I like to can vegetables, and I buy canning jars at Wal-Mart (NYSE:WMT). A dozen one pint canning jars at Wal-Mart costs $8. On Amazon.com, the same canning jars are $16 with free shipping. One Amazon third party seller has them for $6, but they charge $11 for shipping. At Wal-Mart, the jars are on a pallet, which was unloaded off a truck by a part time worker who has no medical benefits. The consumer has to put the jars in his cart and schlep them home. When you buy from Amazon, someone brings them to your door, and that's what you're paying for. The shipping weight for a dozen canning jars is 13 pounds, so their cost per pound is quite cheap. For other things the shipping cost is not as significant.
Many consumers are willing to accept a lower level of service for cheaper prices, as witnessed by the prevalence of warehouse clubs such as Costco and Sam's Club. The fact that Americans are also getting fatter and lazier bodes well for Amazon. Busy people can save time shopping on Amazon. If I'm planning a project during my lunch break at work, I can click and be done instead of making a list of stuff to buy the next time I'm at Wal-Mart.
Reasons to buy at Wal-Mart, Costco (NASDAQ:COST), Target, or another brick and mortar store:
1--- You get the stuff now instead of waiting for delivery
2--- You can see and touch the item before buying
3--- There may be live sales people to help you
4--- It's convenient to return things
5--- Price
Reasons to buy at Amazon:
1--- You save a trip to the store, (where the item may not be in stock)
2--- You can read the reviews before buying
3--- Amazon makes it convenient to return things
4--- Amazon has the world's largest selection
5--- You can resell the item on Amazon
6--- You save the physical rigors of getting the stuff home
7--- You might be able to avoid paying sales tax (for now at least)
8--- Price
Amazon allows people to sell their used stuff on Amazon. When a shopper is on an Amazon product page, they'll see "more buying choices," where they'll see the listing for the used item. Wal-Mart won't let people sell their used stuff in a Wal-Mart store. It's a new phenomenon that we could see more of in the future.
Best Buy and Target may have eliminated "price" as a determining factor for consumers, but they haven't done anything about all the other reasons to buy online. The natural customer base for Amazon is older and retired people. They have more money to spend, and are more likely to appreciate the advantages of home delivery. However, they're also less likely to use the internet. This is changing of course, and eventually everyone will be online. More and more people are using smart phones, which make it easy to compare prices while in a store. Besides attracting the lazy and physically frail customers, there are people who don't like to leave the house, or deal with strangers. I was unable to find research relating to the increase of agoraphobia, but suspect it is on the increase. They're a market for online retailers.
Best Buy, Target, and brick and mortar in general, are on the defensive. They'll surely see margins go down, or be forced to cut back on service. They may be forced to back away from price matching, which would make them look bad. Amazon is in a good position. They control their competitor's prices.
Amazon is now the number one destination for shoppers with 30 percent of the people researching a product starting at Amazon, compared to 13 percent for Google. Just 3 years ago Google was number one with 24 percent, while Amazon had 18 percent.
A recent survey revealed that Amazon is the most trusted company in America. In fact, they received a nearly 100 percent rating. In another recent survey of online shoppers, Amazon not only had the highest customer satisfaction of all companies surveyed, they had the highest satisfaction ever measured. Amazon is a great site to use to get customer ratings on products, if you plan on buying from Amazon or not. At the bottom of an Amazon product page are external links. The fact that the link is on Amazon's page makes it trustworthy. When you're on an Amazon product page, you're more likely to be a buyer than if you're just checking your email. People come to Amazon to buy stuff. Amazon's ads from external sites could prove to be a great source of revenue for them in the future.
Disclosure: I am long AMZN. I wrote this article myself, and it expresses my own opinions. I am not receiving compensation for it (other than from Seeking Alpha). I have no business relationship with any company whose stock is mentioned in this article.