Introduction:
General Electric (NYSE:GE) is a diversified manufacturer and is organized into four segments: technology, infrastructure (Often energy), home and business services, and capital services.
Opinion:
General Electric has positioned itself well enough to become a leader in all markets it has competed in. With recently removing underperforming businesses over the course of the last few years, it has been able to divert most attention to its energy infrastructure business. Eventually, GE will emerge as the industry leader in providing energy infrastructure, which will largely supplement further growth.
Surprisingly, despite being a conglomerate, GE has maintained strong synergies and opportunities for sharing information. In addition, GE has a unique ability to invest large amounts of cash into expanding its durable competitive advantage, entering into new areas and strengthening older ones. GE's recent track record of eliminating efficiencies also allows to maintain a healthy return on invested capital (NASDAQ:ROIC). General Electric buys dozens of firms every year. The acquisitions help GE to obtain new technologies and enter new markets.The company acts swiftly in integrating target aspects of acquired companies into its GE culture and releases parts it does not need. GE is a global company with 60% of its business and 54% of its employees operating outside America and uses local markets to ignite both its employment.While it began in America, it is essential for GE to operate in the global market to remain competitive and achieve production efficiency. The combined value of GE's businesses is of greater value to the organisation than the value of each of the individual businesses, because GE derives corporate management synergies from utilizing distinctive corporate organization design and corporate strategic capabilities.
General Electric's ROIC: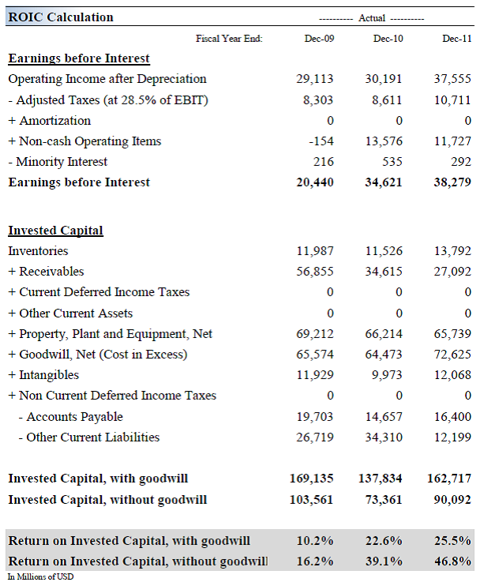 As growing countries begin to become further industrialized, GE's business portfolio will grow, just as the other economies will. Over time, a portion of GE's focus has shifted to clean energy products along with a variety of other businesses, that are producing environmentally clean emissions. These include wind and gas turbines, but the primary concern with them is that they produce less energy than conventional methods, while being more expensive as well. Nevertheless, GE's competitive advantage is actually greatest shown in wind turbines, where the company ousted long time competitor Vestas (VWS), using superior execution and better customer satisfaction. Despite the wind turbine business' margins being under fire for oversupply, GE has remained a dominant player. In addition, GE has been developing its solar power business, giving investors additional confidence that GE will be able to collide with industry leader First Solar (NASDAQ:FSLR).
General Electric's Energy Infrastructure Segment: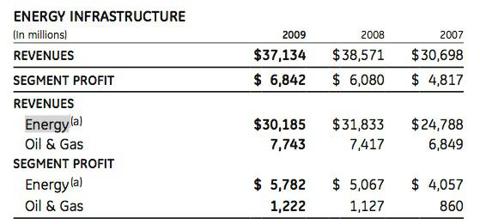 Durable Competitive Advantage:
GE's large economic advantage against competitors is reflected in three factors that provide a solid foundation for sustainable profitability: strong service support, sturdy assets, and economies that are difficult to replicate quickly. GE's core energy, healthcare, and aviation businesses each benefit from management's attempts to increase revenue for every unit sold. Although it has already been known, GE is much more aggressive than its peers, and management has executed quite well thus far. They are also protected in their gas turbine business, in that if a buyer chooses to ignore a service schedule, any replacement in the future is at the buyer's expense. This is a great example of when a portion of a company's sales come from an aftermarket service, where the buyer has made a relatively large investment up-front that they don't want to lose.
Analyst Estimates:
(click to enlarge)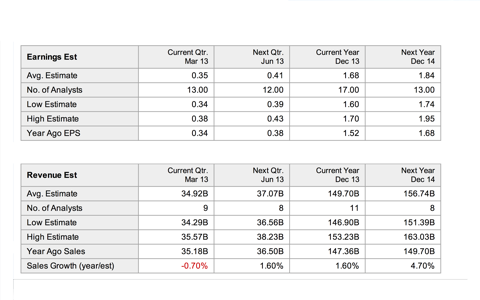 (click to enlarge)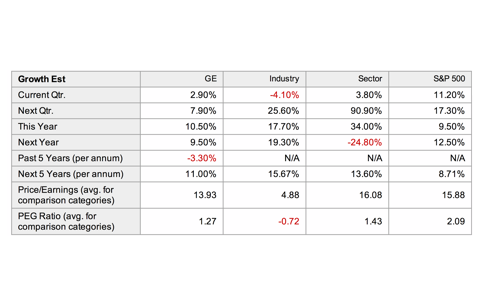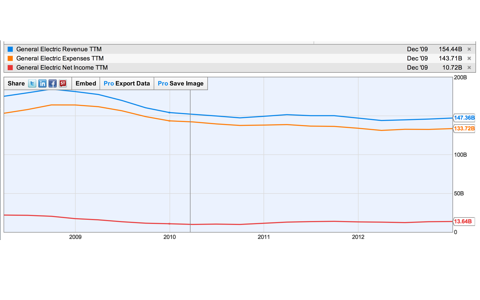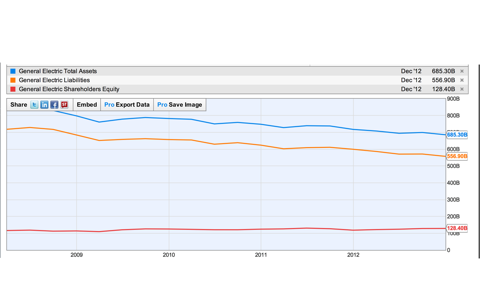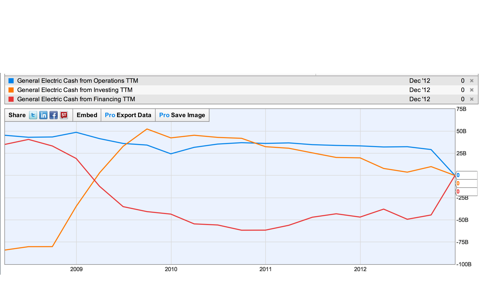 Also, GE's valuable AAA credit rating has given it a lower cost of borrowing, reducing capital expenditures for the company. Paired with an abundance of catalysts such as competitive advantage expansions including boosts in gross margins and most aspects of the business, GE has begun to seem much more profitable than its bottom in 2009.
Conclusion:
I expect an annual growth rate of eight percent in GE's revenue over the course of the next five years, mainly led by robust growth in its aviation and energy infrastructure businesses. This assumption also includes recent acquisitions that will support the healthcare and energy segments. Its fundamentals show no reason for GE to experience anything lower than high single-digit growth. Despite increased research and development costs this upcoming year being spent on the wind turbine business becoming a headwind to profitability in the near term, GE's outlook has begun to look quite profitable from a long term horizon.
Disclosure: I have no positions in any stocks mentioned, and no plans to initiate any positions within the next 72 hours. I wrote this article myself, and it expresses my own opinions. I am not receiving compensation for it (other than from Seeking Alpha). I have no business relationship with any company whose stock is mentioned in this article.