The sell-off in the S&P 500 continued yesterday, but the pace moderated and the losses were trimmed in the afternoon. The index plunged at the open on higher than expected weekly employment claims. The Consumer Price Index continues to show tame inflation, although the seasonally adjusted month-over-month Core CPI jumped 0.3%. The index zigzagged to its mid-afternoon intraday low, off 0.97%. It spent a couple of hours playing tag with the 1500 benchmark until a wave of buying in the final hour of trading trimmed the daily loss to 0.63% and a close above 1500 at 1502.42.
Here is a 5-minute chart of today's action.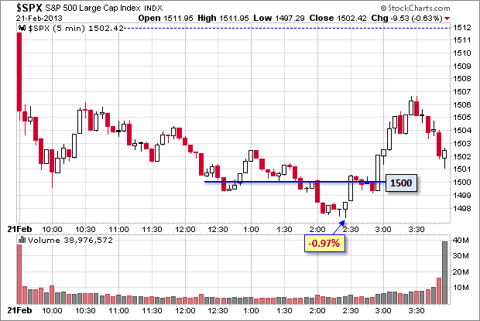 Click to enlarge
(Click to enlarge)
Here is an hourly chart since the first of the month.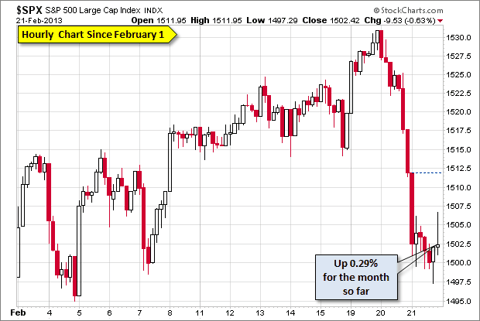 Click to enlarge
(Click to enlarge)
Here is a daily chart since the November 1st. Wednesday I asked if we're in the beginning of a correction. Once upon a time it used to be common parlance that a "correction" was a 10% decline. Of course, it's too soon to tell, but with the S&P 500 up 126.3% at its interim high three days ago, a correction should not come as a surprise. Since the March 2009 trough, we've had only two sell-offs over 10% (one of which was nearly 20% -- a cyclical bear market) and one that came within a whisker's breadth of a 10% correction (see the second chart below for annotations).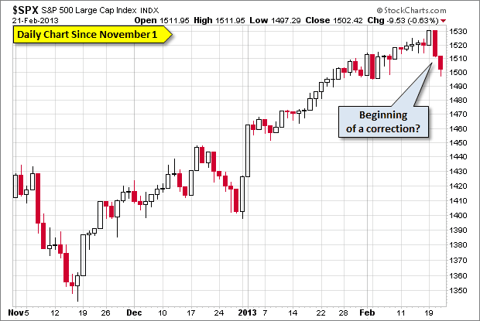 Click to enlarge
(Click to enlarge)
The S&P 500 is now up 5.35% for 2013 and 1.86% below the interim closing high of February 19, 2013.
From a longer-term perspective, the index is 122.1% above the March 2009 closing low and 4.0% below the nominal all-time high of October 2007.
For a better sense of how these declines figure into a larger historical context, here's a long-term view of secular bull and bear markets in the S&P Composite since 1871.