Once a competitive chipmaker, Advanced Micro Devices (NYSE:AMD) has been forgotten by the investing community since March 27th 2012. On that day the stock started it's decline from $8.08 a share to a 4 year low of $1.95 a share on November 28th 2012. The PC decline that affected much larger competitor Intel Corporation (NASDAQ:INTC) has all but crushed the smaller AMD. The stock's drastic decline was caused by a series of quarters where the company experienced slowed sales, lower revenue and decreased guidance.
However, there may be light at the end of the tunnel and Sony Corporation (NYSE:SNE) might be operating the train.
The Wall Street Journal reported on February 18th that SNE will use an x86 processor made by AMD in its new Playstation 4 game console, which is scheduled to be released Fall 2013, this specification differs from the company's Playstation 3 console which uses a PowerPC based CPU. IB Times reports that not only will SNE use the AMD branded CPU but Microsoft (NASDAQ:MSFT) will also be using the company's x86 processor for its next game console, Xbox 720.
Another Declining Industry?
At first I was in agreement with all the skeptics who say the video game industry is currently in a decline and a rebound is not in sight. Bears will argue that cheap or free mobile games have made disc based games obsolete. The International Data Corporation (IDC) reported there were 34 million game console sales in 2012, which is considerably lower then the 55 million units sold in 2008.
Lewis Ward, video games research manager for the IDC, forecasts 2014 industry sales of 44.5 million consoles. In Lewis' The Worldwide Video Game and Entertainment Console Hardware and Packaged Software 2012-2016 Forecast he states "2011 and 2012 were tough for many console game disc developers and publishers. With the advent of eighth-generation consoles, starting with the Wii U, historical norms strongly imply that game disc revenue will stop bleeding in 2013 and rise substantively in 2014." To further support his study Lewis states "There was attrition to alternative gaming platforms like tablets, but the trough was exacerbated by the 2008-9 recession. It did not permit as many people to buy who under normal economic conditions would have bought a console."
A New Beginning
The two businesses sold a total of approximately 144 million game consoles over the past 5 years, even at a small percentage of that number AMD could see a significant increases in sales for it's x86 CPU for a sustained period of time. If the study done by the IDC is correct, and if the economy continues to recover as analyst are predicting then this could account for significant growth for both SNE and AMD.
While reading through the Q4 earnings transcript I realized that AMD is revitalizing themselves as a key distributor to the gaming industry. CEO Rory Read states "Our Graphics business performed well in the quarter, highlighted by record workstation and gaming revenue and the launch of the Nintendo Wii U game system powered by AMD graphics technology to help accelerate desktop GPU sales in the channel and reinforce our long-term strategy to be a leader in gaming."
A bullish argument can be made based on the acquisition of startup company SeaMicro in March of 2012. The addition of SeaMicro, which specializes in data storage and cloud computing, provides AMD with another weapon to combat the declining PC industry. In September of 2012 AMD released the first servers since the acquisition. During the Q4 earnings call Read states "We recorded significant revenue growth for our SeaMicro dense servers driven by large-scale cloud data center wins. SeaMicro solutions are being deployed and evaluated by a broad variety of marquee customers, demonstrating the value of our investment in dense server and setting the stage for continued future growth."
Following the positive comments about future products and sales growth, it becomes evident that AMD is focused on improving the company's fundamentals. Davinder Kumar, SVP and CFO said "In the fourth quarter of 2012, we announced restructuring actions and operational efficiencies designed to reduce our expense structure and help return AMD to future profitability and free cash flow generation. The restructuring plan includes a reduction of AMD's global workforce in the fourth quarter of 2012, and the first quarter of 2013 by approximately 14%, and will result in operational savings of approximately $190 million in 2013. By the third quarter of 2013, we expect to reduce operating expenses to $450 million per quarter, down 25% from the first quarter of 2012"
Kumar lowered guidance for Q1 2013 when he stated an expected 9% decrease in revenue, but he also said he expects AMD to return back to profits starting in the second half of 2013 which would be above the current Q3 analysts estimates of -.03 EPS.
The current fundamentals of AMD must be overlooked, and a potential investor must realize that AMD must be viewed as a new company. A $3.00 IPO if you will. As you can see in 2012 cash, revenue, and operating margins all decreased while debt increased.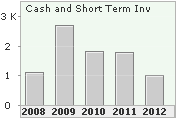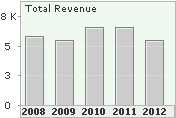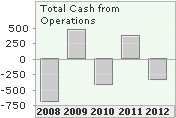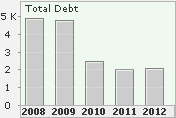 328 institutions own AMD shares, which accounts for 53% of the shares. Proving that large institutions must see value in the stock. Shorts decreased from 101.2M in December to 90M in January accounting for 12.4% of the Float.
Outlook
I believe AMD has hit a bottom and the future of the business looks very promising. CEO Rory Read has a very impressive resume which shows he is more than qualified from both a technical and managerial perspective. Prior to joining AMD in August of 2011, Read was COO of Lenovo Group (OTCPK:LNVGF) where he directed the development and implementation of business growth strategies. Prior to Lenovo, Read worked at IBM (NYSE:IBM) for 23 years where he held various positions.
AMD has a beta of 2.3 which is very low, which explains why the stock barely moved during the sell off the past few days Therefore I think there is no better time to jump in on this stock then in the very near future. As Jim Cramer recommends, buy this stock over the next month while volatility is high so that you can average the best purchase price.
Although, I support buying this stock straight out, I have to give the option lovers out there an option trade.
I like the Jan. 18 2014 3 dollar call for .50 cents
I also like the Jan. 17 2015 3 dollar car for .79 cents.
These two options are LEAPS therefore I have plenty of time for AMD to return to profit.
Disclosure: I have no positions in any stocks mentioned, but may initiate a long position in AMD over the next 72 hours. I wrote this article myself, and it expresses my own opinions. I am not receiving compensation for it (other than from Seeking Alpha). I have no business relationship with any company whose stock is mentioned in this article.