The telecommunications sector is usually considered defensive by investors, as it is resilient to economic cycles, is very profitable, has a strong cash flow generation capacity, and pays high dividends to shareholders. So, telecom companies are usually very attractive to income investors. However, in Europe this sector hasn't been performing as expected over the past few years with the worst scenario for income investors, which is dividend cuts, being the norm across the sector. Nevertheless, despite dividend cuts the European telecoms may still offer a few interesting income investments.
Sector Review
Over the past few years, European telecom companies have been penalized by several issues, some external and others sector-specific. The weak economic growth across Europe, sovereign debt crisis, and fierce competition are a few examples of issues that have hurt telecom companies' sales and earnings.
For dividends one of the most important threats is the high balance sheet leverage across the sector in Europe. Most companies have an investment-grade credit rating as one of its corporate goals. They naturally have a pro-creditor bias that puts cash preservation as one of its top priorities. This leaves shareholders, who prefer dividends and share buybacks as a use for the company's cash, on the back seat.
Usually an investment-grade rating is achieved if the net debt/EBITDA ratio doesn't exceed the 2.5x threshold. Over the last few months, due to the recession in Europe several companies recently saw their leverage ratio increase to near this limit. To protect their credit ratings a few companies opted to cut their dividends in part, such as Portugal Telecom (NYSE:PT), while others cancelled it completely, like Telefonica (NYSE:TEF). On this measure, KPN (OTCPK:KKPNY) and Telecom Italia (NYSE:TI) also seem stretched.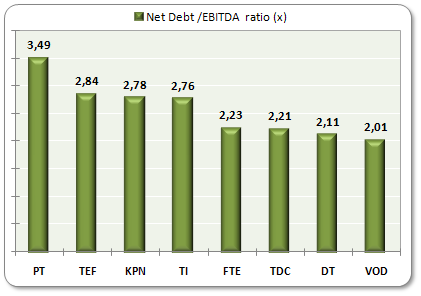 Source: Bloomberg
Competition is also having a very negative impact on several countries. This competitive pressure is likely to persist, provided that regulators don't allow a reduction in the number of operators. This is especially clear in France due to the impact of Iliad's entry, on the established operators' profitability such as France Telecom (FTE).
The European debt crisis is seeping into the real economy through fiscal adjustment measures and the credit crunch. Not surprisingly, last year was another one of falling revenues and earnings, which together with rising fiber capital expenditures suggest continued balance sheet pressure. Companies with the lowest financial flexibility are running out of options to support their balance sheets. If dividend cuts are not enough some may need to raise equity. This was recently the route chosen by KPN, which announced a capital increase and a dividend cut.
However, generally speaking, first they will try to sell some assets or managements could opt to temporarily be downgraded to junk, rather than do a capital increase. This was what happened with PT and OTE (OTCPK:HLTOY), although their downgrades to below investment grade were mainly driven by sovereign debt concerns rather than business fundamentals.
Given the weak macroeconomic outlook in Europe, exposure to emerging markets or the U.S., which offers a stronger economic backdrop should be favored within European telcos. On this point, Vodafone (NASDAQ:VOD), Deutsche Telekom (OTCQX:DTEGF), and Telenor (OTCPK:TELNY) are a few good options. Nevertheless, this may not be enough to protect dividends as shown recently by Telefonica. Despite its strong presence in Latin America, the company cut its dividend because of its weak domestic business.
Dividends
Given this, does the European telecom sector still offer value for income investors? It still has a very high-dividend yield, which is around 7% on average, but has shown before its quality is doubtful. Some of the companies with higher yields within the sector are shown in the following table:
| | | |
| --- | --- | --- |
| Company | Country | Dividend Yield (%) |
| France Telecom | France | 10.5 |
| Deutsche Telekom | Germany | 8.75 |
| Portugal Telecom | Portugal | 8.3 |
| Teliasonera | Sweden | 6.5 |
| Vodafone | U.K. | 6.2 |
| TDC | Denmark | 5.4 |
| Telenor | Norway | 4.9 |
| Telecom Italia | Italy | 3.6 |

Source: Bloomberg
France Telecom has currently the highest dividend yield among European telecom companies, but the dividend cut risk is high due to a weak macroeconomic outlook and fierce competition in France. Nonetheless, even if the company cuts in half the dividend it would still offer an attractive yield above 5%. Investors looking for safer bets, Teliasonera (OTCPK:TLSNY) and Telenor may be the best bets. Both have lower than the average balance sheet leverage, are from Nordic countries that have more robust economies, and aren't directly affected by the European debt crisis.
Teliasonera is based in Sweden. It provides network access and telecommunication services that help people and companies communicate in an easy, efficient and environmentally friendly way. Its main shareholders are the Swedish State (37% of outstanding shares) and the Finnish State (11.7%). The company offers its services in the Nordic and Baltic countries, the emerging markets of Eurasia, including Russia and Turkey, and in Spain.
Its dividend payment frequency is annual. Regarding its policy, Teliasonera's ordinary dividend shall be at least 50 percent of net income. Over the past five years, the dividend compound growth rate was 12%. The dividend payout ratio increased last year to 67%, but its five year average is only 54%. For 2012, the Board of Directors recently proposed an ordinary dividend of SEK 2.85 per share, or 62 percent of net income.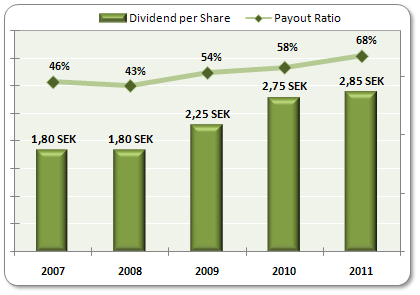 Source: Company Data
Telenor is based in Norway. It's one of the world's major mobile operators with close to 150 million mobile subscriptions. It has mobile operations in 11 markets and in additionally 18 markets through its 36% ownership in VimpelCom (NYSE:VIP). Its largest market is Asia, representing around 44% of Telenor's sales. Norway is second with 25% of sales. Telenor does not have any exposure to the eurozone. The Government of Norway is Telenor's major shareholder with 54% of its capital.
Its dividend payment frequency is annual. Telenor's policy is to distribute a dividend to its shareholders, which is equal to 50-80% of normalized annual profits, and the Group will be aiming for a year-on-year growth in the ordinary dividend per share. In 2008 the company didn't pay any dividend, but since it returned in 2009 its payment has increased it every year. The dividend payout ratio increased last year dramatically to over 100%, from more sustainable levels in the two previous years. For 2012, the Board of Directors recently proposed an ordinary dividend of NOK 6 (U.S. 1.05916) per share, an increase of 20% from the previous year, and the payout ratio should decrease to slightly below 100%.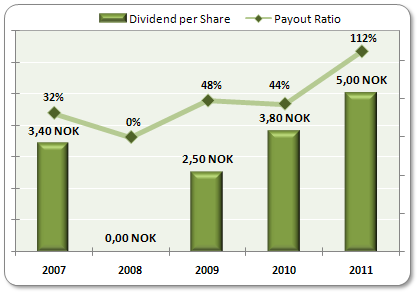 Source: Company Data
Disclosure: I have no positions in any stocks mentioned, and no plans to initiate any positions within the next 72 hours. I wrote this article myself, and it expresses my own opinions. I am not receiving compensation for it (other than from Seeking Alpha). I have no business relationship with any company whose stock is mentioned in this article.