By: Jayson Derrick
Construction equipment makers and commodities can offer investors a glimpse into the global economy and what to expect in the coming months and years. The industry and sector can foreshadow macro and micro economic trends, and more importantly the role that they will play in investors' portfolios. Construction equipment makers' forecasts and expectations directly correlate to the rate of growth within a region or country. Construction companies that are linked to commodities such as mining exploration can also foreshadow commodity prices as an increase in demand for mining equipment can indicate mining companies' desire to increase productivity as the commodity price projections are more favorable.
Commodities
Gold (NYSEARCA:GLD) is the leading indicator for other commodities to follow and I believe that at least right now the price of gold has more to do with central banks and fiscal policy than it does actual demand (or any other factor). In the past few days gold along with silver (NYSEARCA:SLV), copper and crude were all trading lower and this raises some questions whether this weakness is related to demand or shifting central bank expectations. On the demand front, Q4 GDP readings were particularly weak including Europe, the U.S. and Japan but recent manufacturing surveys suggest this is improving. Earning season has been decent enough to have confidence that 2013 will be a positive year for the markets and I gave my views for 2013 here.
The last few weeks the narrative around the Fed has shifted as investors are now wondering when QE will be scaled back or even terminated from the present $85 billion/month pace, a reversal from when investors were wondering when QE will be expanded, a viewpoint which was reinforced by Wednesday's Fed minutes.
Bottom line the commodity weakness is not demand related. All commodities, especially gold have some form of "inflation concern" based on the fear of irresponsible fiscal and monetary policy and inflation expectations. The weakness in many commodities that we have seen is simply the entire commodity group following the action in gold and nothing to do with demand. Gold has been on a steady decline for the past few weeks dropping below $1600 despite no fundamental changes in global demand for gold, or basically anything gold related while silver has taken more of a hit. That being said I believe that gold and silver is a buy at any price level and drops represent an opportunity to buy more. Looking at the chart below we see how gold and silver have been dropping irrationally versus the S&P 500 (NYSEARCA:SPY).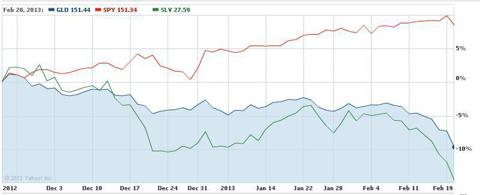 Source: Yahoo! Finance Charts
Construction Companies
Joy Global (NYSE:JOY) traded up 3% on Wednesday's trading session following positive commentary from CEO Mike Sutherlin, who stated that management is in the process of accumulating cash so that when they launch a share buyback program it will be something meaningful. Mr. Sutherlin also emphasized the company is focused on delivering value for both customers and shareholders, and will "do the right thing" when it comes to third-party acquisitions. On February 18, the company announced a quarterly dividend of $0.175 per share. According to the World Economic Outlook the world economy is projected to grow 3.5% in 2013 and 4.1% in 2014 with emerging economies outpacing advanced economies 5.9% to 2.2%. A company like Joy Global is one way investors can profit from growth in emerging markets. As one of the worst S&P 500 performers in 2012, Joy Global can benefit from a strong China that is already showing steady improvements in electricity rates and demand. About 70% of China's energy consumption and 80% of its power production come from coal, which is a perfect match as Joy Global is one of the world's largest manufacturers of mining equipment for the extraction of coal.
Caterpillar (NYSE:CAT) was a laggard in Wednesday's trading session after monthly sales data for the month of January continued to show deceleration in its retail sales. A key component around Caterpillar has been its exposure to Asia, especially China, and its ability to de-stock inventory. I am not so much concerned to see Asian sales are down as much as they are as the company is in a great financial position and well positioned to satisfy in the long term both customers and shareholders. I believe the sales report is but a small bump in the road and investors should not panic. As long as the stock continues outperforming the S&P 500 as it has so far in 2013, then Caterpillar will likely remain a top pick for many investors with a long-term time frame. There is no doubt that a strong international economy, particularly Asia, will translate to lucrative profits for Caterpillar; and drops in share price can present investors with an entry point. An article by Alex Cho explains that by 2025, Caterpillar expects the urban population in China to reach 350 million people and will require 600,000 miles of road, 170 mass transit systems and 97 new airports. There is no doubt that Caterpillar will be at the front and center of China's long-term growth plans.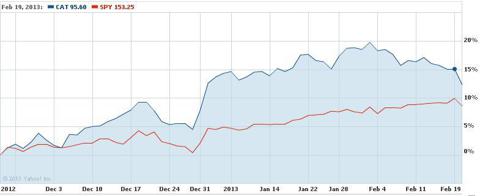 Caterpillar is outperforming the S&P 500 since December 2012
To conclude investors should pay attention to these sectors even if their portfolio has no direct exposure to construction or commodities. The savvy investors who do their homework and follow all sectors and commodities place themselves at an advantage. As Gordon Gekko famously put it: "The most valuable commodity I know of is information."
Disclosure: I am long SLV. I wrote this article myself, and it expresses my own opinions. I am not receiving compensation for it (other than from Seeking Alpha). I have no business relationship with any company whose stock is mentioned in this article.
Additional disclosure: I am long SLV in my long term investment (retail) account and trade SLV daily in my day trading account.