Today we are admittedly frustrated that we have been unable to purchase some of the names on our wish-list at the prices we want as there is still a lot of optimism in the market which seems to step in right before we get to levels where we are comfortable making an entrance. Some of our peers in the industry have discussed the need for a 10% pullback and that is something which we agree on, a pullback is needed indeed. With the situation in D.C. it is highly likely that 10% could be reached during a pullback sooner rather than later and that in our view would be healthy. One point however is that there is a ton of money on the sidelines which could move into the market at any time. It has not yet, but it could...and that is something that everyone should be paying attention to.
Chart of the Day
This is the economic data we want to pay attention to next week and we want to hear whether sales are being held back by a lack of supply rather than a lack of demand. We already know that the northeast is the weakest market in the country, but these numbers should shed some more light on how the situation is progressing. We are bullish of housing in general.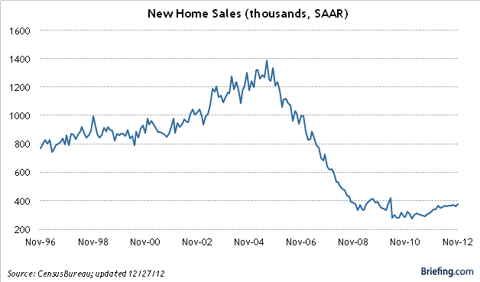 Chart courtesy of Briefing.
We have no economic news due out today, and will have to wait until next week in order to get more. The market is in need of something to change the downtrodden mindset that has set in in response to the Fed Minutes.
Asian markets finished higher today:
All Ordinaries - up 0.76%
Shanghai Composite - down 0.51%
Nikkei 225 - up 0.68%
NZSE 50 - up 1.06%
Seoul Composite - up 0.18%
In Europe markets are higher this morning:
CAC 40 - up 1.26%
DAX - up 0.71%
FTSE 100 - up 0.70%
OSE - up 0.54%
Technology
We saw yesterday where shares in 3D Systems (NYSE:DDD) were under pressure and ending the session having fallen $5.01 (8.36%) to close at $54.89/share. A lot of attention will be centered on the company next week as they report earnings on Monday which should give investors a better idea of the current state of the business as well as give management a chance to change the narrative surrounding the 3D printing industry which has recently turned negative as short sellers entered the market and began talking up their books. We have invested in numerous 'fad' sectors over the years and rarely does the party simply end. One usually sees a double top or an insane blowout at the end, so those experiences from the past lead us to believe this is but a pullback in an upward trend. Monday will go a long way in proving this logic to be either correct or flawed due to the high stakes.
Shares in ParkerVision (NASDAQ:PRKR) rallied $1.78 (73.25%) to close at $4.21/share on volume of 11.2 million after the company announced that they had received a favorable ruling in their patent case against Qualcomm. It was not a judgment, but rather a Markman Order which is but one step in proving one's case (the press release can be found here). These cases are becoming commonplace these days and have turned parts of the tech sector into areas essentially for gamblers. With the case progressing we would not be surprised to see further volatility in ParkerVision shares moving forward.
We have written negative pieces on VeriFone Systems (NYSE:PAY) going back a couple of quarters now and all along the way had to deal with bulls tell us how far off our thinking was on this one. Those recent quarters were by no means a reason to be bullish and in fact the shares dropped before rebounding each time. The warning signs were there for all to see, but few wanted to recognize that all was not well for the company as the industry undergoes this transformation. VeriFone pre-announced their results late Wednesday and investors reacted by pushing shares down $13.65 (42.80%) to $18.24/share. Volume was well above normal as 50.3 million shares were traded on one of the biggest stories of the day. The company's press release (located here) explained that they experienced slower growth overseas than they anticipated and also had to deal with increased deferred revenue. As we said yesterday on Twitter though, it certainly seems that there is now value here and at this point, and coming from a previous bear, that should certainly carry some weight.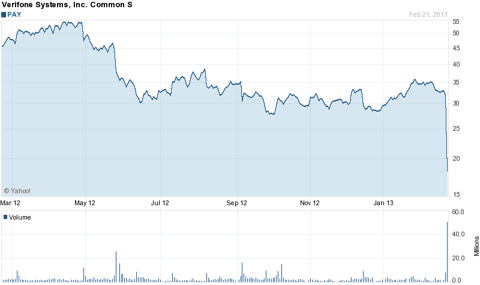 Chart courtesy of Yahoo Finance.
Telecom
After the consolidation wave which has swept the telecommunications industry over the past few decades and culminated with mega-mergers in the past five to ten years, there are but a few big names left for investors to play the space. Vodafone (NASDAQ:VOD) has been one of the names which we like due to their global footprint and ability to take cash flow from developed markets and redeploy it to developing ones in order to provide growth for investors. The company provides a decent yield and better long-term growth trends, in our opinion, than Verizon or AT&T, while simultaneously having big exposure to the US via their ownership stake in Verizon Wireless. We do not want to get into the will they sell it or will they keep it conversation, but what we will say is that every time this one has pulled back and we have looked at it, the shares have rebounded and performed quite well for investors. Looking at adding shares here just after the stock hit a new 52-week low yesterday might be exactly what the doctor ordered for long-term investors.
Retail
Big, old, boring Safeway (NYSE:SWY) was actually exciting yesterday as shares rose $2.84 (14.11%) to close at $22.97/share and while also trading 34.5 million shares. Apparently the retailer has found a way to reverse their sales troubles with a loyalty program that has suddenly turned the tables on their industry peers and the big box discounters who also sell groceries these days. The company said that same store sales are on pace to rise 2% should the numbers hold up over the next few days and that would be bullish. The transcript to the conference call is located here.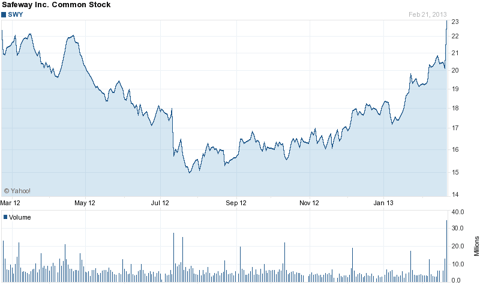 Chart courtesy of Yahoo Finance.
Disclosure: I have no positions in any stocks mentioned, and no plans to initiate any positions within the next 72 hours. I wrote this article myself, and it expresses my own opinions. I am not receiving compensation for it (other than from Seeking Alpha). I have no business relationship with any company whose stock is mentioned in this article.