MFA Financial Inc. (NYSE:MFA) is an REIT. It invests in agency and non-agency MBS. It is internally managed. It also pays a hefty 9.09% dividend. Plus it is relatively safer than most other mortgage REITs because it has a relatively low leverage multiple of 3.2x. This is actually made up of an agency leverage multiple of 7.39x and a non-agency leverage multiple of 1.51x as of September 30, 2012. The book value of MFA was $8.80 as of that date too. As of February 21, 2013, $8.80 was also the stock price.
MFA returned 572% between January 2000 and October 31, 2012. That amounts to a 16.0% annual return over that period. Few stocks have done that. The S&P 500 was almost flat over that time. The "Great Recession" was during that time. There was also an early 2000's recession. MFA weathered them both. It is set up to do so again.
Since I don't have the MFA data for Q4 2012, the article will only compare Q3 2012 data. The net interest rate spread for Agency RMBS portfolios is one of the best indicators of performance. Part of MFA's overall portfolio is in Agency RMBS. Specifically MFA's Agency RMBS portfolio has a market value of $7.477B based on equity of $890.8 million with 7.39x leverage. For this portfolio MFA managed a 1.13% net interest rate spread for Q3 2012.
By comparison Annaly Capital Management (NYSE:NLY) managed only a 1.02% net interest rate spread for Q3 2012 for it Agency RMBS portfolio. NLY used a 6.0x leverage ratio. American Capital Agency Corp. (NASDAQ:AGNC) out did both companies with a Q3 2012 net interest rate spread of 1.42%. AGNC used a leverage ratio of 7.1x. In other words, MFA's Agency portfolio performance was a bit better than NLY's and a bit worse than AGNC's. Plus MFA's portfolio has a generally lower market value versus face value ratio than either of the other two. If the US has a recession in 2013, MFA will lose less per foreclosed on agency mortgage than either of the other two companies.
Further, MFA has a large part of its invested equity in non-Agency MBS. MFA has $5.246B in market value in non-agency MBS. It used $2.088B in equity to partially fund this investment. This is more than twice the equity MFA used to fund its agency portfolio investments. The leverage ratio for Q3 2012 was 1.5x for the non-Agency portfolio. The net interest rate spread was 4.25%. These MBS were bought at a considerable discount to face value. The amortized cost was approximately 73% of par at the end of Q3 2012. If these are foreclosed on, MFA could conceivably lose a lot more money than NLY or AGNC would lose on a foreclosure made good by an Agency. However, real estate prices have been rising recently. The table below depicts the rises in MFA's top five investment counties in California as of September 2012.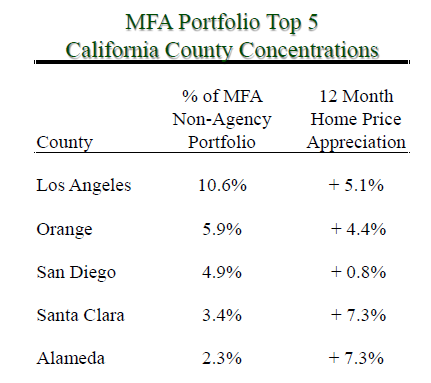 What this really means is that MFA's non-agency portfolio is much safer than it was last year. Even if there are foreclosures, the foreclosed real estate will sell for higher prices. MFA will lose less money (or perhaps none at all). Plus, the very fact that prices have climbed means that fewer homeowners are under water on their mortgages. Those who need to sell should be able to do so more easily. People selling homes may mean an increase in non-agency prepayments; but prepayments are good for non-agency debt, when it means that MFA will get back the amortized value of its investment plus approximately 37%.
The Fed's QE3 and QE4 programs make it likely that the US residential real estate market will continue to improve (or at least not fall much). Fed buying of agency MBS will push more investor buying into non-agency MBS. Plus the non-agency MBS supply has been falling for several years now due to the "Great Recession" and other factors (see the chart below from CoreLogic). The consequent tightening of supply should push the market value of the non-agency MBS that MFA already owns upward.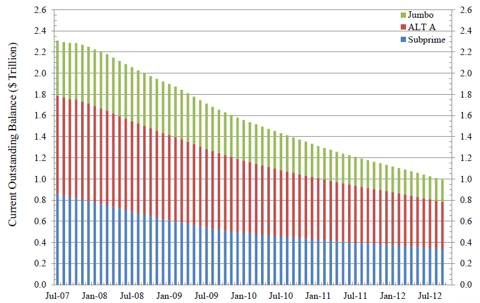 On top of the above sound fundamentals, MFA performed well in Q3 2012. It had net income per common share of $0.21 and Core Earnings per common share of $0.19. It raised its book value from $7.45 at the end of Q2 2012 to $8.80 at the end of Q3 2012 (or by 18% in 3 months or by 30% in nine months). It paid a Q3 dividend of $0.21 per share. The net interest rate spread comparison to AGNC and NLY is above. The CPRs (constant prepayment rates) were slightly higher in Q3 2012 than in Q2 2012. However, that was very much in sync with the Fed actions. MFA seems well managed. It is a buy.
The two year chart of MFA provides some technical direction for this trade.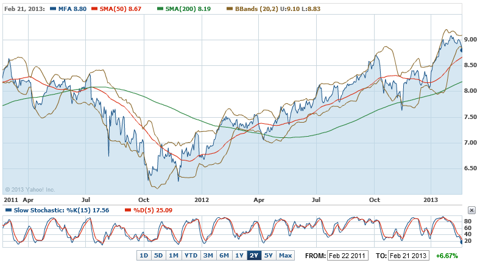 The slow stochastic sub chart shows that MFA is currently oversold. The main chart shows that MFA is in a strong uptrend. The stock's price line has recently broken downward toward its 50-day SMA. The previous chart history indicates that the point to buy has either been the 50-day SMA or the 200-day SMA. An investor could take a small nibble to start at the 50-day SMA.
The overall market may be at the point of making a major pullback. Some are postulating a 10% pullback. Plus a US recession in 2013 is possible later in 2013. If this occurred, the recession would probably take the overall market down much more than 10%. MFA would probably move with the market, although it does have a very stable Beta of 0.17. It has a Price/Book ratio of 0.97 (Yahoo Finance). It has a reasonable PE of 10.50 and an FPE of 10.11. Analysts give it an mean recommendation of 2.2 (a buy); and CAPS rates it five stars. With its great history of good management even through tough times, MFA is a stock an investor may wish to own long term. The 9.09% dividend with good long term stock price appreciation is very attractive.
NOTE: Some of the fundamental financial information above is from Yahoo Finance.
Good Luck Trading.
Disclosure: I have no positions in any stocks mentioned, but may initiate a long position in MFA over the next 72 hours. I wrote this article myself, and it expresses my own opinions. I am not receiving compensation for it (other than from Seeking Alpha). I have no business relationship with any company whose stock is mentioned in this article.