The investing world has been watching the release of the BlackBerry (NASDAQ:BBRY) 10 line of phones (currently just the Z10) since its release in late January. BB10 has been released in a variety of markets, ranging from developed smartphone markets such as Canada, to emerging markets. Analysts have been pressing phone carriers in the countries where BlackBerry 10 has debuted for sales figures, and the findings are as varied as they are speculative.
Positive Indicators
Analysts from Jefferies have looked at the sales of BB10 devices in a variety of markets. One of the largest markets for the BlackBerry 10 operating system is the United Kingdom. According to the analysts, more than 20% of "Carphone Warehouses" have been sold out of the phone. This is a solid indicator of sales. Jefferies also discovered that the phone is selling well in emerging markets such as France and Kuwait. As a result of their findings, Jefferies analysts raised their revenue expectations to $2.8 billion. However, they lowered their earnings per share down from $.42 to $.34 on an expected 30% gross margin.
Negative Indicators
Analysts from Pacific Crest have also investigated the ongoing sales of BlackBerry 10 devices. They believe that BlackBerry will move ~300,000 Z10 phones during Q1 2013. This is far from what it would take for BlackBerry to bounce back. Pacific Crest also states in its research note that it expects between 10% and 14% of the market in the United Kingdom to purchase a BlackBerry smartphone, with an estimate of 12% to 16% purchase rate in Canada. These have been the strongest markets for BlackBerry in the past; such weak performance in these areas points to weak demand.
Canada and the UK aren't the only markets where BB10 is being sold, however. BlackBerry 10 is releasing the new line of phones in a variety of locales, but phone sales have been lagging heavily in emerging markets. A chart from ValueWalk, with data generated by Gartner shows the fate of BlackBerry devices in emerging markets during the last several years: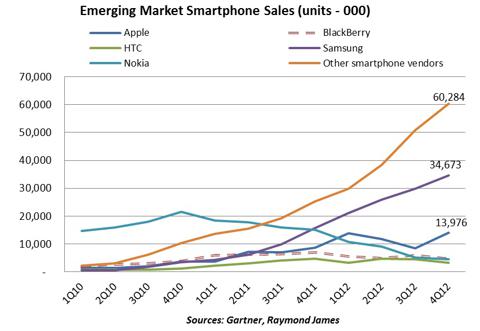 BlackBerry has bled market share in developed smartphone markets such as the U.S. With these data, however, it becomes evident that it has been losing the fight in emerging markets too.
BlackBerry has long thrived on enterprise usage. At one point enterprises constituted more than 65% of its revenue. It would make sense for the corporation to keep leveraging its relationships with a variety of enterprises in order to keep itself afloat. Recently, however, two more of these enterprises have dropped BlackBerry. Mall of America, as well as Home Depot (NYSE:HD), have begun distancing themselves from BlackBerry. These are just two more businesses joining the trend; last year several corporations, including the massive Halliburton (NYSE:HAL), dropped the BlackBerry as its go-to device.
Conclusions
It seems that it's still too early to make a decision. Every analyst seems to have an opinion, but there is a general lack of consensus. BlackBerry has evidently struggled to sell phones during the last several years, but BlackBerry 10 is supposed to change that. The Street is awash with sentiment, but regular investors are as well: the stock is trading at $13.88, down from a 2013 high of $17.90 about a week prior to the launch of BlackBerry 10. While BlackBerry may not be a definite sell just yet, opening a long position on the stock right now is not a safe bet either.
Disclosure: I have no positions in any stocks mentioned, and no plans to initiate any positions within the next 72 hours. I wrote this article myself, and it expresses my own opinions. I am not receiving compensation for it (other than from Seeking Alpha). I have no business relationship with any company whose stock is mentioned in this article.