Five years have passed since the start of the global financial crisis with less scope for a meaningful recovery. I have written about the case for decade-long low interest rates in my previous article "Marc Faber: Get Ready For Decade-Long Low Interest Rates." The investment yields on sovereign bonds in many safe-haven countries have fallen to historic lows. Though it has prolonged the bull market in bonds, prospective real yields in many countries are now negative, or very low. On the other hand, since 2000, equity returns in developed markets have been dismal, leading many to ask if the cult of equity is dead. The period of a low-return world is expected to continue in the near future and is imposing stresses on the investors.
In this article, we assess the investment opportunities and the attractiveness of Emerging Markets (EM) as an investment theme. The global investment landscape has seen some radical changes over the past decade with allocation to Emerging Markets (NYSEARCA:EEM) becoming a core investment strategy. Of late, EM (NYSEARCA:DEM) economics has shown convergence with its Developed Market (DM), translating to significant diversification benefits for the investors. Powered by a resurgence in Asia, emerging markets, especially those of China and India are leading the world out of recession. In many emerging and developing economies, output is already above pre-crisis trends, suggesting that recovery is complete and expansion under way.
1) Emerging Market to drive ~75% of global growth in the near term: Growth in Emerging markets (NYSEARCA:VWO) has outstripped those of developed markets in the last decade. The output of DM has been declining, losing its share mainly to Asian countries.

According to IMF, Emerging markets could account for ~40% of the global GDP by 2015. The EM story should not be just limited to the BRIC countries (especially China), but the importance of countries in Southeast Asia, Czechoslovakia and Poland to the broader world economy is undeniable and considerable. Readers can look into my previous article "Southeast Asian Tigers: On The Roar Again" to know more about the South East Asian region.
2) EM macro stability remains solid: Apart from India, most EM countries have managed to keep their debt at manageable levels, maintain sufficient forex reserves and even run current account surpluses. This gives them ample room to undertake any counter-cyclical monetary and fiscal policies to sustain growth.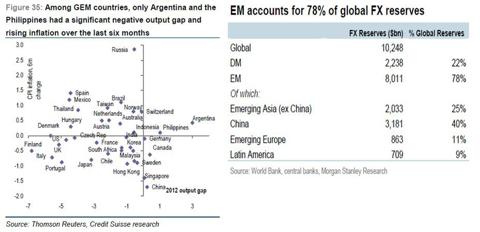 Also, EM's debt sustainability is solid, given high nominal GDP growth relative to nominal interest rates.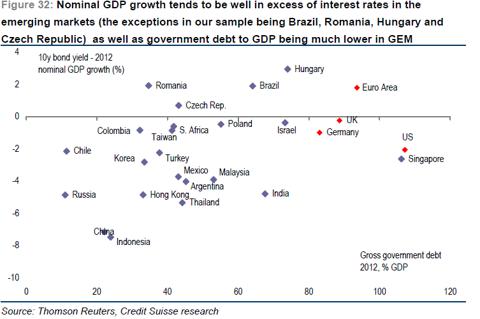 The cost of long-term funding for EM has been declining with the gap between DM and EM sovereign credit ratings having narrowed substantially.

3) Inflation: No more a cause of concern for many: Inflation concerns remain abated post the 2008 crisis, partly driven by anemic growth in DM. However with positive output gaps, the headline inflation looks set to fall.

Even emerging market PMIs have shown signs of strong rebound, which is close to their two-year high.
4) Room for Productivity Improvements As the locus of future growth continues to shift to emerging markets; there is considerable potential for improvements in productivity. The factors that underpin productivity growth that look sustainable are urbanization, a lower share of workers employed in agriculture, rising patent filings and rising school enrollment.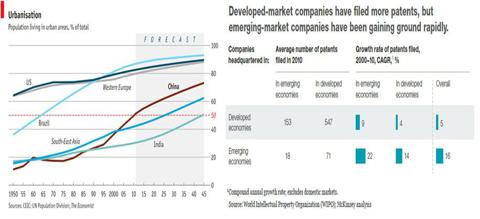 Source: McKinsey and Economist
Consistent with that growth model has been the focus of many emerging-market players on R&D investments aimed at lower-cost products that fit developing-market conditions
5) EM Corporate: In good shape: Companies EM paid fewer dividends than their DM peers, with a payout ratio of 39% (vs. 80% for DM). They also reinvested excess cash to grow fixed assets at a higher rate: 12% annually versus 7% for developed market companies.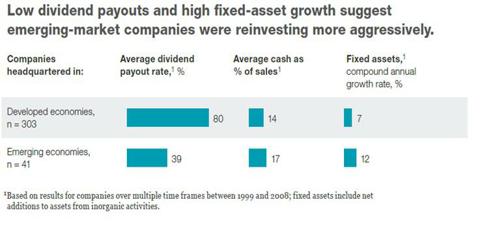 Source: McKinsey
EM companies have been redeploying their capital toward new growth oriented business models that generally serve the needs of fast-growing emerging middle classes around the world with lower-cost products. This type of strategic reallocation of resources is correlated with higher total returns to shareholders over time.
6) Emerging Market consumer - $30 trillion Opportunity: The urbanization of emerging markets, driven by long-term secular trends such as the integration of peripheral nations into the global economy, the removal of trade barriers, and the spread of market-oriented economic policies - has powered growth in emerging economies and more than doubled the ranks of the consuming class, to 2.4 billion people. By 2025, MGI research suggests that number will nearly double again, to 4.2 billion consumers out of a global population of 7.9 billion people. For the first time in world history, the number of people in the consuming class will exceed the number still struggling to meet their most basic needs.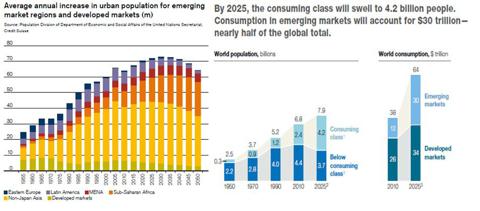 Source: McKinsey and CS
By 2025, MGI estimates annual consumption in emerging markets will rise to $30 trillion, up from $12 trillion in 2010, and account for nearly 50 percent of the world's total, up from 32 percent in 2010. As a result, emerging-market consumers will become the dominant force in the global economy.
Investment Options:
Emerging market currencies: The South African rand, Chinese renminbi (NYSEARCA:FXI) and the Indian rupee (NYSEARCA:ICN) offer both a real yield advantage and are currently undervalued.
Country Specific ETFs: iShares S&P Latin America 40 (NYSEARCA:ILF), iShares MSCI BRIC (NYSEARCA:BKF), Market Vectors Brazil Small-Cap (NYSEARCA:BRF), iShares MSCI Brazil (NYSEARCA:EWZ), Market Vectors Russia (NYSEARCA:RSX),iShares MSCI Turkey Investable Market (NYSEARCA:TUR), Market Vectors Vietnam (NYSEARCA:VNM). iShares MSCI Thailand (NYSEARCA:THD), iShares FTSE China 25 , iShares MSCI All Peru (NYSEARCA:EPU), Global X FTSE Colombia 20 (NYSEARCA:GXG), PowerShares India Portfolio (NYSEARCA:PIN), iShares MSCI Malaysia Index (NYSEARCA:EWM), iShares MSCI South Korea Index (NYSEARCA:EWY), Global X FTSE Colombia 20 ETF , iShares S&P India Nifty 50 Index (NASDAQ:INDY), iShares MSCI South Africa Index (NYSEARCA:EZA) and iShares MSCI Russia Capped Index (NYSEARCA:ERUS)
Companies that get significant share of income from emerging markets include Vodafone (NASDAQ:VOD), Sanofi (NYSE:SNY), Philip Morris (NYSE:PM), McDonald's (NYSE:MCD), Vale (NYSE:VAL), Novartis (NYSE:NVS), Yum Brands Inc (NYSE:YUM), Glaxosmithkline (NYSE:GSK), Coca-Cola (NYSE:KO) and Procter & Gamble Co (NYSE:PG)
Disclosure: I have no positions in any stocks mentioned, and no plans to initiate any positions within the next 72 hours. I wrote this article myself, and it expresses my own opinions. I am not receiving compensation for it (other than from Seeking Alpha). I have no business relationship with any company whose stock is mentioned in this article.