Share price of CSX Corp. (NYSE:CSX) has appreciated by 16.9% over the past 12 months. At $22.55 per share, the stock is trading near its 52-week high of $23.49 achieved in August 2012 and offers a 2.5% dividend yield. Should investors participate in the price uptrend? In this article, I will elaborate on the stock valuation analysis which may assist you in formulating an appropriate investment decision.
From a peer-relative valuation perspective, CSX shares appear to be priced favorably based on the company's financial performance relative to its peers'. Sell-side analysts on average predict CSX's revenue, EBITDA, and EPS to grow at 2-year CAGRs of 3.4%, 5.0%, and 6.7%, respectively (see chart below). Those consensus estimates are considerably below the estimated growth averages of 7.0%, 10.1%, and 14.9%, respectively, for a group consisting of CSX' primary industry peers. Similarly, the company's long-term earnings growth rate is forecast to be 12.5%, which is below the peer average at 14.1%. On the profit side, however, CSX demonstrates a fairly comparable performance as most of the firm's profitability margins and capital return measures are in line with the peer averages. It is noted that CSX was able to generate a decent ROE at 21.3%, which is notably above the par. On the leverage side, CSX carries a relatively higher debt load as reflected by its above-average debt to capitalization and debt to EBITDA ratios. In terms of liquidity, the firm's trailing free cash flow margin is below the average. Due to the in-line margin performance and the higher leverage, the company's interest coverage ratio is also below the par. Both the firm's current and quick ratios are fairly in line with the group averages, reflecting a healthy balance sheet condition.

Click to enlarge
To draw a conclusion, CSX's weak growth potential, relatively higher leverage, as well as its below-average liquidity performance should be the primary drag on the stock valuation and thus justify a concrete valuation discount to the peer-average trading level. However, I believe the valuation discount should be partially mitigated by the company's on-average profitability performance. CSX's current valuations at 6.9x forward (next 12 months) EBITDA and 12.7x forward (next 12 months) EPS together represent an average discount of 25.1% to the same peer-average trading multiples, suggesting the stock is likely trading within its fair value range on a relative basis. However, the stock's PEG ratio of 1.0x is also at a 13.8% discount to the peer average at 1.2x, implying the market may be over-discounting the company's relative weaknesses (see chart above).
From a historical valuation perspective, one would likely draw a similar conclusion. CSX's trailing P/E ratio at 12.8x is currently trading near its 3-year low (see chart below). In my view, the current price level implies a great buying opportunity provided that: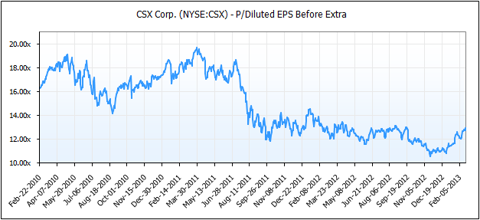 Click to enlarge
1) CSX's capital return measures including ROE, ROIC, and ROA have all experienced a relatively steady performance over the past 3 years (see chart below):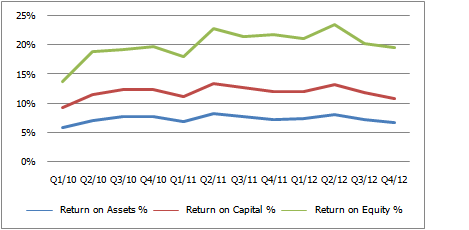 2) The company has also been able to sustain steady gross and net income margins over the same period (see chart below):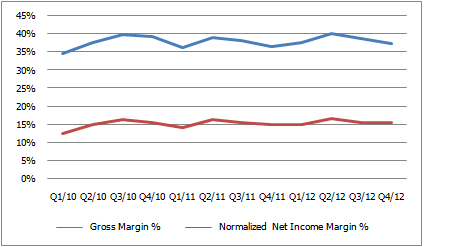 3) Despite the increasing leverage, the firm has managed to maintain a stable interest coverage ratio over time (see chart below); and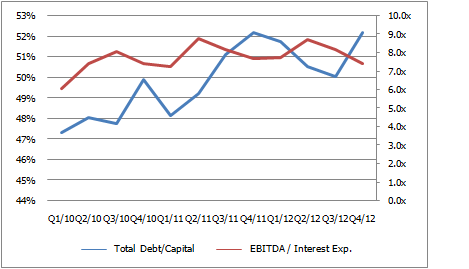 4) The bottom valuation level was primarily caused by a significant downtrend in CSX's growth rates in recent years, however, as the market's consensus revenue and EPS estimates reveal a recovering and stabilizing growth trajectory in late 2013 and 2014, it is likely that the valuation multiple would return to a higher level as CSX delivers an on-track performance (see chart below):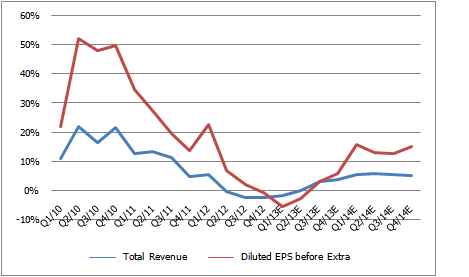 Further, CSX's forward P/E multiple of 12.7x is trading at a 10.7% discount to the same valuation multiple of the S&P 500 Index despite the fact that CSX's long-term earnings growth rate of 12.5% is substantially above the average estimate of 8.2% for the S&P 500 companies, indicating a tempting relative valuation level (see chart below).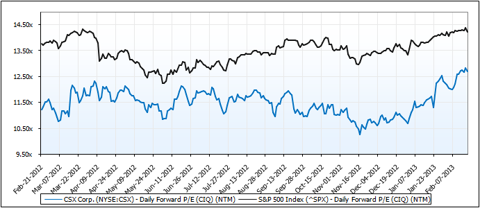 Click to enlarge
In late January, CSX released the Q4 2012 earnings result with both revenue and EPS exceeding consensus estimates driven primarily by better-than-expected decline in total volumes, improved cost management, as well as increased productivity. Peter Nesvold, a research analyst at Jefferies, wrote in a research note dated January 24, 2013 (sourced from Thomson One, Equity Research):
"We continue to see the opportunity in CSX despite near term headwinds in coal. We'd expect negative sentiment for the rail stocks to ease provided the second-derivative in volume declines shows some improvement. Even still, we think investors trying to bottom tick the coal cycle will miss these stocks. The rails appear to be coming out of a nuclear winter largely intact - passing stress tests that few other industries could survive and underscoring the resilience of these businesses. Current valuations offer below-average multiples on depressed earnings for companies that compound EPS at 10%+ type rates. That's good enough for us."
Bottom line, in the light of the likely growth recovery and the compelling valuation, CSX should be a solid buy in the current price uptrend.
All charts are created by the author and all financial data used in the article and the charts is sourced from Capital IQ unless otherwise specified.
Disclosure: I am long CSX. I wrote this article myself, and it expresses my own opinions. I am not receiving compensation for it (other than from Seeking Alpha). I have no business relationship with any company whose stock is mentioned in this article.