Vodafone Group PLC (NASDAQ:VOD) is a leading telecommunications company that is based in the United Kingdom. This company is focused on Europe, but also has operations and interests in the Middle East, Africa, Asia Pacific and the United States. This global presence allows the company to participate in the growth of emerging market countries like India, for example. A global presence also creates diversification which can lower risk for the company and its investors.
In recent days, many major stock market indexes in Europe have dropped by about 3% or even more as concerns about the economy have returned. This has put pressure on a number of high-quality stocks that offer above average dividend yields. Investors who are looking for market pullbacks as buying opportunities and for dividend income should consider Vodafone shares now for a number of reasons.
As the chart shows, Vodafone shares have recently dropped from over $27 to just around $24. With the stock trading at the low end of the trading range, and because it has bounced sharply from roughly $24 per share in May and November of 2012, this could be an ideal time to buy the pullback.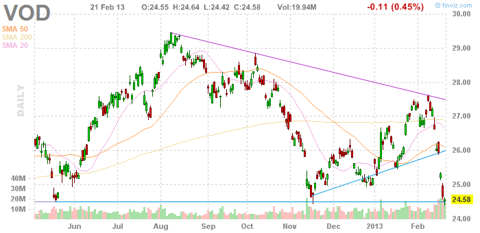 Click to enlarge
(Click to enlarge)
Another reason to buy Vodafone includes the fact that it owns a major stake in Verizon Wireless (NYSE:VZ) which one analyst believes is worth more than $90 billion. This is significant since that amount is equivalent to about half of Vodafone's enterprise value. It could sell this stake in the future and use those funds to pay a special dividend, buy back shares, or both. Because of this ownership stake in Verizon and because Vodafone trades for just about 10 times earnings, while Verizon trades for around 16.5 times earnings, it truly makes sense to consider Vodafone if you like Verizon shares.
Vodafone offers investors a strong dividend yield of about 6% which will reward shareholders while waiting for a higher share price. Over the past few years, the dividend has jumped significantly. In 2004, the company paid out about 2 pence per share, but thanks to regular increases, the dividend is now about 6.5 pence per share. In 2012, it also paid out a special bonus dividend of 4 pence per share.
Here are some key points for VOD:
Current share price: $24.56

The 52 week range is $24.42 to $30.07

Earnings estimates for 2013: $2.47 per share

Earnings estimates for 2014: $2.55 per share

Annual dividend: yields about 6%
Here are some key points for VZ:
Current share price: $45.12

The 52 week range is $36.80 to $48.77

Earnings estimates for 2013: $2.77 per share

Earnings estimates for 2014: $3.14 per share

Annual dividend: $2.06 which yields 4.6%
Data is sourced from Yahoo Finance. No guarantees or representations are made. Hawkinvest is not a registered investment advisor and does not provide specific investment advice. The information is for informational purposes only. You should always consult a financial advisor.
Disclosure: I am long VOD. I wrote this article myself, and it expresses my own opinions. I am not receiving compensation for it (other than from Seeking Alpha). I have no business relationship with any company whose stock is mentioned in this article.