I am someone who has followed the gold market for years, being a gold bull all-the-while. Part of me feels like I 'owe' gold and gold bugs something because of the performance I have witnessed (and participated in) over the past several years. Gold (investment options include: [(GLD), (IAU), (SGOL)] has been a great place to be for years. However, as much as I hate to admit it, today I have growing doubts.
I believe it is healthy to second-guess one's decisions. Things change and no investor should be married to a specific position or outlook. So in this article I will look at the negative argument for gold: partly to convince you and partly to convince myself that the gold bull may be dead.
Since the early 2000s, gold prices have risen by several multiples (see chart below). Since mid-2011, however, gold has traded sideways (see second chart below).
Gold Price in US Dollars data by YCharts
Gold Price in US Dollars data by YCharts
Many are asking if the gold market is broken. It does appear to be a possibility. After all, supply-demand dynamics in 2012 have distinctly softened.
According to the World Gold Council, 2012 tonnage demand for the full year and Q4 was mixed:
Fourth quarter gold demand of 1,195.9t was up 4% compared with Q4 2011 but down 4% on the full year.
Investment demand (the sum of ETFs and total bar and coin demand) was 424.7t, down 8% compared to the same quarter last year.
Demand for ETFs and similar products in Q4 was down by 16% on the corresponding quarter in 2011 to 88.1t, but was up by 51% on the full year.
Demand in the jewelry sector was up 11% to 525.3t compared to 472.4t in the same quarter in 2011. Jewellery demand for the full year 2012 was down 3% on 2011 in tonnage terms.
Fourth quarter demand for gold in the technology sector was down on Q4 2011 by 3% at 100.9t. Technology demand for the full year 2012 was down 5% on 2011 in tonnage terms.
Official sector purchases stood at 145.0t in Q4, up 29% on the corresponding quarter in the previous year, making this the eighth consecutive quarter in which central banks have been net purchasers of gold. Central bank buying for the full year rose by 17% compared to 2011, totaling 534.6t, the highest level since 1964.
While 2012 demand was mixed, supply was steady over the full year and up by 2% quarter-over-quarter. The supply-demand environment has a few bright spots - particularly central bank buying - but the overall message is mixed.
The demand picture suggests that worldwide interest in gold is growing less predictable. Web search data for gold adds to the confusion:
Web Searches for 'Gold'

Click to enlarge
(Click to enlarge)
Web Searches for 'GLD'

Click to enlarge
(Click to enlarge)
While searches for "gold" have risen gradually over the past few years, searches for "GLD" have been on a downtrend since the financial crisis. Again, neither of these point to clearly bullish nor bearish sentiment, but they do point to a trend that may be breaking apart.
Perhaps the most bearish indicators for gold are Treasury yields (NYSEARCA:TLT) and the value of the dollar (NYSEARCA:UUP). As you can see in the two charts below, since the summer of 2012 both yields and the dollar have risen. Rising yields are bearish for gold because it means that real interest rates are rising creating more competition for non-yielding assets, like commodities. A rising dollar is also bearish because it suggests other currencies (like gold), in relative terms, are declining in value.
Of course, a few months doesn't make a secular trend, but this is likely why gold has been choppy over the past few months. The trends in yields and the dollar have been driven by gradually improving macroeconomic data in the U.S., such as housing starts.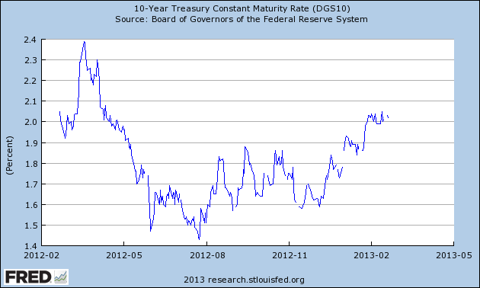 Click to enlarge
(Click to enlarge)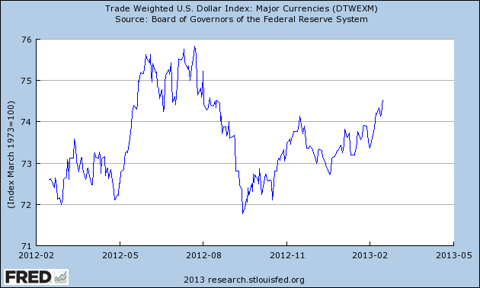 Click to enlarge
(Click to enlarge)
As the U.S. economy improves, a more hawkish Fed, concerned about the negative consequences of quantitative easing, could scale back on asset purchases.
In fact, recent comments from the Fed illustrate the growing hesitancy to maintain asset purchases, as outlined in the following minutes:
"However, many participants also expressed some concerns about potential costs and risks arising from further asset purchases. Several participants discussed the possible complications that additional purchases could cause for the eventual withdrawal of policy accommodation, a few mentioned the prospect of inflationary risks, and some noted that further asset purchases could foster market behavior that could undermine financial stability. Several participants noted that a very large portfolio of long-duration assets would, under certain circumstances, expose the Federal Reserve to significant capital losses when these holdings were unwound, but others pointed to offsetting factors and one noted that losses would not impede the effective operation of monetary policy. A few also raised concerns about the potential effects of further asset purchases on the functioning of particular financial markets, although a couple of other participants noted that there had been little evidence to date of such effects. In light of this discussion, the staff was asked for additional analysis ahead of future meetings to support the Committee's continuing assessment of the asset purchase program."
As Fed members become less unilaterally confident in the asset purchase program I believe the dollar will continue to rally. Such circumstances could be bad for gold.
But is gold "finished", as I wrote in my title? Honestly this depends on many variables. With the European debt crisis hibernating for now, the U.S. has room for real growth, potentially reducing the demand for gold. Moreover, if China starts to see rising inflation it may curb credit growth putting further downward pressure on gold.
On the flip-side, with debt-to-GDP ratios across the developed world going from bad-to-worse there remains a long-term case for easy monetary policy to help inflate nominal GDP faster than credit growth. Also, even with the short-term improvements, the Federal Reserve is unlikely to start withdrawing liquidity until U.S. unemployment falls close to the 6.5% range - a feat that may take a couple years to accomplish. Regardless, markets are forward-looking and gold will reflect this eventuality long before it happens.
In conclusion, I believe there remains an argument for a strategic allocation to gold as a hedge against future unexpected crises and consequential monetary expansion. However, in the near-term I believe there is a strong argument against a tactical overweight to gold.
Disclosure: I have no positions in any stocks mentioned, but may initiate a long position in SGOL over the next 72 hours. I wrote this article myself, and it expresses my own opinions. I am not receiving compensation for it (other than from Seeking Alpha). I have no business relationship with any company whose stock is mentioned in this article. This is not advice. This site features the opinions of the various authors and sources. While Plan B Economics makes every effort to provide high quality information, the information is not guaranteed to be accurate and should not be relied on. Investing involves risk and you could lose all your money. Consult a professional advisor before making any investing decisions.